Leo Fitzpatrick and Nate Lowman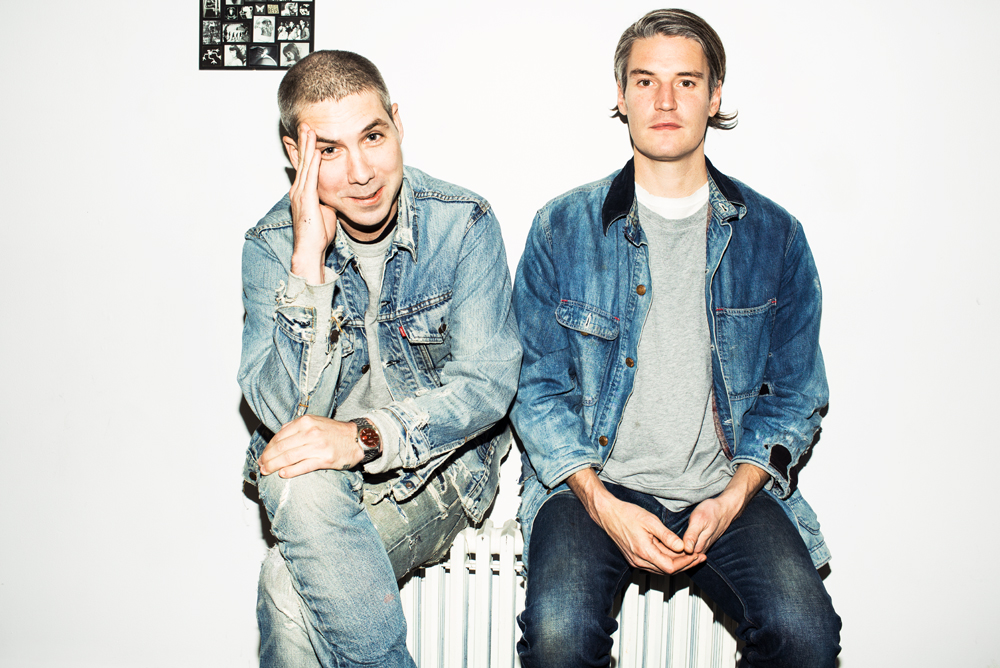 ARTISTS AND GALLERISTS LEO FITZPATRICK AND NATE LOWMAN AT HOME ALONE 2 GALLERY IN NEW YORK, OCTOBER 2014. ALL CLOTHING AND ACCESSORIES: FITZPATRICK AND LOWMAN'S OWN. STYLING: ANDREAS KOKKINO.
You ran Home Alone gallery and now Home Alone 2 in Manhattan. Why did two artists decide to start an art gallery in New York? What was missing that Home Alone could provide?
Home Alone gallery was started by three artists. Hanna Liden was the third founding member. The gallery started out in a window on Franklin Street. There was no entrance or exit, just an artwork or two behind a big piece of glass. It wasn't about providing, just participating.
Where did the idea come from?
Leo brought up the idea of doing a gallery in the window of a sex shop in the West Village, but no deal could be reached. Then Nate happened to rent a studio with a window on the street. He needed to block off the street view for privacy, so we carved out space for doing little exhibitions there. Then the space on Forsyth Street became available, so we had Home Alone gallery and Home Alone 2 gallery. Nate had to give up the space with the window after about a year, so we ended up with only a sequel.
You've done some unorthodox shows—from the window displays to Larry Clark's piles of photographs that visitors were invited to flip through. How much does breaking the established model of showing art factor into the program?
Outside of museums and kunsthalles, the established model for showing art is based around commerce. We don't sell art and we're not a museum, so we're just doing whatever a given show demands of us. Taking the commerce side out of the gallery has opened up so many other options. When you remove money from the situation, artists know your motives are pure, and other galleries are less threatened because you're not looking to cash in on somebody whose careers they spent time and money developing. It's also a nice little testing ground for artists to try new things without much commitment or pressure.
Does a smaller gallery allow for possibilities that a big white space wouldn't?
Less is more, for sure. You don't have to mop as much square footage, which any gallerist will tell you is the worst part of the job.
If an alien walked into Home Alone 2, how would you describe the current state of the New York art world?
Space is the place, or maybe try Detroit.
What's the worst part about being an artist in New York?
Rent prices.
The best?
New York is not provincial.
What alcohol or snacks do you like to serve at the openings?
BYOB.
If the end of the world were nigh and you had to make a last show at Home Alone 2, what would you do?
We'd like to quit while we're ahead.