FKA Twigs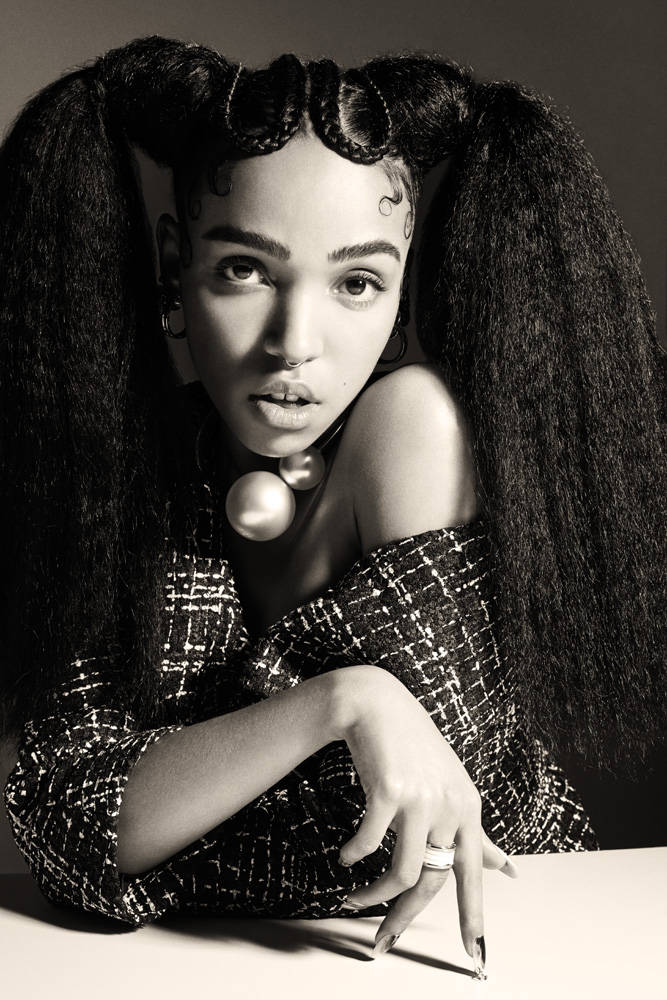 ABOVE: FKA TWIGS IN LONDON, MARCH 2014. JACKET AND NECKLACE: CHANEL. EARRINGS AND RING: BVLGARI. SEPTUM RING: LOVE, ADORNED. STYLIST: KAREN CLARKSON.
If you've heard about British musician FKA Twigs, chances are it's because one of her hypnotic music videos popped up in your news feed last year. "It's weird, for someone who mostly really exists online," says the 26-year-old, born Tahliah Barnett. "I'm actually not very interested in the internet at all." Two breakout EPs into her career, she does, however, seem to be into preserving some element of mystery, revealing only that she got the moniker Twigs for the way her joints crack (and the prefix FKA, "formerly known as," because there was another artist with that name).
Kicking back at the offices of her label, Young Turks, Twigs speaks in the low-pitched whispers that permeate her minimalist, eerie R&B. "I was never the type of teenager who got fixated on one thing," she says of her early influences. "I was more interested in dancing and Matthew Bourne's Swan Lake." Growing up in the rural Gloucestershire countryside, she says a diet of black-and-white movies ("They're kind of creepy, no?") and ballet lessons were more formative than any musical heroes. It wasn't until her teen years, when Barnett found herself laying down choruses on other people's tracks in a Jamaican youth club, that a passion for music materialized. After a move to London at 17, and some time spent training and backup dancing, Barnett made her mark with four abstract, looping vignettes—not unlike hyper-stylized Vine videos—to accompany her 2012 debut EP, EP. "It was important for me to have a performance-art piece illustrating how I felt about the song," she says, resisting the term music video. "I know a lot of people are now saying, 'Oh, let's do a video for every single song,' but for me it comes from a completely different place—it's not about looking hot or beautiful." Twigs says her co-producer for 2013's EP2, Yeezus collaborator Arca, gave her the experimental playground to be even more hands-on. In the video for "Papi Pacify," which she co-directed, Twigs is erotically entwined in the arms of a man, performing a dominance/submission routine. "A lot of people told me not to release it, even after I shot it," she says, "but I always imagine the concept in my head until the point where nothing else will do."
When it came to putting together her first full-length album, out this summer, the singer concocted her own stark soundscape across the record, serving as artist and executive producer. "I feel like I can reveal a little bit more about myself," she says. "I enunciate, so people can understand what I'm talking about rather than it being about an atmosphere or a feeling."
As she navigates her own thematically dark waters, Twigs isn't fazed by comparisons to the likes of AlunaGeorge and Kelela. "What is the gauge [of hype] these days?" she ponders. "There's no telling how well you're doing because there's someone out there posting pictures of their cats who has a million followers."
COSMETICS: MAC PRO, INCLUDING DIPDOWN FLUIDLINE EYE LINER, ERA EYE SHADOW, AND FALSE LASHES WATERPROOF MASCARA IN BLACK; CIATÉ, INCLUDING PAPER DOLL NAIL POLISH AND FEATHERS. HAIR PRODUCTS: BUMBLE AND BUMBLE, INCLUDING BB.GEL. HAIR: SOICHI/SAINT LUKE ARTISTS. MAKEUP: NAOKO SCINTU/SAINT LUKE ARTISTS. MANICURE: IMARNI/SAINT LUKE ARTISTS. SPECIAL THANKS: LOFT STUDIOS.