PARIS FASHION WEEK
"It Was Fucking Pamela Anderson": A Review of Isabel Marant SS24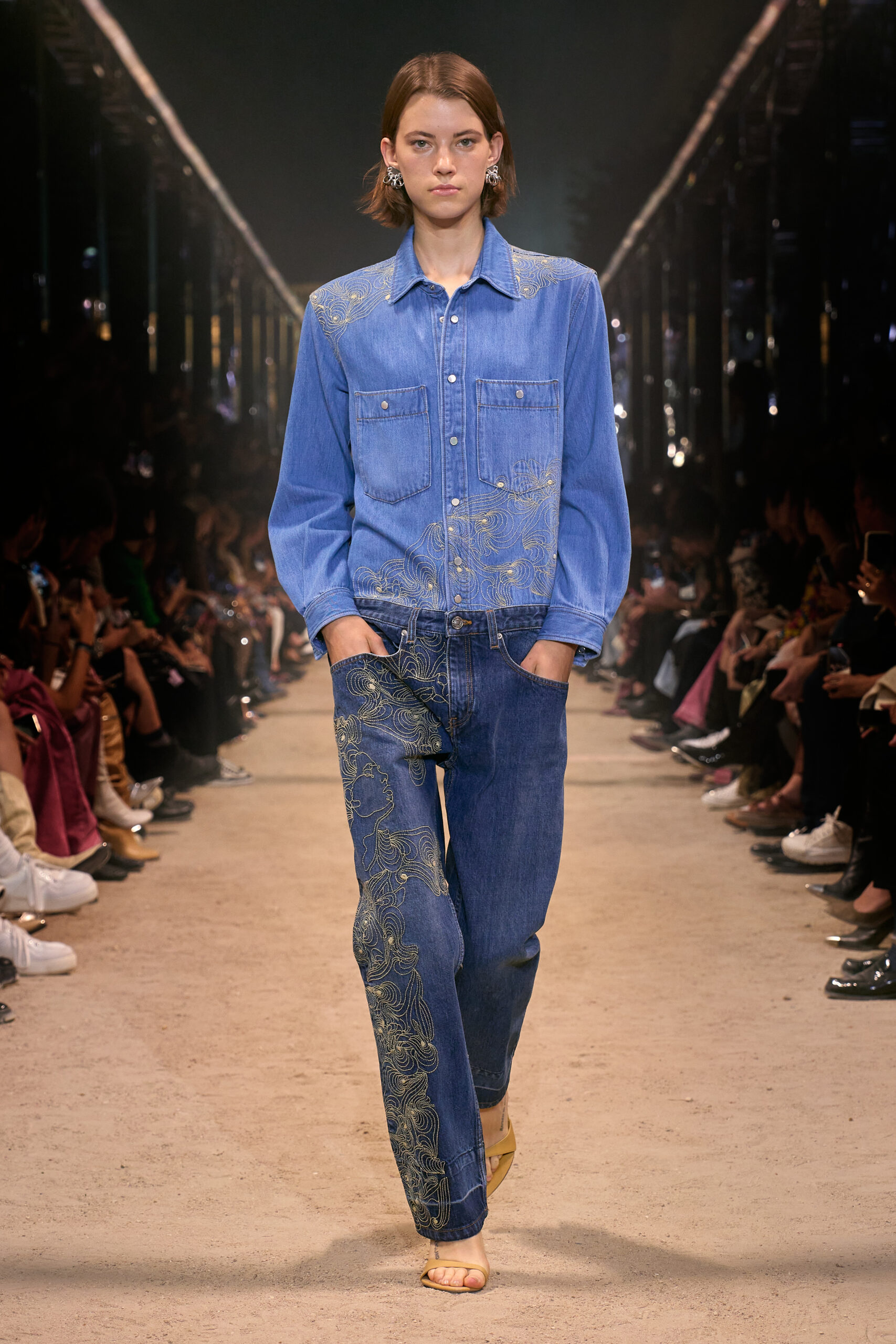 THURSDAY SEP. 28, 2023 9:25 PM PARIS.
In the back of a taxi on Thursday night, our senior editor Taylore Scarabelli and our fashion director Dara recapped the rock n' roll-inspired Isabel Marant SS24 collection, where models in babydoll dresses and low-waisted flare pants stomped down a sand-dusted runway.
———
TAYLORE SCARABELLI: We just ran for a cab. We made it. Isabel Marant was coucou. When I walked in this lady was like, "Sorry, I'm in your seat." And I'm like, "All good, I'll just sit next to you." But it was fucking Pamela Anderson. 
DARA: No.
SCARABELLI: I was like "Oh! Hey, girl."
DARA: Whoa.
SCARABELLI: She is just the sweetest. 
DARA: She looked gorgeous. No beat, no hair, chic.
SCARABELLI: Not a spot of makeup. She did the classic French girl glamour, and it was so fantastic. And then the show started.
DARA: And it's like this hot, sexy rock and roll girl in clogs and a lace dress.
SCARABELLI: Wooden clogs. Pretty much all the girls were wearing those.
DARA: Platform clogs. And the girls who weren't were in this really, really bitchy, cunty little cone-heeled sandal.
SCARABELLI: Classic Marant.
DARA: She loves the cone heel. I love the cone heel. 
SCARABELLI: And speaking of accessories, they had the Oskan moon bag in jumbo in some new colorways.
DARA: Love that bag in the red with the red dress.
SCARABELLI: Wait. That was my favorite look. The red leather wrap dress.
DARA: That was hot.
SCARABELLI: I mean there were a lot of different girls in that show. It was a party. There were some decked out divas and some girls who showed up in their day looks, like those sheer babydoll lace dresses.
DARA: They showed up after being out all day with their French picnic. 
SCARABELLI: And then there was the low rise disco pant, and that fab metal tassel number. 
DARA: I was really feeling the finale looks, the boob tubes—
SCARABELLI: With the ruching.
DARA: With the matching flare pants, low-waisted, midriff out.
SCARABELLI: It was very youthful. 
DARA: Absolutely. There was even a sequin short on a boy. Crazy.
SCARABELLI: I love that. I was also feeling the micro mini leather shorts.
DARA: Wait. Angelina Kendall in the brown leather set, so fucking fierce and chic. Mini, mini, mini short, like, leather coochie cutters from Isabel Marant.
SCARABELLI: Need!