SHARE LOCATION
Clovis Ochin Was Born To Drink Wine in Paris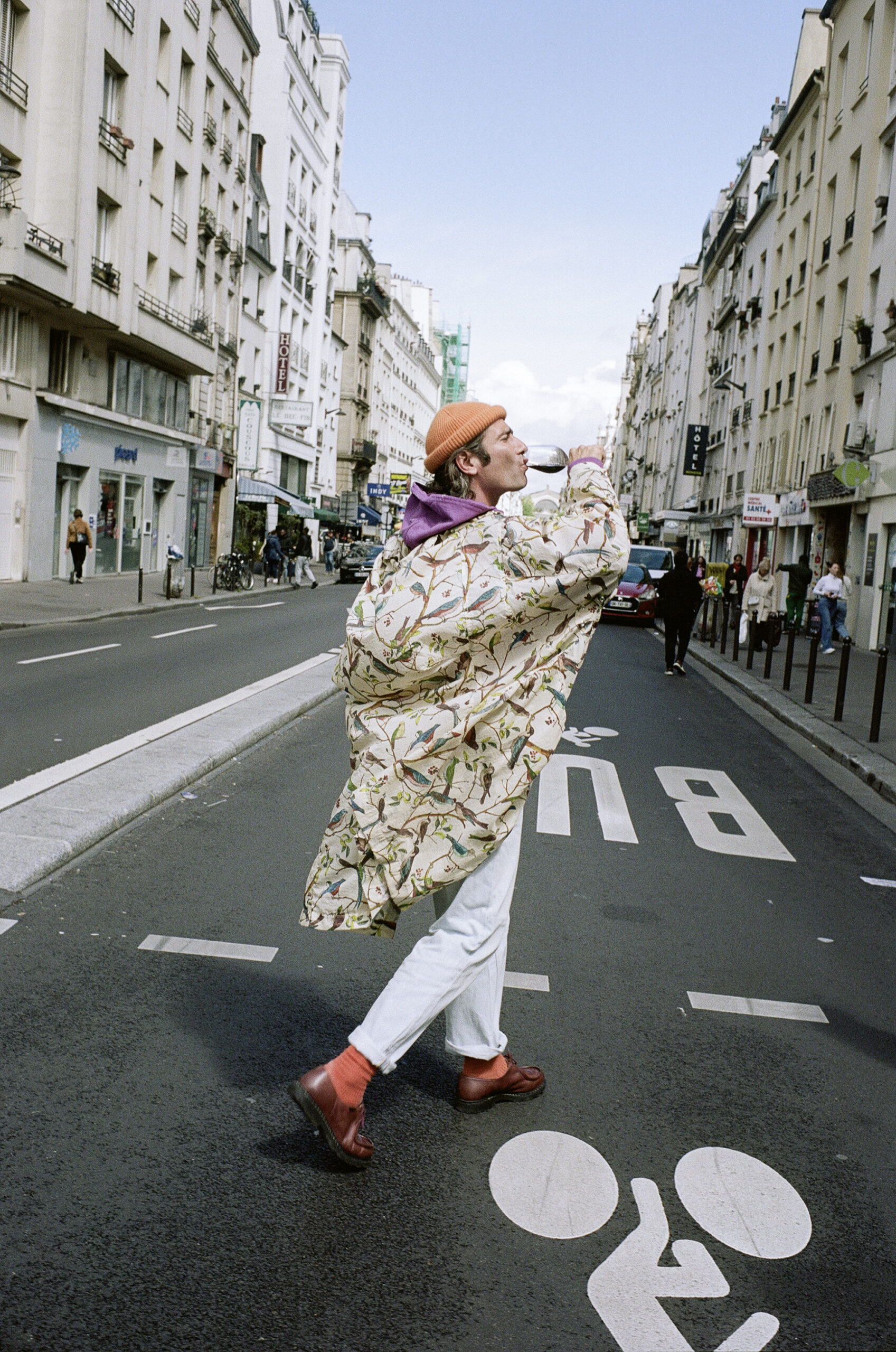 In 2005, Clovis Ochin was walking down Rue Paul Bert in Paris when the sounds of Fela Kuti's "Zombie" led him into a wine cave. Inside, the owner introduced him to natural wine, and 12 hours later he left as a true believer. Now, Clovis is one of the top natural wine experts in a city obsessed with it, and when he's not recording music or working on restaurant projects, can often be found in the Marais sharing bottles with everyone from the local butcher to Dua Lipa. "I wake up feeling good every day, because there is no chemicals, no sulfites," says Ochin. "If I wake up feeling bad it's because I smoked two packs of cigarettes and a joint." Here, he takes us to some of his favorite spots around town.
———
JACQUES GÉNIN CHOCOLATIER
"Jacques Génin makes the best chocolate I've ever tried. I don't say that because he's my friend, I say it because of the work that goes into it. He was born to give people pleasure. Every time I come, he opens a bottle and we speak about life and voilà. He's known for chocolate and the galette des rois. He's really the man who put Paris-Brest [a classic French pastry] on the map. If you ask Tatiana [Levha] from Le Servan, Bruno Verjus from Table, or Bertrand [Grébaut] from Septime what Paris-Brest is, they would say, 'Jacques Génin!'"
———
SUPERFLY RECORDS
"Every time I go to a record shop, I have to buy some. It's like being a drug addict. This is the best one I know of. Every song I create, I always make Manu and Paulo [the co-owners] listen to it. We're sharing wine, we're sharing life. Manu loves Pinot Noir, especially from Auvergne, because there's a volcanic area there. I always try to introduce the people I like to wines, and some of the winemakers I know have become friends with Manu and Paulo because we always come here to have a bottle."
———
EARLY JUNE
"A beautiful restaurant that Camille and Victor opened five years ago. They invite chefs that stay a maximum of three weeks for a residency. I've been in love with Camille for a long time. That's my girl. Here, they open at six, which is rare for Paris. If you come at 5:45 p.m., you have maybe 35 people in the queue already. For wine, they only work with people they know. When I'm at a restaurant, most of the time I choose the wine. But in a place like this, if they want to choose wine for me, I let them because I know it's going to be good."
———
LES ENFANTS DU MARCHÉ
"It's a little corner in the market [Marché des Enfants Rouges]. Every fish arrives at four in the morning, fresh off the boat. It's one of the best restaurants in Paris, and the food is absolutely out of control. It's really, for me, an experience that anyone that really loves food should have. I bring chefs here. The owner Michael [Grosman] has really brought diversity to the market."
———
THE BUTCHER OF PARIS
"Louis [-Marie Martin] the owner is somebody I love very much. He opened this place one year ago, and it's about extremely good meat products. Incredible beef. Incredible roasted chicken. Here you should get 'Dancing Queen' Fleurie from Julie Balagny, or you can get this Arbois from Renaud [Bruyère] and Adeline [Houillon]. Louis knows all of his wine and meat suppliers personally. He's dedicated to what he does, and I love people who are dedicated to what they do."
"I never drink wine before 11 a.m., because between 11 and 12 is the best time to taste the wine due to the moon. We make natural wine according to the moon calendar, and that's when the moon and the earth are making a movement that is a really, really good time to taste wine. My tip for drinking during the day is to never stop after I start. But you see, I'm in good shape."
———
Grooming: Jillian Halouska using Happy Endings Balm at The Wall Group.
Photography Assistant: Alexis Parrenin.