Discovery: Trash Fire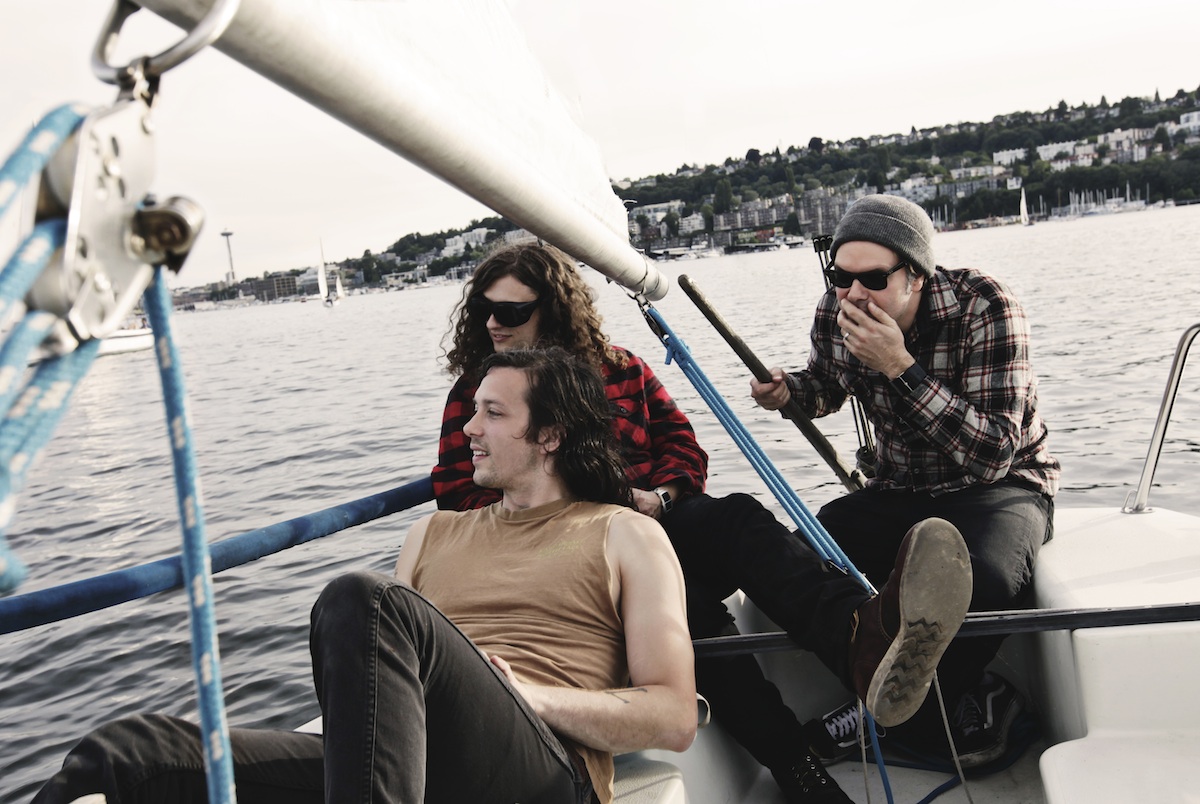 ABOVE: TRASH FIRE. PHOTO COURTESY OF KELLY O
Goals might be overrated. At least, this is what we're inclined to think after listening to Seattle punk band Trash Fire, whose singer and bassist, Jonah Bergman wails, "I traded my ambition for a trash life" on the title track of the band's latest EP, Trash Life, released today on cassette tape.

Trash Life is a wild blitz of party punk anthems, tied up in a bow by catchy choruses, and 1950s-era background coos. Backed by a lo-fi mix of surf guitar and classic punk rhythms à la Surfer Blood or Best Coast, Bergman's brash vocals and vintage, sweetheart sentiment call to mind Jay Reatard or Phil Spector-era Ramones.
We caught up with Bergman on the eve of his band's cassette release to chat about Trash Fire, and the intriguing facets of a trash life.
AGE: "Timeless."
HOMETOWN: Bremerton, WA (Jonah Bergman, bass/vocals); Washington, D.C. (Austin Hicks, guitar/backup vocals); Southern California (Curtis Hall, drums/backup vocals)
CURRENT LOCATION: Seattle, WA
SINGLES GOING STEADY: I met Austin when he was a baker at a restaurant that I work for. We both got off work at an ungodly hour, drank some Four Loko behind a dumpster—seriously—and proceeded to talk music for the next few hours. Trash Fire was born. Curtis came into the picture a little later. He bartends at Linda's Tavern, a bar that I work for, and we bonded over our musical obsessions.
THE MEANING OF TRASH LIFE: Late nights and early afternoons. Pizza boxes stacked higher than your pile of dirty laundry.
GET IT, GIRL: When I was in third grade, my parents let me buy 2 Live Crew's "As Nasty as They Wanna Be," which upon further reflection was probably a horrible idea. Nevertheless, that album changed my life. At the time, Tipper Gore and the PMRC were freaking out over it. Kids are always drawn to the things they are not supposed to have, and 2 Live Crew taught me that music can elicit powerful social reactions, and in this case, shine a spotlight on the absurdity of censorship.
IS PUNK DEAD?: Punk is like a virus that is constantly looking for a new host. The host always dies, but the virus continues to evolve.
FAVES: I love all of the Phil Spector girl groups, and I can't get enough of Joe Meek's recordings. I think this band is inspired by a lot of melodic punk bands like the Ramones and the Undertones, and also by a bunch power pop stuff like Cheap Trick and Big Star… all seen through a filter of grime.
UNEXPECTED FAVES: Maybe Burt Bacharach and Hoagie Carmichael? Those dudes could write hooks like a motherfucker.
BEST OF: My favorite show this year was probably opening for NoMeansNo. I have been a fan for so long and I was super nervous when they were watching us. But, we played super well that night and they were stoked. For me, it was mostly a blur of fun, anxiety, and Budweiser.
SEATTLE: There's a lot of cool stuff going on in Seattle, but there is no single cohesive musical movement going on. When people think of Seattle these days, Macklemore is probably the first artist that comes to mind. I don't think he reflects all of the weird, cool stuff going on up here. Bands like Nightmare Fortress, Black Breath, Tacocat, Chastity Belt, and Iska Dhaaf are all making super cool, interesting stuff. I'm actually really excited about the current crop of Seattle bands.
LEISURE: Going out to lunch as a band and trading cooking tips. Sailing on Austin's tiny sailboat. Movies.
FUTURE FIRE: We are working on a ton of new songs and are gonna hopefully record a full length in the new year. Hopefully we can hit the road soon and burn some garbage in a town near you.
TRASH FIRE'S DEBUT EP, TRASH LIFE, IS OUT TODAY, NOVEMBER 21. THE BAND WILL PLAY IN SEATTLE WITH THE MEAT PUPPETS TONIGHT. FOR MORE ON THE BAND, PLEASE VISIT ITS FACEBOOK PAGE.