Discovery: Rush Midnight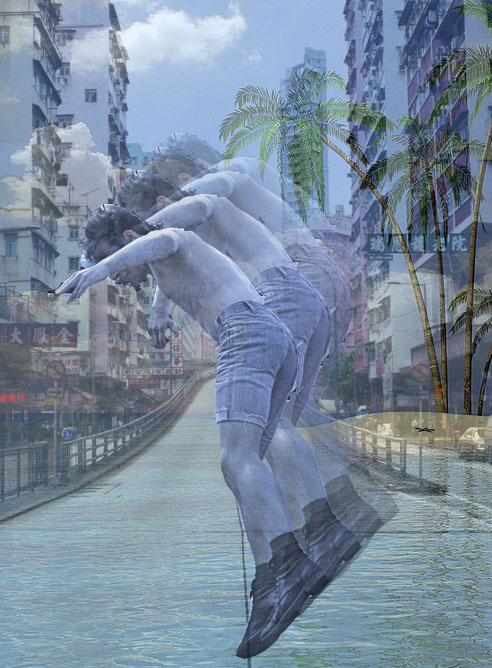 Rush Midnight is ready to step out from the darkness. As the bass player for George Lewis Jr.'s synth-pop outfit Twin Shadow, the man formerly known as Russ Manning is no stranger to nostalgic pop. For his first solo EP, +1, Manning has fashioned himself as a wistful Casanova, less hard-edged than Lewis' leather jacket-clad persona, but with a similar sense of John Hughes-type cool.
Among the synthesizers, drum machines, and sparkling vocals of +1, Manning's world is one of classic romance set against the backdrop of lurid nightlife. That may sound theatrical, but during our talk, Interview got the distinct sense that the real Manning isn't all that different from the wistful-romantic character he plays in his songs. When we mentioned the impending hurricane barreling up the coast, Manning's answer was the perfect snapshot of his personality: "I just caught one of last trains. I'm just gonna hang with my girl, maybe watch Walking Dead, and just get in the zone. I might finish this jacket that I'm studding. I'm studding the whole collar." If the apocalypse happens tomorrow, Rush Midnight is going to look the part.
AGE: 27
HOMETOWN: Brooklyn, New York
GOING SOLO: We had a little break on tour, and it just felt like the right time to go for it and try the solo thing. I also had some songs that George [Lewis Jr.] had helped with, which was like money in the bank.
ON JAZZ: I try to forget it all, actually. I went to school for jazz at Oberlin College in Ohio. That was a pretty serious conservatory kind of education. Always from the start, I had the desire to do pop stuff. When I graduated, I just kind of veered toward pop and didn't look back. I definitely apply my ear for jazz, but I generally try to forget it all. Now I'm listening to dance music, old R&B, and pop stuff. At some point, I'll return to jazz, but it won't be for a while.
"DREAMING OF AN ISLAND": The reggae song is about my girl being in the Philippines, and me wanting to be there with her, which wasn't possible because I was on tour. It started with a real idea, but I ventured into a fantasy world at some point. Most of [my songs] are about something real, but you get taken away and enter this surreal world.
PRODUCED BY TWIN SHADOW: It was pretty cool, pretty natural. It was almost like remix style. I kind of just sat back and let him take a swing at it, pimp it out, put things on it I wouldn't have thought of.
ON TOUR: A lot of the time on tour was me craving being able to write in privacy when I got home. I would be out for a month or two, and wouldn't write at all. But when I got home, I was bursting with song ideas. Places inspire you, and people you meet are inspiring, and you always want to spend more time in one place, but also you want to go home and create.
NOSTALGIA: It might have come from growing up listening to Michael Jackson, or Midnight Star, or Kool and the Gang, or these really good funk bands my dad's record collection. Some of it is really lush, and some of its really cheesy. I have this DX7, it's very distinct—you've heard it in a million movies.
SECRET IDENTITIES: I was looking for this alter-ego comic book-based character that I could turn on and off. I wanted something masculine, and I wanted something dark and mysterious. It's the same initials and number of syllables of my name. I just started saying it, and half my friends liked it and half of them hated it, but I just went with it.
BROOKLYN: I was raised in DUMBO. I'm still really excited by New York every time I get off the train. I've decided it's the coolest city in the world. After college, in Ohio, all my friends that I liked decided to move to New York. So I was going back home, finding a job, etc., and they were all coming to me. People in different bands, people who wanted to go to school, or work in a bar, they came here.
+1 IS OUT THIS WEEK. RUSH MIDNIGHT PLAYS CAMEO GALLERY IN BROOKLYN ON NOVEMBER 5. FOR MORE ON THE ARTIST, VISIT HIS WEBSITE.