Discovery: LIZ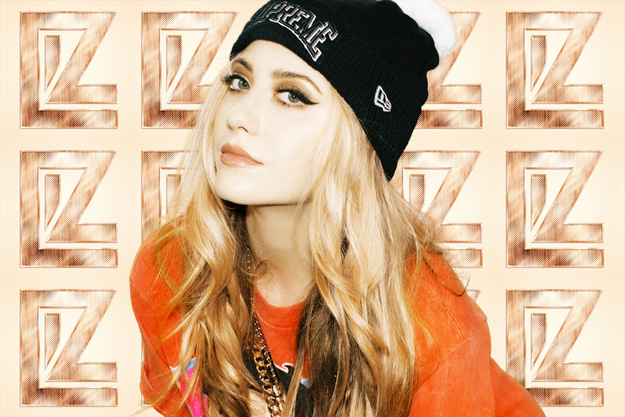 At the turn of the century, MTV's TRL countdown was the heartbeat of the music charts and subsequent pulse of popular culture. Napster was alive and well, Britney was touring in support of her second album, and Justin Timberlake was experimenting with Sun-In and cornrows. A decade before Twitter, tweens had the ability to vote online or by phone (or if you were really progressive, via text) for their favorite video of the day; and the decade prior's pop icons like Mariah Carey and Janet Jackson went head-to-head with newly manufactured stars half their age, like Christina Aguilera and Destiny's Child, for the top spot on their generation's American Bandstand. R&B seemed to be woven throughout pop singles much in the way EDM is today, with many gems coming and going without critical recognition for being anything more than lowbrow bubblegum ephemera.
In the way that '90s aesthetics have resurfaced recently, Y2K sounds have yet to return into full-focus. Too soon, perhaps? Not for newcomer LIZ, whose reconstructed early-'00s sound alludes to acts like Craig David, Mya, Dream, and Mandy Moore—giving them something of a second chance. Releasing a few feeler tracks online (via Mad Decent imprint Jeffree's), she's repurposed what was once overlooked into what could today be called "ratchet-pop"—a union of hip-hop and soft-core pop sounds by way of R&B. LIZ doesn't stop at 2000, however—she gives everything she grew up on a rebirth. On the fantastic "XTC" [below], she utilizes "Rhythm Nation"-era synth chords à la Human League, while on "Horoscope," she coos to a melody reminiscent of Jimmy Jam & Terry Lewis' winning '90s formula. Her summer single, "Hush," evokes J.Lo and Ashanti's ice cream cool to Murder Inc.'s street heat. We speak to the rising artist below.
NAME: LIZ
AGE: 26
HOMETOWN: Tarzana, CA
ON "RATCHET" MUSIC: My music definitely has a sort of innocence to it. It's youthful. But it also has some aesthetics of trap and hip-hop/R&B thrown in there… so, I think that's where it gets that sense of aggressive, wild, fucked-up-on-who-knows-what sound. I mean, there's a time and place to be ratchet. I've never really been an aggressive kind of artist—you're not going to find me grinding a floor and twerking, but my songs may make you want to do that.
ON INFLUENCE: I grew up on Jimmy Jam & Terry Lewis and Max Martin. Anything they've done—I've been like, "Aahhhh!" I've always been a sucker for a great *NSYNC album, you know. I also can't forget Aaliyah, Ashanti, Mya, Craig David… they're some of my favorites. I think a lot of the music from that time period, like, early 2000's, was really overlooked. People just saw it as "too pop," like it wasn't credible or something. But when you really go back and listen to it, it's what my music is rooted in. For 13 years, I almost abandoned those influences and wrote darker stuff and tried to figure out who I was—you know, like that whole teenage thing where you feel like you need to play coffeehouses and be depressed. When I went back to the sounds that influenced me growing up, that's when I started making more original stuff. This past year, I had the time to figure out who I was as a person and artist, and I really recognized that those sounds had a big impact on me. I started making poppy R&B jams purely because they make me feel good. I think people are craving that sound again now. Especially with all the House-y EDM stuff being so popular on the radio now, I think the soul element is missing. People want those catchy melodies back.
GETTING INTO MUSIC: I auditioned for a girl group when I was 13. I had found out about it from my voice coach and there were flyers up at my dance studio. The producer that was doing the group started working with me because he liked my voice and that's really how I got into the flow of creating my own stuff. The group was on JIVE Records. Kind of like [Puff Daddy's] Dream. It was called "No Secrets"—like a girl version of *NSYNC. I was too young and scrawny to be in it, really, because I remember all the girls had boobs already. I was a little stick!
ON SIGNING TO DIPLO'S MAD DECENT: I was writing for different DJs and was at a bunch of different studios all the time, and kind of just got into the community of EDM people. The first time I actually met Diplo, we were on a boat. I got horrendously seasick and I threw up on him! He felt bad for me. I tweeted him the next day saying, "Hey, sorry I barfed on you, homie." He tweeted me back like, "It's all good," we got in contact, and he became aware of me as an artist. I'm so happy to have his co-sign now and have the Mad Decent stamp of approval. We'll probably collaborate together in the future. Ironically, I had been working with his collaborator, Switch (from Major Lazer), for a while and had written some of Diplo's stuff before he even knew me as a singer.
DREAM COLLABORATION: I wish Nate Dogg was still alive and I could do something with him. It's the Cali in me, and I just love his voice and his whole attitude. He had such filthy lyrics but the way he sang them, he was so cool about it.
THE FUTURE: The rest of this year, I'm just going to keep putting out singles and videos. I have some really cool people doing remixes of my next single that I want to take to radio. Also, do shows, and I'm planning on doing an album and having it for early 2014.
FOR MORE ON LIZ, VISIT HER FACEBOOK PAGE.