2 Chainz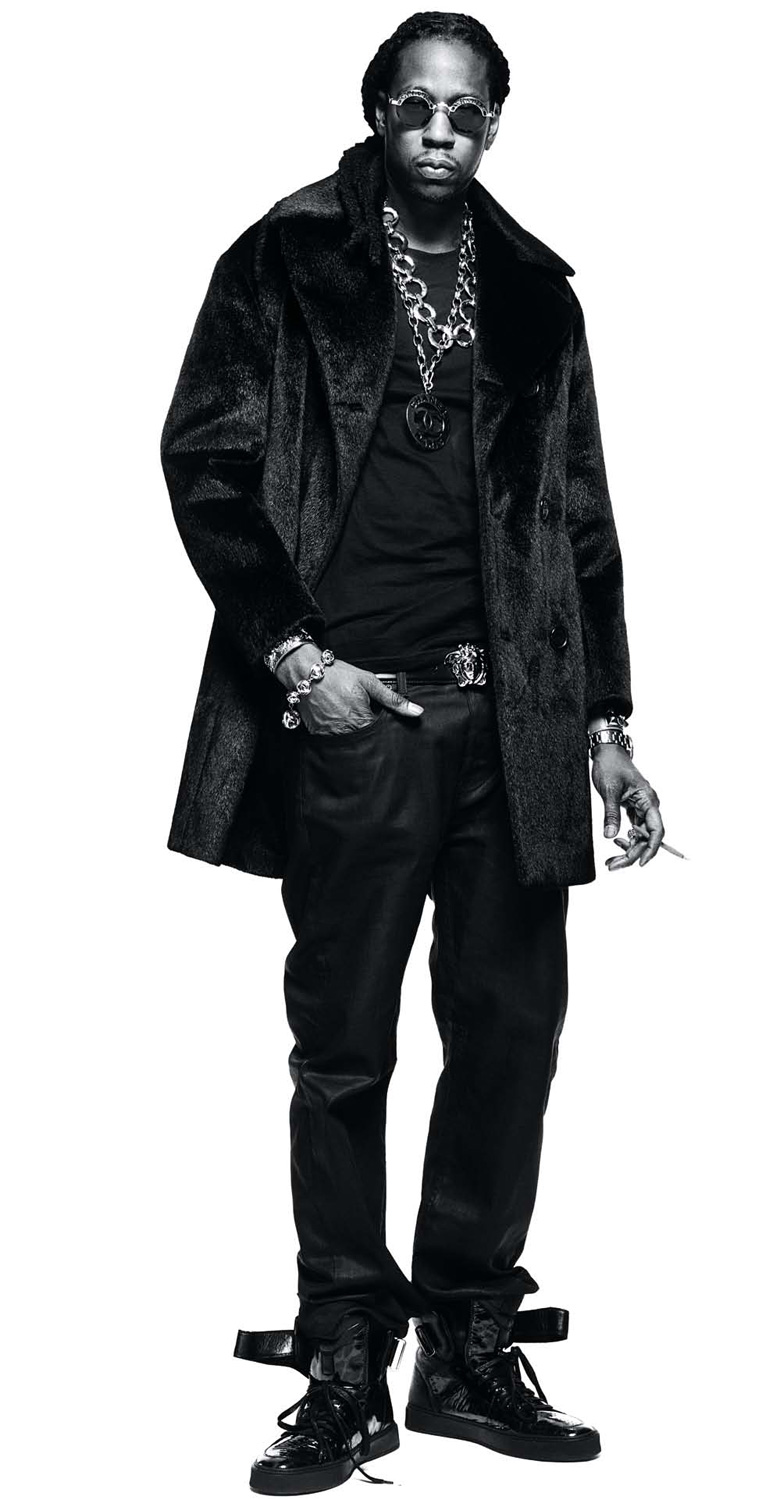 In hip-hop, where flashiness, aggression, youth, and novelty are often essential ingredients for success, 35-year-old rappers who have toiled for years in semi-obscurity rarely make it to the top. But 2 Chainz, currently riding high on the success of his recently released album, Based on a T.R.U. Story (Def Jam), is the exception in more ways than one—and these days, after more than a decade of ups and downs, he is a bona fide star.
Chainz's style is deceptively laid back, but upon closer inspection, his lyrics are smarter and funnier than his stoned-pimp demeanor might suggest. Born Tauheed Epps, Chainz grew up on the Southside of Atlanta, where he was raised by a single mother. "My pop did a little time," he says softly. In high school, the six-foot-five-inch Chainz was a standout basketball player and actually managed to play for a year at Alabama State, but Chainz says that an arrest while he was still in his teens proved too much of a derailment to come back from, so he committed himself to hip-hop full time.
In 2002, as part of a duo called Playaz Circle, Chainz released an album, United We Stand, United We Fall. Fellow Atlantan Ludacris had even signed the group to his label, Disturbing Tha Peace, but Chainz's partner at the time, Dolla Boy, wound up going to prison before the duo had a chance to make another record. When Dolla Boy got out, the pair completed 2007's Supply & Demand, which spawned the minor hit "Duffle Bag Boy," featuring Lil Wayne. But its follow up, 2009's Flight 360: The Takeoff, didn't, in fact, take off, so Playaz Circle disbanded, and Chainz left the label in 2010. He turned to the Internet, though, and released a string of seven solo mix tapes and recorded cameos on songs by the likes of Rick Ross, Nicki Minaj, Young Jeezy, and Kanye West, to name just a few, before signing with Def Jam early this year.
Interestingly enough, 2 Chainz is 2 Chainz's second nom du rap—he was originally known as Tity Boi. "I'm an only child," he explains. "It's a Southern phrase you call a spoiled brat. My dad used to call me 'titty man.'"
PHOTO: 2 CHAINZ IN NEW YORK, JULY 2012. COAT: RAF SIMONS. SHIRT: POLO RALPH LAUREN. JEANS: BLACK SCALE. GLASSES (VINTAGE): VALENTINO. JEWELRY: 2 CHAINZÂ?'S OWN. BELT: VERSACE. SHOES: YVES SAINT LAURENT. STYLING: SARAH ELLISON/ STREETERS. GROOMING: WESLEY OÂ?'MEARA/THE WALL GROUP. SPECIAL THANKS: FAST ASHLEYS.