Damien Chazelle and the Limits of Perfection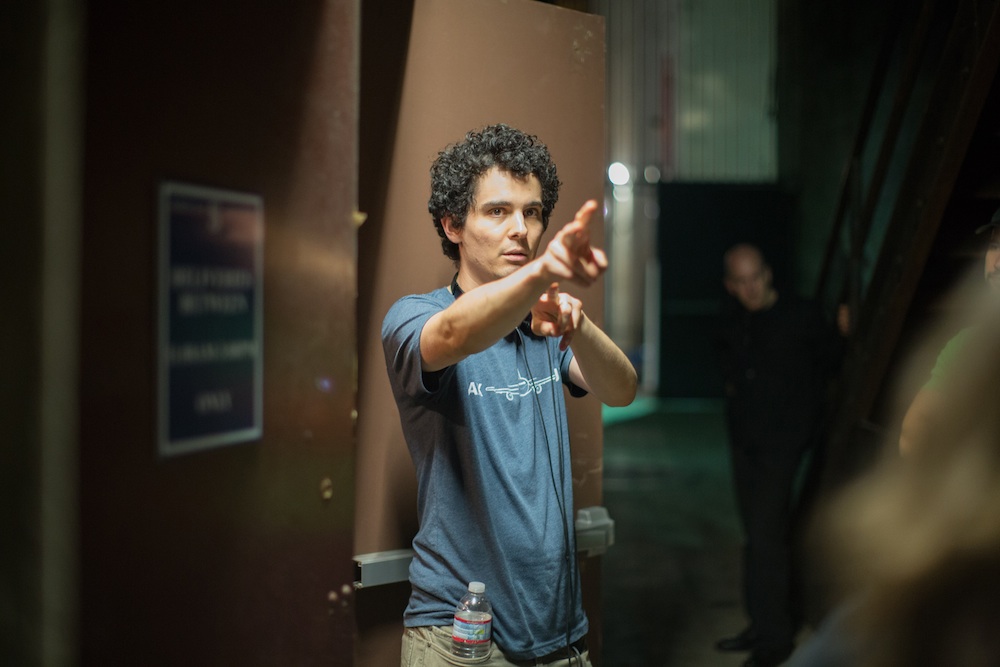 ABOVE: DAMIEN CHAZELLE ON THE SET OF WHIPLASH. PHOTO COURTESY OF SONY PICTURES CLASSIC.
"It's an existential rage," explains writer-director Damien Chazelle of Fletcher, the demanding, abusive, music school jazz band conductor in Whiplash. "He loves the music so much that he creates this perfect version of it in his head that human beings can never quite live up to because we're imperfect. His rage stems from that," he continues. "It's a rage at being human; the rage of not being super human."
A tense two-hander about the desire for and cost of perfection, Whiplash is a remarkable film. Andrew (Miles Teller) is a student at the best music school in the U.S. His first year in, he is selected to play drums in the school's jazz ensemble, run by a famous conductor named Fletcher (played by J.K Simmons, who is heading towards a Best Supporting Actor nomination). Andrew is ridiculed, terrorized, and physically abused. He does, however, become a faster, stronger, and more precise drummer.
Though Chazelle skipped music school to go to Harvard, parts of Whiplash are inspired by his experiences as a drummer in his highly competitive high school jazz band in Princeton, New Jersey. "When we were initially putting the movie together, there were divergent reactions," recalls Chazelle. "We would send the script to someone who wasn't a musician and they would be horrified by the behavior. Then we sent it to one of the jazz drummers at Lincoln Center, and his reaction was, 'Well, yeah. That's what it takes.'"
Whiplash famously began as a short screened at the Sundance Film Festival in 2013. A year later, the feature-length version opened the 2014 Festival. "The idea was that taking a scene and doing it as a short would hopefully convince people that the movie could play as a thriller," Chazelle explains. Within days of its premiere, Sony Pictures Classics picked up Whiplash for almost three million dollars. Now the 29-year-old Chazelle has just signed on to direct a biopic of Neil Armstrong and is prepping another music-based film with Miles Teller and Emma Watson.
"This is actually a full throttle song and dance, romantic musical," says Chazelle of the latter, which is currently titled La La Land. "It's very much in the spirit of old MGM musicals—Singin' in the Rain, A Star Is Born—and French New Wave Jacques Demy musicals like The Umbrellas of Cherbourg or The Young Girls of Rochefort. To put it simplistically, Whiplash is about the pain of making music; this is much more about the joy of making music."
EMMA BROWN: I know you played the drums in high school and had this extremely intense teacher. Can you get any pleasure out of playing the drums today, or are you permanently scarred?
DAMIEN CHAZELLE: I can get some pleasure from it but not that much. It's less, I think, scarring from those experiences and more that I'm not as good as I used to be. It's a little difficult when something goes from being an utter obsession—a thing where your skill defines you as a person—to it just being a thing you occasionally do. I've fallen out of practice so there are things, muscles and movements, that I simply can't do anymore. It's depressing. Maybe at some point in my life I will actually re-practice and get back into it, but that would take a few years of serious, serious training.
BROWN: Did you grow up thinking that you wanted to be a musician?
CHAZELLE: No, I actually grew up wanting to be a filmmaker. I wanted to make movies and music was a detour, almost. I was in this public high school in Princeton and it had this topnotch jazz program—if you were a musician of any kind of caliber, your holy grail was to be in that orchestra. It was that claim to fame of the school, of the town, other than the university. But it was better than the university band. It was the top program of its kind in the country at the time. So I practiced and drumming, which initially had just been a whatever hobby, quickly became a total lifestyle, a total obsession, total terror.
BROWN: Do you have an obsessive personality in general?
CHAZELLE: A little bit. [laughs] It's definitely translated.
BROWN: Are you a perfectionist?
CHAZELLE: For sure. The difference, though, with film [is] that the passion is within me; I never wanted to do anything else. That drive—that perfectionism and obsession—comes from within, whereas with drumming it was really the force of personality of this conductor, this teacher that I had. The most important thing to me as drummer was not even pleasing the crowd or the audience, or even pleasing myself, it was literally pleasing his conductor. This one individual. It's interesting when you wind up distilling all your ambitions and your goals and dreams into one single person. It's giving that person a lot of power.
BROWN: When did you realize that was what you were doing? I feel like when you're in the middle of it, you have no idea.
CHAZELLE: Oh, it's only now. It's been 10 years since I was in that environment. So it was many years later of looking back. You certainly don't really see that stuff happening at the time. And you can't. There was no real time to think in that orchestra. As soon as the conductor would walk into the room, your heart would start pounding. It was survival. You just had to survive every rehearsal and every rehearsal felt like a battle. You were lucky to walk out intact. [laughs]
BROWN: Did Fletcher have a similar teacher when he was starting out?
CHAZELLE: J. K. [Simmons] and I talked a little a bit about how that kind of behavior gets passed down. And I think in many ways the movie is almost a weird origin story for a new Fletcher, or an instrumentalist version of Fletcher in the sense that Andrew's basically become Fletcher by the end. He's just the flipside; he's the Fletcher who actually plays an instrument. Andrew starts to exhibit the same type of cruelty, and that was very much part of the design of the character. I didn't want to give any specific backstory elements to Fletcher himself but I think he was certainly pushed very hard.
BROWN: Did you know that J.K. Simmons had this musical background before you cast him or was that just a coincidence?
CHAZELLE: Coincidence. I knew before we were shooting but not before we gave him the script. I thought we'd have to do a lot of research and training to get him up to snuff as a conductor, but he actually had a degree in composition and conducting and singing, and had gone to music school.
BROWN: When did you find out that Whiplash was going to open Sundance?
CHAZELLE: Late-November or so. I remember at first we didn't want to be opening night. We were very worried.
BROWN: How come?
CHAZELLE: It's a slot that in the past has been not that beneficial to the film. It's hard to sustain momentum. A lot of buyers aren't in town yet. It just has a reputation for being a slot for less good films. We worried that people would think less of the film because it was opening night. Usually, the really hot movies are Friday or Saturday, whereas opening night is the Thursday night. That's just how Sundance often was—it wasn't always the case, but it often was. Looking back, obviously it worked out. I'm actually happy that it got to be opening night because you get there, you screen it, and then you're able enjoy the rest of the festival. I didn't have this premiere screening looming over my head giving me anxiety. So Sundance ended up being a dream. It was great.
BROWN: Did you get to see other movies?
CHAZELLE: I went to Sundance with the short film the year before and I saw a ton of movies. This time, I went with a feature and I saw a three or four, which at the time seemed so terrible. I've done so much worse at all these subsequent festivals that it actually seems like a lot. Now I tend to see one or two at most. And it's not from lack of trying, it's just business.
BROWN: Was there one film in particular that made you want to become a director?
CHAZELLE: The first thing I did as a child was draw. I wanted to make animated movies. I think Disney's Cinderella was the first movie I ever saw. Peter Pan was the first movie I ever saw in the movie theater. I grew up with Dumbo and Pinocchio and Sword in the Stone. Those were the movies I wanted to make. I can't remember at what point it switched to live action; at a certain point I stopped drawing as much and started writing. But it was always movies. It was always trying to make the stuff that would be on a big screen, and it kept adapting to the sorts of movies that I liked to see. I certainly loved to see the big popcorn blockbusters and the sheer kinetic thrill ride that those offered. I also had parents who pushed me to discover Chaplin and John Ford and Hitchcock. Hitchcock [created] the blockbusters before the blockbusters—I quickly became pretty obsessed with Hitchcock.
BROWN: Did your parents push you to pursue a more concretely academic career?
CHAZELLE: [laughs] They were supportive, but they were smart. It was obvious right from the get-go that I was so committed to this passion, so they were like, "It's really competitive. The way to give yourself the best chance possible is to work very had. Get good grades. Excel in education. Get into a good university." Which is maybe not true. Certainly grades only matter so much when you're in Hollywood. But I became an utterly motivated, devoted, committed student. I was a good student because I was convinced that it would somehow help me in my quest to become a filmmaker. I also tried to spend as much time as I could writing scripts or making little movies with my camcorder or staging scenes with my friends or going to movies or writing little mock reviews. Reading books about movies. That was my life, until the jazz orchestra came a long. [laughs]
WHIPLASH COMES OUT IN LIMITED RELEASE ON FRIDAY, OCTOBER 10.