George Esquivel's Quest for the Perfect Shoe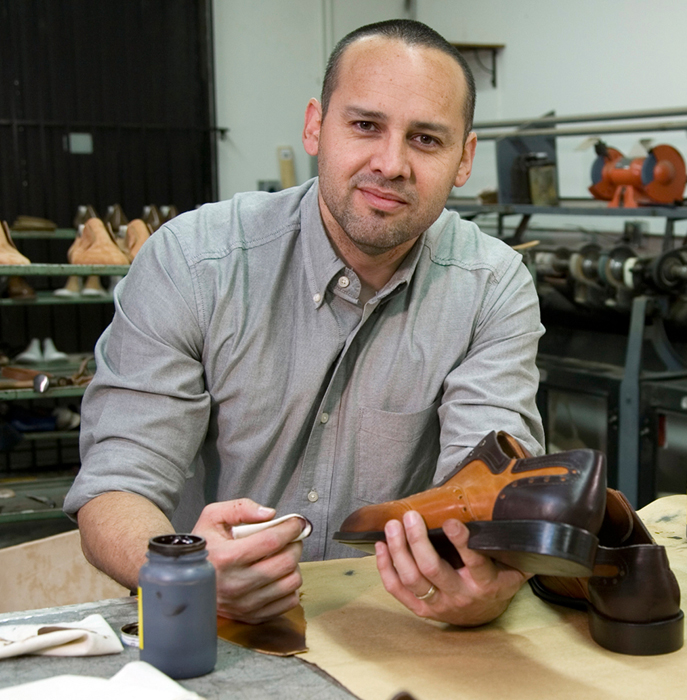 "I think God has a very funny sense of humor," said George Esquivel, the CFDA-nominated designer of the punky, dandyish shoe line that bears his name. Raised in California by a drug-addicted father who served time for murder and an immigrant mother who kept the family afloat, Esquivel recalls that he couldn't afford shoes as a child: "I used to get bussed to school up in the Hills where all the rich kids lived and, you know, they all had the Vans or whatever was in style back then. I always had the fakes from K-Mart or something. But it's funny because now, I get to wear whatever shoes I want! It's kind of interesting how the whole thing worked out."
Interesting indeed, because these days, Esquivel not only buys whatever shoes his heart desires, but makes hand-crafted footwear in the most luxe of leathers for everyone from rockers to movie stars to royalty. He describes his shoes as being inherently Californian, rebellious and a little rock 'n roll. But no matter how wild his veiny zip-front double-laced boots, orange-and-moss wing-tipped spectators or supple grey-and-pink striped oxfords may appear, Esquivel says maintaining a classic edge and unparalleled craftsmanship are his signature qualities.
Esquivel fell into shoemaking almost by accident in the mid-90s after a failed attempt to find the perfect vintage-inspired shoe. A music fanatic, the designer was immersed in California's punk and rockabilly scenes and needed some kicks to match his unique aesthetic. He spent a full year unsuccessfully scouring the state for an able shoemaker, and after arguing with one cobbler over a sub-par pair, he was about to give up. However, salvation arrived in the form of a bystander who, intrigued by Esquivel's passionate tiff, followed him out of the shop.
"This gentleman said, 'George, excuse me but I'm a shoemaker and… I don't know why, but I want to make you some shoes.'" The man was Emigdio Canales, a retired master cobbler who operated an undercover shoe factory out of his garage. And he soon became Esquivel's mentor.

"In the beginning, it was just a hobby, selling shoes to friends," explains Esquivel. But shortly after joining forces with his Canales, the duo's footwear became nothing short of a sensation. In just two years, they turned out over 2,000 pairs of hand-worked shoes for people like Kevin Costner and the members of 311.
Now, 15 years later, Esquivel has upgraded from his former mentor's garage to a proper Southern California-based workshop and has become an undeniable master of his craft. Working with the finest European leathers, he lists Sean Lennon, No Doubt, The Kings of Leon, Dianne Kruger and Yao Ming amongst his dedicated clients. Waris Ahluwalia can be seen wearing his made-to-order pink Esquivel boots in a recent Louis Vuitton ad and Janelle Monae, the soulful songstress with an affinity for tuxes and flats, features her black-and-white striped oxfords in her latest dance video for "Tightrope." This fall, Esquivel will appear on New York's runways in the form of collaborations with Zero + Maria Cornejo, Timo Weiland and Juan Carlos Obando, but despite all of his recent success, the designer asserts that, for him, it's still all about the craft:
"I'm a guy who, after the lights go off, sits in my shop developing colors and treatments and leathers and materials. That's my passion. I think my shoes look cool. Some people hate 'em. But at the end of the day, I don't think you can argue about how much love and attention goes into them. That's the craft. Everybody on my team who's making shoes loves the craft. And that's what this is all about."