Wild Belle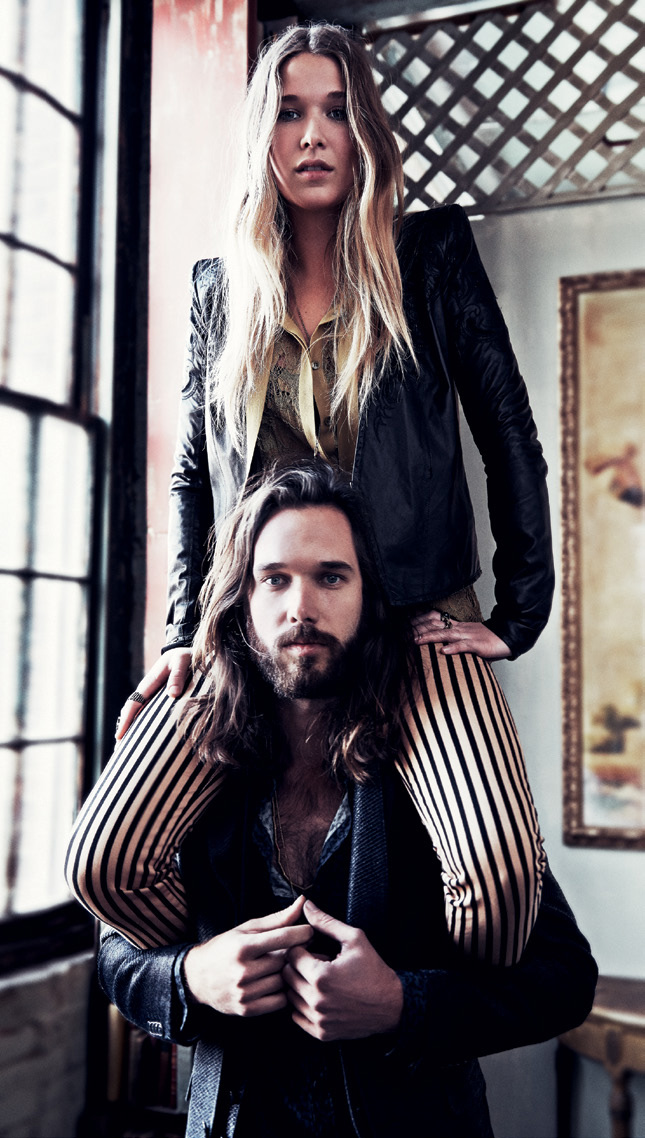 When the brother-sister duo of Wild Belle decided on the name for their debut album, their reasoning was more romantic than literal. "Each song is its own world, its own island. We thought each song is very different than the next," explains singer Natalie Bergman, 24. "So we decided to call it Isles." However, the name could just as readily apply to the geography of the locale from which the Chicago-bred band draws their most overt influence: the Caribbean islands, birthplace of the languid reggae beats and perky rock-steady saxophone that anchor their record. Isles (Columbia), out this month, adeptly melds these tropical facets with elements of funk, jazz, and '70s pop; "Keep You," also the band's first single, pairs Natalie's smoky vocals with brother Elliot Bergman's bold punches of sax, while "It's Too Late" adds a touch of kalimba and jazzy vocal intonation, and "Backslider" is a slow-burning shot of disenfranchised soul over soft beachy percussion.
Though the Bergman siblings are both classically trained instrumentalists and have played together since childhood, they formed Wild Belle little more than a year ago and it is their first official project together. "Our dad always says, 'There's value in the dialectic,' " says Elliot, 31, who also leads the Afro-jazz band Nomo. "It's true because I think we work together very well, but we're both really stubborn people. It's a deliberate thing, that we're collaborating."
Wild Belle have enjoyed swift momentum in the past year, from securing a coveted three-album deal with Columbia to performing on Conan. And though both Natalie and Elliot plan to relocate to Brooklyn this year, they still honor their roots: They named the record label they started a year ago Sandhill Sound, after the sandhill cranes that migrate through the Midwest. "They fly these circles up to four miles high and then they coast on thermals for hundreds of miles. So they do this insane amount of work and then they just glide," says Elliot. "Our mom used to love them, and it was always a signal of changing seasons."
PHOTO: WILD BELLE IN NEW YORK, JANUARY 2013. ON NATALIE: JACKET: ROBERTO CAVALLI. SHIRT: ETRO. JEANS: VERSACE. NECKLACES AND RINGS: AESA AND PAMELA LOVE. ON ELLIOT: BLAZER AND VEST: ETRO. SHIRT: DOLCE & GABBANA. JEANS: J BRAND. NECKLACES: BERGMANÂ?'S OWN. COSMETICS: NARS,INCLUDING SHEER LIPSTICK IN DOLCE VITA AND DUO EYESHADOW IN ALHAMBRA. HAIR PRODUCTS: SERGE NORMANT, INCLUDING META DRY REVIVE SHAMPOO. HAIR: DAVID VON CANNON FOR SERGE NORMANT/STREETERS. MAKEUP: KAORU OKUBO FOR NARS/MANAGEMENT ARTISTS. SPECIAL THANKS: THE METROPOLITAN BUILDING.