Soundclouds of the Underground: Trip-Hop Hip-Hop Edition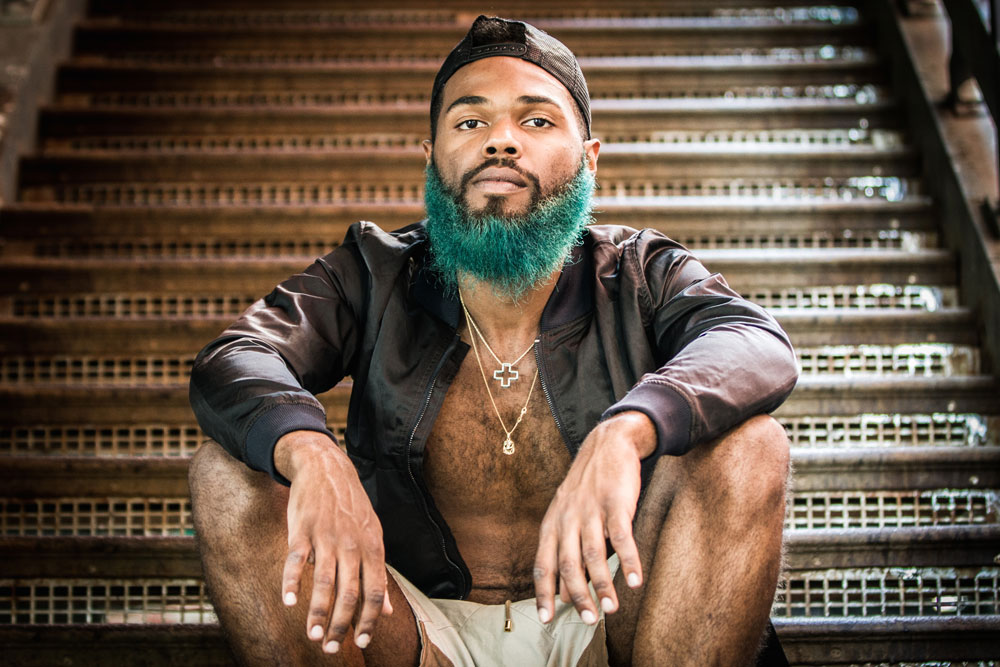 ABOVE: ROME FORTUNE. PHOTO COURTESY OF JIMME ARMENTROUT III.
With an infinite number of websites dedicated to hosting tunes for the laptop-wielding masses, music truly lives online. However, the web's bottomless pit of blogs isn't the only place to troll for mp3 treasures—some of the newest and most exciting (Internet-friendly) artists can be sought out via Soundcloud, the online stage that allows musicians to promote and distribute music around the world. For this edition of the weekly column, guest Internet sleuth Jake Boyer goes into the depths of the music-sharing site.

The sonic marriage of hip-hop and trip-hop is one of the more perfect unions in the musical world, so it is unsurprising to find musicians across the globe leaping headfirst into a genre blend that's undergoing rapid and unparalleled hybridization. This week's tracks showcase the melding of lushly textured, experimental electronic scoring with the crisp beats and smooth flow of a gifted emcee. Despite the tracks all being released within a week of each other, each one carries a distinctively different flavor, only united by their uncanny ability to get you to mellow the fuck out.
Rome Fortune and Ceej: "Blackout"
Who: Hailing from Atlanta, Rome Fortune carries the character, wit, and charisma of an André 3000. Ceej has been working with Fortune as a producer for two mixtapes now, although he is also a member of the duo Future Sushi.
The Song: While it's tough to pick a single standout, "Blackout" is a track that starts out hard and maintains its energy as it goes along. Built around a throbbing vocal sample and sparkling lines of synth, Fortune mashes tales of adventure in each lyric, from travels in Bangkok to restaurant staff seductions. With rumbling beats and an electronic shimmer this intoxicating, you can't help but get swept along with him.
Current Project: Rome Fortune and Ceej freshly dropped Lolou, a stellar collaborative mixtape that features a pair of guest spots from fellow Atlanta-natives iLoveMakonnen. Listen on their Soundcloud.
Azizi Gibson: "Pae-Ki" (ft. Keith Ape)
Who: The multinational Azizi Gibson has released several mixtapes and EPs, giving us a little taste of his growing rap palette. Last month's The Last EP was electrifying—a cohesive set of songs that was bold, brash, and acted as one hell of a party starter.
The Song: His first new music in over a month, "Pae-Ki" makes for a very interesting addition to Gibson's sound. For one thing, it's calmer: While his recent music was the party starter, "Pae-Ki" is more like the group of friends leftover at 3:00 am sharing a final joint before heading home. A volatile bass line presides over haunting synth melodies and Gibson's laidback vocals, showing a sultrier side to his enigmatic persona.
Current Project: Given the surprise release of this new track, and the title The Last EP, we're expecting something big, we just don't know what. Check out Gibson's website here.
Childish Major and Matik Estrada: "Keep Running" (ft. Big KRIT and Curtis Williams)
Who: Producer Childish Major is criminally unknown, which is surprising given his recently produced tracks for the likes of Rick Ross, Future, and even the aforementioned Rome Fortune. His talent lies in simultaneously resurrecting '90s era West Coast hip-hop production and melting it down in its fusion with psychedelic electronica. His latest work has found a balance with rapper Matik Estrada, who glides atop Major's production seamlessly.
The Song: "Keep Running" exemplifies Major's sound with beats straight outta Compton wrapped around a shifting haze of synths that could be found at a planetarium. The result is a record that practically drips with trippy vibes and equally tripped out verses that reference The Matrix and "immaculate forcities speaking of the universe."
Current Project: Chilidish Major recently dropped the Community Service EP, where you can find this track and several other psychedelic hip-hop bangers. Watch the video for the track "Family Matters" here.
Soundclouds of the Underground runs every Thursday. For more, click here.