Iggy Azalea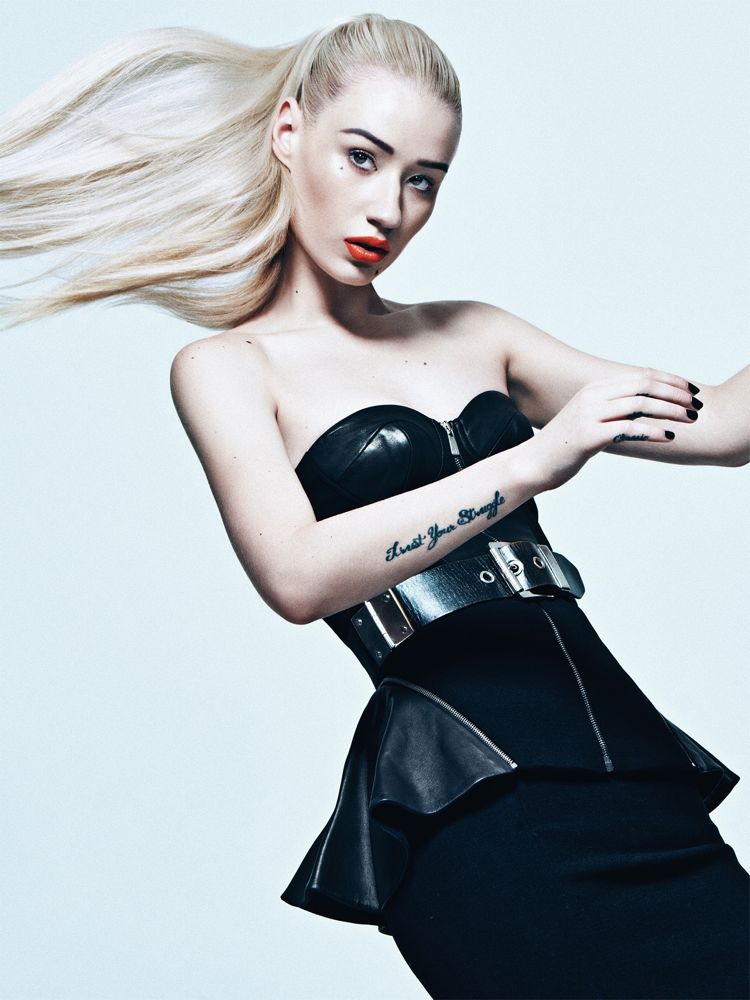 ABOVE: IGGY AZALEA IN NEW YORK, JULY 2013. TOP, SKIRT, AND BELT: MICHAEL KORS. STYLING: SARAH ELLISON.
Hailing the from Mullumbimby, New South Wales, in a remote part of Australia, 23-year-old rapper Iggy Azalea grew up in a part of the world that is not exactly considered a hotbed of hip-hop. "It's a two-street shithole, where I worked on the farm and looked after cows," explains Azalea. "Nobody wears high heels there. Rap focuses on excessive shit, but growing up, I'd get one pair of shoes for the entire year."
Azalea's fortunes have changed considerably since then. Born Amethyst Amelia Kelly ("Iggy" was her dog's name), Azalea was inspired as a teen to pick up the mic after being introduced to the lyrical stylings of Tupac and Missy Elliot. She set off for Miami at 16, then spent the ensuing years shuttling between Houston, Atlanta, and Los Angeles as she chased her dream of becoming a superstar MC. Her breakout moment came when the video for her 2011 track "Pu$$y" went viral. In short order, she was quickly accepted by the hip-hop cognoscenti, had a very public relationship and breakup with A$AP Rocky, and became engaged in a protracted Twitter beef with Azealia Banks (who hasn't?). She also found herself a mentor in rapper T.I., whom she considers a trusted advisor. "I'd have these debates with T.I., and whenever he wanted to demonstrate his authority, he'd say, 'I've sold 10 million records,' " says Azalea, "to which I'd say, 'Yeah, but you've never done it as a white-girl rapper from Australia!' "
Azalea's points of differentiation in the urban-musical marketplace don't end there: Her inherent quirkiness extends to her rhymes about sex and drugs, and of course, to her over-the-top persona, which borrows bits and pieces from the likes of Gwen Stefani and, um, Fran Drescher. "She's a strong style influence," Azalea says of The Nanny star. "Seeing crazy people on television inspired me. Fran was like an alien. I wanted to be her so badly." Appropriately, Azalea's much-anticipated major-label debut, The New Classic (Island Def Jam), which she says is influenced by Andy Warhol, Salvador Dalí, and Showgirls (1995), is to be a pop-culture fantasia of high, low, and club-banging moombahton beats. "For me, visuals are as important as the music," Azalea explains. "I just love escapism and giving people something to escape to. To me, that's what art is."
COSMETICS: M.A.C., INCLUDING LIPSTICK IN LADY DANGER AND DIOR VERNIS IN UNTITLED BLACK.HAIR PRODUCTS: BUMBLEAND BUMBLE,INCLUDING HOLDING SPRAY.HAIR: PETER GRAY FOR BUMBLE AND BUMBLE/HOME AGENCY. MAKEUP: OZZY SALVATIERRA FOR M.A.C/ STREETERS.MANICURE: CASEY HERMAN FOR DIORVERNIS/KATE RYAN. SPECIAL THANKS: TENTON STUDIO.

For the 10 of Iggy Azalea's favorite things, click here.