q&a
Chung Ha on Querencia, Comfy Sneakers, and Her Ideal Dinner
"Cause I'm the baddest queen, I'm sicker than all of them," declares Chung Ha, the 25-year-old K-pop star in her song "Bicycle," an anthem for baddies all over the world. The singer, dancer, choreographer, and songwriter is not, by any means, a newbie when it comes to the music industry. She made her debut back in 2016 as part of the girl group I.O.I. after finishing fourth place in the competition show Produce 101. Ha's career as a solo performer soon took off with the release of her first EP, Hands on Me, in 2017. Her latest offering, Querencia, puts her wide-ranging talent on full display with each song, oscillating between genres with ease, style, and fierce dance moves. She's the first K-pop solo artist to feature a collaboration with a Latin artist with her song "Demente," featuring Guaynaa, a Puerto Rican rapper. The process of releasing an album titled Querencia, which is a metaphysical concept in the Spanish language that comes from the verb "querer," which translates to "to desire," pushed the singer to new, vibrant heights resulting in a futurist record that blends reggaeton bangers with pop anthems. Below, she took some time to answer a few questions about why she loves sneakers over heels, the song she wrote for her fans, and how her therapist helped her find the title for her new album.
———
INTERVIEW: How did you get started in the music industry?
CHUNG HA: My dance instructor seriously recommended me to get into music. At first, I wondered, "Will I be able to do this well?" But, as I kept practicing dance and even started vocal training, I began to think, "I want to do music!"
INTERVIEW: This is your debut solo album. How do you feel now that the album is out?
CHUNG HA: This is my first studio album and it does feel like I'm making another debut. I've been working on this for a very long time, and this album shows a new side of me. It does feel similar to when I first debuted.
INTERVIEW: Can you tell me about the album title Querencia? What's the story behind that?
CHUNG HA: I came up with a lot of ideas for the title of this album while I was working on it. I learned this word from my therapist. I don't think the word is commonly used, but I was so drawn into the word and could relate to its meaning very much. To me, this album itself is querencia.
INTERVIEW: You have a few collaborations in the album. What do you look for in a collaborator?
CHUNG HA: I've tried various new things in this album. Collaborating with other artists was very fun and the most memorable part. Throughout such amazing collaborations, I think that I was able to expand my spectrum in music by learning more about various types of music and trying to apply those into my album. I didn't have any thoughts like, "I must do this through this collaborations!" I was just extremely thankful to be able to work with them.
INTERVIEW: What do you hope happens when people listen to your album?
CHUNG HA: I want them to ask themselves what their own querencia is. Most people probably did not have the time to think deeply about querencia. I also got to find out my true querencia while working on this album. I want many people to feel the warmth through finding their own querencia.
INTERVIEW: What is your favorite song on the new album?
CHUNG HA: I like the song "Byulharang" the most. This song is for my fans. I even worked on the lyrics myself to let my fans know that I really thank them for always being there for me. I think this song really warms up your heart when you are listening to it.
INTERVIEW: Do you believe in astrology?
CHUNG HA: I enjoy tarot readings for fun, but I don't believe in it.
INTERVIEW: Do you have any other artistic interests?
CHUNG HA: One of my cousins majored in fine arts and I find it really cool every time I see her pieces, but drawing isn't my thing at all. For now, I'm not so interested in any other forms of art except music.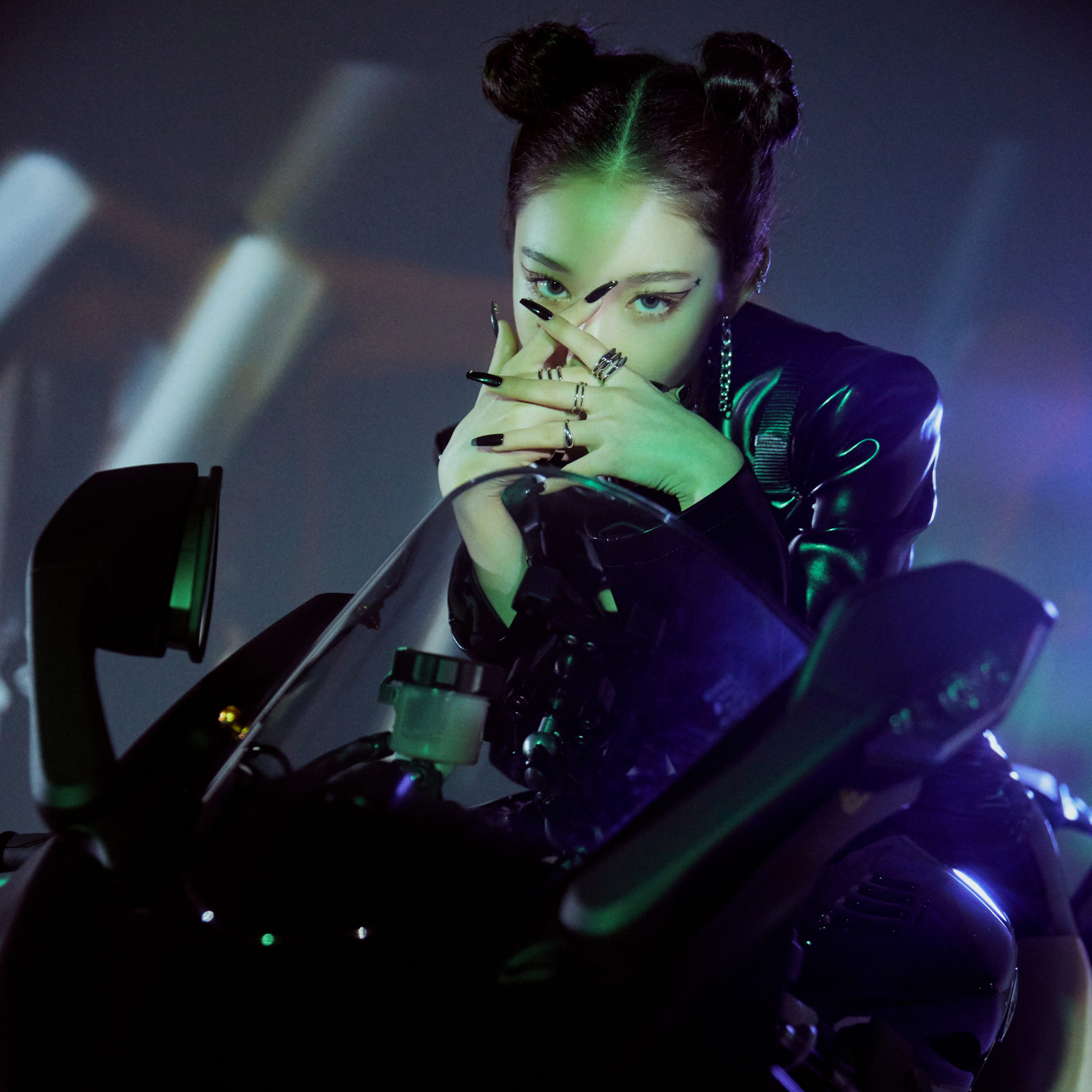 INTERVIEW: How would you describe your sense of style?
CHUNG HA: Usually, my style is very carefree and laid-back. I usually don't wear makeup. I'm not that into clothes either. When I go shopping for clothes, I just get a comfy hoodie or pajamas and that's it. I go for the comfy style. But when I perform, I've got this intense look with lots of glitter and sparkles. My fans really like this gap between my styles.
INTERVIEW: What is your favorite pair of shoes that you own?
CHUNG HA: I pretty much just wear sneakers all the time. During the active performing season, especially during the winter, I wear fur slippers a lot. Since the shoes I wear while performing or during a video or photo shoot are a bit uncomfortable, I look for comfy shoes often.
INTERVIEW: What do you do when you're not working?
CHUNG HA: I pretty much just stay at home. I like chilling and resting at home. I spend time with my dog.
INTERVIEW: What is your favorite self-care ritual?
CHUNG HA: I go see my physiotherapist for total body alignment. I make sure to go about two times a week.
INTERVIEW: Who would you have at your ideal dinner party, and what would you serve?
CHUNG HA: I want to serve all kinds of delicious food, like a buffet, and invite my dancers. I'm extremely thankful for them and I'd really like to have a dinner party with them.
INTERVIEW: You lived in Dallas, Texas, when you were younger. What is your favorite thing about Texas and your least favorite?
CHUNG HA: My favorite thing was that the neighborhood was quiet. I lived in a small neighborhood in Dallas and it was very quiet and nice. Even the roads were wide. It's very hectic and noisy in Seoul. In Dallas, I could just go about my day, I didn't really dislike anything there.