Christeene and Peaches Bond Over Breast Milk and Buh Holes
If RuPaul brought drag into the mainstream,then Christeene has, er, dragged it into the backwaters. Paul Soileau, the Louisiana native behind Christeene's alarming mask, created the character as a switchblade reaction to an unfulfilled life and post-Katrina malaise. What emerged was a feral, sexualized creature that takes a blowtorch to every norm society has to offer. Her debut album, the guttural Waste Up, Kneez Down (2012), is a lawless electro clash of fetishistic dirty talk and salacious party anthems, with song titles such as "Fix My Dick" and "Tears from My Pussy." Her follow-up, last year's Basura (Spanish for"trash"), saw Christeene creating even more in-your-face songs like "Butt Muscle," the video for which featured Christeene urinating into the mouth of the fashion designer Rick Owens. It's the same shock-and-awe attitude that defines Christeene's notoriously raunchy live shows, which sometimes include the equally subversive musician Peaches. Here, the two friends reconnect for a quick chat about hecklers, breast milk, and, as Christeene likes to call them, buh holes.
———
CHRISTEENE: How are you, girl?
PEACHES: I'm fucking exhausted. I got a massage yesterday and it fucked me up.
CHRISTEENE: Oh, no. You got sick after Hamburg,right?
PEACHES: Yeah, I slept for, like, a week and then I came back like the phoenix from the flame!
CHRISTEENE: I just listened to that song [Sinéad O'Connor's "Troy"] this morning. I was about to send you a lyrical breakdown.
PEACHES: I don't need it. I've known that song since I was 19. I am such a Sinéad enthusiast. So tell me, have you ever been heckled?
CHRISTEENE: I have been heckled. We did a festival, and these kids tried to get into the tent. They didn't have tickets or they were underage. They got in somehow, but all they did was throw their programs at us onstage, and then they left.
PEACHES: Have you ever had somebody come onstage and be non–Christeene friendly? For me, if somebody comes onstage or somebody does something, I get them on my side.
CHRISTEENE: In the early days, I would tell my dancers at the time, Thomas and Carlos, "If anyone comes onstage, attack them." So we did that. Usually the people who got onstage were very drunk and they just wanted to dance and feel the stage. But they were doing it in a really messy way and not in a very sharing way, so the dancers would usually throw them under the rug and just start pouncing on them. I haven't had someone derail a show in a shitty way. One time I accidentally ripped some guy's nose ring out of his face and he was bleeding a lot. I brought him onstage to give him a moment to collect himself, but then I found out he was wasted and just wanted to grab the mic and go crazy, so I had to throw him off stage. Have you had terrible stage experiences?
PEACHES: Yes, especially because I go into the crowd, so I've had people try and stick their fingers in places that they shouldn't be. I've broken fingers before. This one time somebody basically tried to finger-fuck me by throwing their hands way up while I was standing on people's shoulders. I was actually eating a hot dog at the time, and had my legs on two different people's shoulders, and I saw someone in the corner of my eye. I was like, "That's weird." They were calculating how long their arm was, and then boom, threw it up.
CHRISTEENE: Whoa.
PEACHES: I ran after them and they got away. I walked off stage and there was Genesis [P-Orridge] saying, "I love you. I support you." We have allies, we have our people. If I had a House of Peaches, I would have one sister and one daughter, and you would be the daughter.
CHRISTEENE: Oh, get out.
PEACHES: You would be my one daughter. You see how it is.
CHRISTEENE: Yeah, I do. I think we've found each other in a good way.
PEACHES: We found love in a hopeless place.
CHRISTEENE: Yes, we did.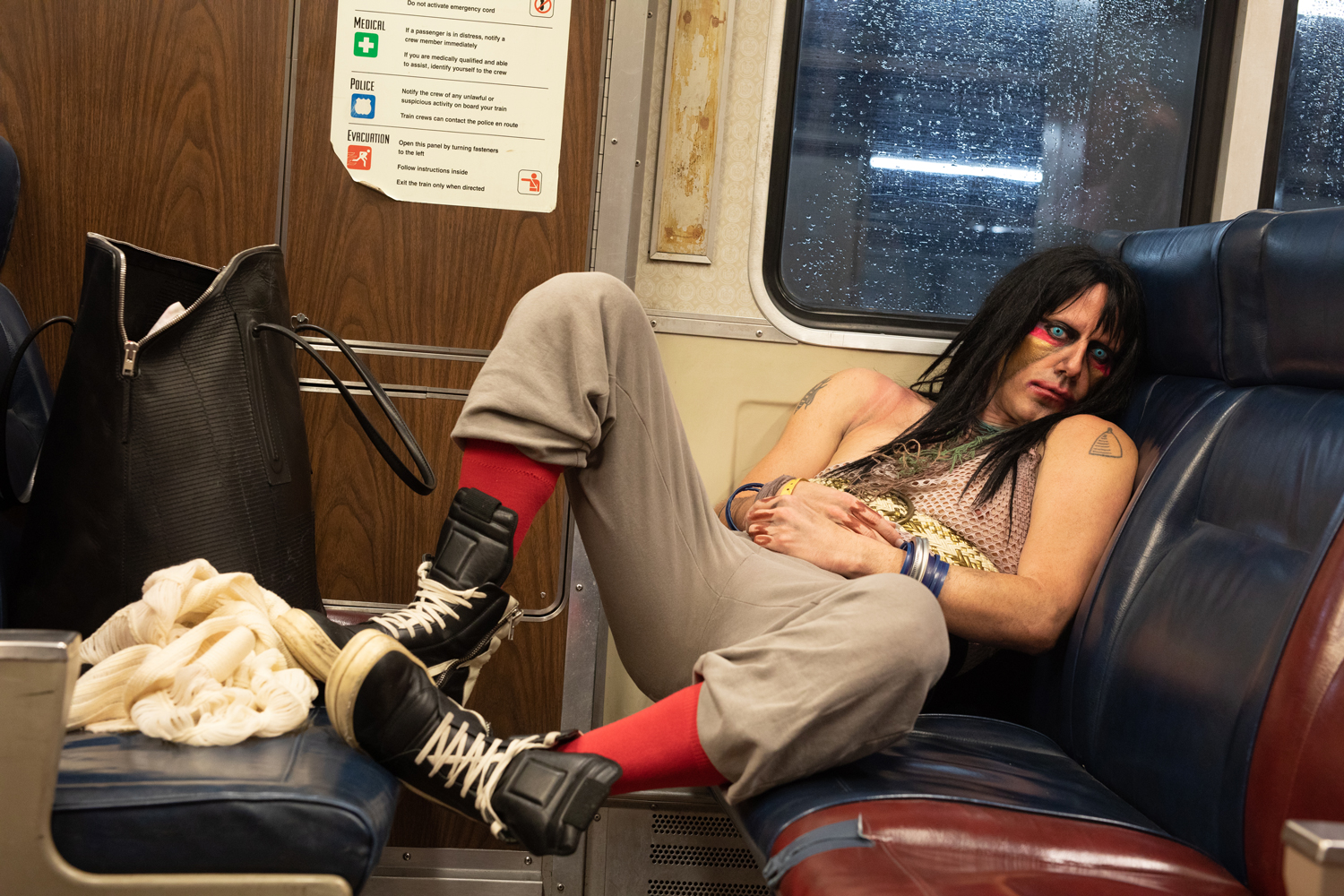 PEACHES: Sometimes, because I have been doing this for so long, I fall into some binary-descriptive moments. You never do, because you always focus on the part where everybody is included, which is the asshole. Maybe you can talk more about that, Christeene.
CHRISTEENE: I think many of us, as these human creatures that we are, experience a lot of the same things, mostly emotionally—how we feel about ourselves, how we see ourselves fitting in or not fitting in, and then how we're processing all of these things that are coming at us from the news and other parts of the world. I try onstage to find a way to make all of us capable of having some sort of a conversation, be it through music or be it through butt plugs coming out of your ass. I think that's the best way to allow people to understand that we're the same. I tell them that we're all equal because we all have a butthole, and that's the richest, dirtiest, most basic thing that we all share. There are so many feelings about the butthole from so many different people, from different religious groups. I wrote the song "Bustin' Brown" a long time ago because I was so angry when I would look at straight porn and all these men are fucking these women up the ass and it was okay. But when men fucked other men up the ass it was so wrong. The thing that made me so mad was that I could go to hell for butt-fucking, but they were okay.
PEACHES:But it's also Christian virginity, right? It's okay if it's up the butt.
CHRISTEENE: Yeah. Catholic virgins, all the way.
PEACHES: I have a song called "Back It Up, Boys," because, statistically, it feels better for boys. So what the fuck?
CHRISTEENE: I just try to create a room that acknowledges and approves all the things you're doing at home. Onstage, I'm not trying to be the prophet who's going to say, "I have the answers for you." I really don't like entertainers who get onstage and talk about "me, me, me." They act like they are the prophet and they have the right answers and they are the best and the richest. That shit turns me off. I'm most interested in finding a way to discuss all of these things in a more creative, mythological narrative that can really be entertaining, but which also addresses some really deep shit that we're all thinking about.
PEACHES: We both present ourselves in an absurdist way, and with humor. Humor brings people in, and the absurdity also helps people not see it as threatening. They see it as ridiculous, and then they realize it's not really ridiculous because it's kind of just how it is.
CHRISTEENE: I realize this when I'm performing with you, and it's a thing that I'm always surprised by—whenever we're onstage and we're singing together, you have no problem with having campy fun. We're looking at each other and smiling, and underneath the lyrics, we're laughing with each other. I don't get that a lot with people onstage. And then, once you have them laughing, you hit them with a good dose of aggression and seriousness. The biggest thing is to take that control away from them in terms of everyone thinking they know everything.
PEACHES: And I'm not afraid to sing very close to your butthole.
CHRISTEENE: That is the truth.
PEACHES: I have sung right into your butthole.
CHRISTEENE: You poor, poor thing.
PEACHES: Something that's really important that you just brought up is that while there is definitely aggression and urgency in the performance, it's really all about inclusivity.
CHRISTEENE: I think we can both say that all of our audiences are quite mixed. That's one of my favorite things. A lot of people say when they go to a show that they are quite surprised to find so many different ages and races coming from different areas of the world, pregnant women, crazy fucking homos, all packed in this room. And they're all being delivered this message, and they're all experiencing it together.
PEACHES: Speaking of pregnant women, did you know that I was sprayed with lactating milk while I was singing once? It was one of the highlights of my career. The last time you saw me, you said I looked really good. It's because of all that milk from an Australian woman.
CHRISTEENE: Every time we've played in San Francisco, this pregnant woman comes to the show, she lifts up her shirt, and I take a picture with her belly. Then the next year she's flat. She had the baby. And then the next year she comes back pregnant again, and I take a picture with her belly. We have this weird relationship where I bless her belly and kiss it and wish good things on whatever's inside. Of all the weird things coming to the show, a pregnant, lactating woman is probably the best you could possibly wish for.
———
This article appears in the fall 2019 50th anniversary issue of Interview magazine. Subscribe here.