Mackenzie Davis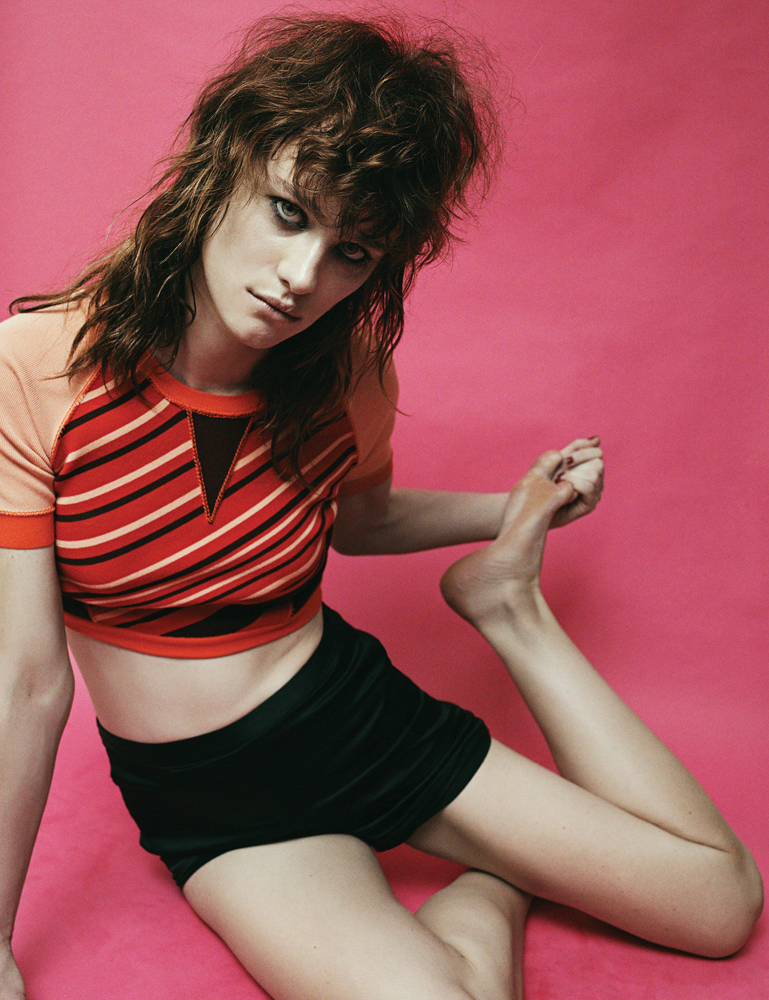 ABOVE: MACKENZIE DAVIS IN NEW YORK, OCTOBER 2013. TOP: TOMMY HILFIGER COLLECTION. SHORTS: ALEXANDER WANG. STYLING: ELIN SVAN.
Walking to lunch in New York's East Village, Mackenzie Davis, a human skyscraper with cheekbones, is talking about sex—and smiling. Compared to Los Angeles, where she spent much of the last two years, Davis much prefers New York, where she shot her upcoming comedy That Awkward Moment, with Zac Efron, about a trio of twentysomething men who make a pact to remain single despite what their hearts truly desire: girlfriends-one of them played by Davis. For a movie about guys sowing their oats, That Awkward Moment has very little actual sex. "It's pretty hard, as a woman, to find a movie where some sex and nudity isn't written in, at least in early drafts of a script," the 26-year-old Davis says. "But this movie isn't about sex; it's about getting over sex and finding love." When it comes to sex in film, her own tastes tend toward the more realistic. "Julie Christie and Donald Sutherland in Don't Look Now [1973]," she claims as her favorite. "It flashes between getting dressed and these two bodies in bed, having really honest, messy sex." Davis's preference for vérité may be what led her to New York's Neighborhood Playhouse at age 22, where she studied the Meisner Technique after graduating from McGill University in Montreal. Upon finishing at the Playhouse in 2011, she soon landed a part in director Drake Doremus's fierce indie drama Breathe In, set to be released in March, as the daughter of Guy Pearce's and Amy Ryan's characters. She will also soon appear as Adam Driver's love interest in The F Word and alongside Patton Oswalt and Bob Odenkirk in the forthcoming zombie-and-vampire comedy The Kitchen Sink. In addition, Davis has a lead role in the upcoming AMC series Halt and Catch Fire, about the inner strife at tech firms in the early days of the personal computer (think Mad Men with less liquor and more nerds). "When I was in Montreal, I'd go out for 'Cheerleader Number 1′ or 'Model Number 2,' " Davis recalls. "I've been lucky to work consistently on women who I think are interesting, fleshed out, and strong and active participants in their destiny." Davis expounds further, quoting Henry James. "That's the lesson of Washington Square [1880]: Don't be not beautiful," she says with a laugh. "I'm getting rid of this idea that you want people to like you. I'm making decisions on what feels right to me. To act in a more carnal way. That's my challenge."
COSMETICS: MAKE UP FOR EVER, INCLUDING FACE & BODY, UPLIGHT IN 11 DEWY PINK BEIGE, AND KOHL PENCIL IN 1K BLACK; NARS, INCLUDING OPAQUE NAIL POLISH IN TOMORROW'S RED. HAIR PRODUCTS: WELLA PROFESSIONALS, INCLUDING PERFECT SETTING BLOW DRY LOTION.HAIR: ESTHER LANGHAM. MAKEUP: MARLA BELT/STREETERS LONDON. MANICURE:MAKI SAKAMOTO FOR NARS/KATE RYAN INC. PROP STYLING: KAET MAC FOR MARY HOWARD STUDIO.