Harris Dickinson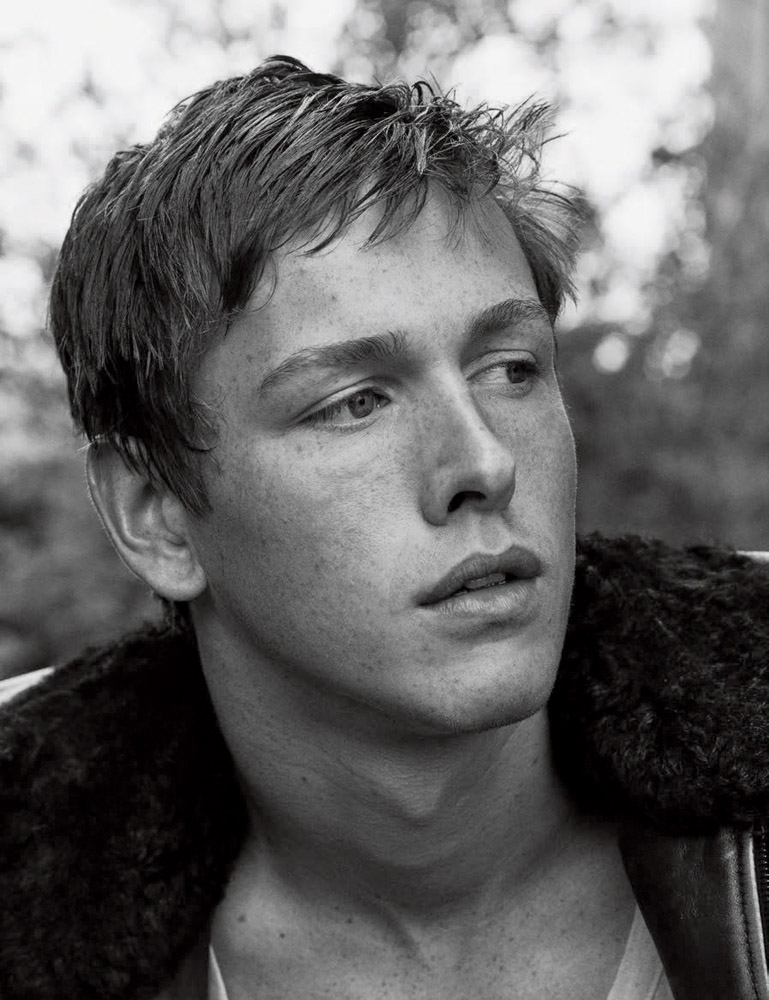 JACKET: PRADA. SHIRT (COURTESY OF DAVID CASAVANT ARCHIVE): DIOR HOMME. STYLING: ALASTAIR MCKIMM. HAIR: DUFFY/STREETERS. MAKEUP: MARK CARRASQUILLO/STREETERS. MANICURE: YUKIE MIYAKAWA USING DIOR BEAUTY/KATE RYAN. SET DESIGN: PIERS HANMER. PRODUCER: CAROLINE STRIDFELDT/LOLA PRODUCTION. PRODUCTION MANAGER: TERESA BERGEY. RETOUCHING: GLOSS STUDIO NEW YORK. DIGITAL TECHNICIAN: NICHOLAS ONG. SPECIAL THANKS: RED HOOK LABS.
AGE: 20.
HOMETOWN: London. I was born in Leytonstone, which is where Hitchcock was born.
UP NEXT: As Frankie, an aimless teenager grappling with his sexuality in the Sundance sensation Beach Rats; in The Darkest Minds, forthcoming, with Amandla Stenberg and Patrick Gibson; as the kidnapped scion J. Paul Getty III in Danny Boyle's FX series Trust.
ACTORLY AWAKENING: My mum tells me, "I always thought you were going to be an actor because you always wanted to dress up as someone different." I know that sounds so trivial and stereotypical, but it's true. I always wanted to be a different person for the day. Every time I went to the cinema or to the theater, I would come out with this overwhelming sense of joy. At about 16, I put all my energy into it.
EDUCATION (OR LACK THEREOF): I was studying film studies in college, and I enjoyed it, but it was difficult because I was auditioning at the same time for things and I found myself falling behind a little bit. I also had a bit of trouble with one of my teachers and we clashed; it just really made me want to just stick two fingers up and say, "I'm done. I'm out." The way that I was, the way that the system was going, it wasn't working for me as an individual, so I left. I said, "Fuck you," and went.
FIRST TIME READING THE BEACH RATS SCRIPT: I felt a connection to it. You don't always get that with scripts. Sometimes you're reading a script and you feel like you're an outsider, but I was reading this as Frankie straightaway, which is a good sign. There wasn't an extreme amount of dialogue, but I could still feel it; I could feel the tone and the poetry, and it was full of imagery and beautiful metaphors.
GETTING INTO CHARACTER: It was a bit intimidating playing a character from a society I had never been immersed in at all—the outer edges of Brooklyn. But it was a really small, close-knit cast and crew. Sometimes there were only four people on set, so it was really intimate and really lovely. I just immersed myself in it; I was losing a little bit of weight and my head got shaved and I felt a shift midway through shooting because the film took a darker turn. It was tough, but I enjoyed every moment of that severity.
DECISIONS, DECISIONS: The script never made clearer if Frankie was gay. It was kind of up to me, because it's not a coming out story. There are lines in the movie where he's just like, "I don't know." I think that the whole idea was that he had never given the opportunity to explore himself because of the environment that he's in, and he's been so oppressed, so riddled with expectation of masculinity, that the idea of self-exploration and self-growth wasn't an option, really. It's like, everyone you're around, you just assimilate.
ON DARKEST MINDS: Filming is a totally different vibe [than Beach Rats]. But it's not so difficult. It still feels like an intimate group of filmmakers because it's the first film in the series and no one really knows about it. It still feels like we're making a truthful, groundbreaking story. It's about a society where 98 percent of children die as a result to a disease called Iann. The two percent of children remaining develop these special abilities. It's about us—the two percent—escaping from society.
DIFFERENCES BETWEEN THE U.K. AND THE U.S.: People's sense of humor. Sarcasm exists in New York, which it doesn't so much elsewhere.
HOBBIES: I like to go out and dance. Also rock-climbing and weird sports.
GOING OFF-GRID: I like being in nature-walking, climbing trees. I grew up almost causing forest fires.
IF HE WEREN'T ACTING: I'd like to inject the jam into the doughnut.
FINAL THOUGHTS: Carrots are good for you because they help you see in the dark. And turmeric. Turmeric is really good for your circulatory system and your digestive system and the skin.
For more from our "Youth in Revolt" portfolio, click here.