Discovery: Arielle Holmes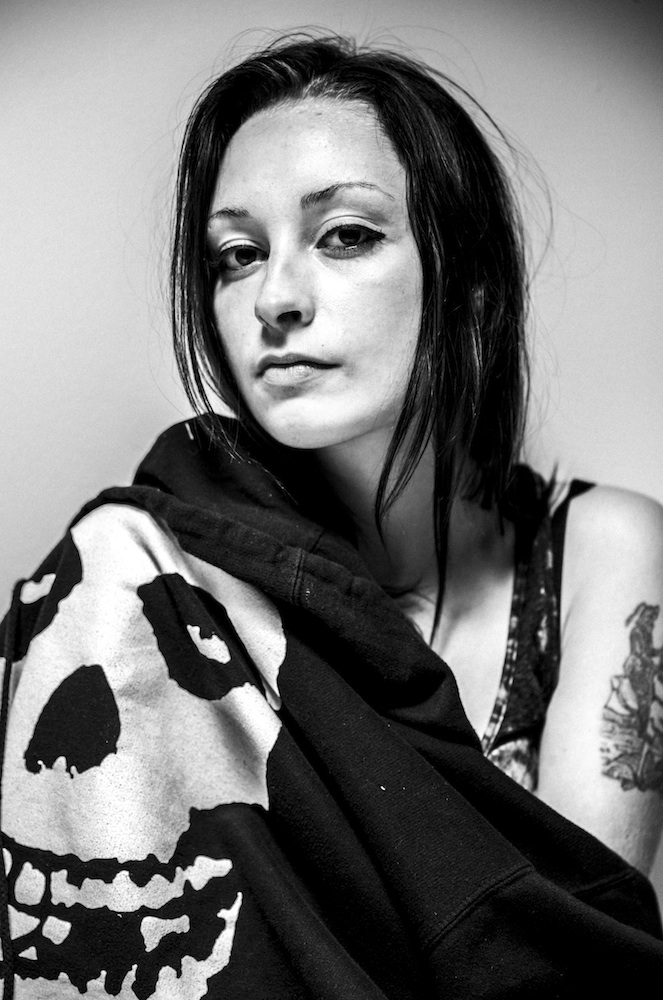 ABOVE: ARIELLE HOLMES IN NEW YORK, OCTOBER 2014. PHOTO BY FRANK SUN.
Stars, as they say, are made and not born, the circumstances of their discovery enhancing a manufactured mythology. When a reporter famously scouted 16-year-old Lana Turner at her local malt shop, for instance, the playful blonde who would become Hollywood's vaunted pin-up was playing hooky from school. But the origins of Arielle Holmes, who makes her acting debut in Josh and Benny Safdie's operatic feature-length drama Heaven Knows What, are strangely miraculous. The film, a modern Les Miserables about young, haunted drug addicts in New York City's Upper West Side neighborhood, recently enjoyed its U.S. premiere at the New York Film Festival after winning raves in Venice and Toronto. But for all of her apparent ease on the red carpet, Holmes is no ordinary independent film ingénue: Heaven Knows What is based on her soon-to-be-published memoir, Mad Love in New York City.
A year ago, while doing research for a different film set in the city's Diamond District, Josh, 30, the elder Safdie brother, spotted Holmes, then 19, entering the subway. Driven by an intense curiosity for people and tremendously skilled at casting non-actors in his films, Safdie approached the cautious teenager about acting in his production. "When you see a star, there's a gravitational pull—it's an ineffable quality," he says about Holmes. Wearing a polka-dot dress and sheer black tights, the girl he assumed to be an apprentice possessed remarkable self-possession and beguiling saucer eyes. Safdie began meeting semi-regularly with Holmes, who dressed considerably different from their initial encounter, to discuss her participation in his burgeoning production. Early on, she trusted him with the reality of her life: she lived on the streets, she was addicted to heroin, and she was in love with a boy, a fellow addict and cultish figure named Ilya. After encouragement from Safdie, Holmes put in marathon sessions at the uptown Apple Store committing her story to writing. Transfixed by the astute immediacy of the material, Safdie eventually put aside the Diamond District project and, together with brother Benny, 29, and long-time collaborator Ronald Bronstein (Daddy Longlegs, Frownland), embarked on adapting Holmes's story of love and survival for the screen. The actress, who is being celebrated for her raw performance as Harley in the film, recently signed with talent powerhouse ICM Partners.
AGE: 21
HOMETOWN: Bayonne, New Jersey

A HOMECOMING: This film festival was the most nerve-wracking out of all of them. At this one, I was actually so nervous that my stomach hurt. It was because the movie, the book I wrote, and my life… this all took place here—in this neighborhood, too! And my friends were all there—friends that were either in the movie or had characters based off them. I didn't know what to expect from them. I didn't know if they would love it or hate it because of certain parts of the lifestyle [the film] exposes. But all of them loved it and were so happy about it. They were happy for me. Afterwards, it was really nice to have them all there, to be reminded that they're really my friends. We all went to the after-party together.
THE SAFDIES: When I first met Josh, I didn't have any expectations. I thought, What do I have to lose? I'll meet this guy. After meeting him once or twice, I looked him up and he and his brother were real directors, they had films. [laughs] That's what led me to completely trust that this was going to go somewhere because, why'd they waste the time? But even before that, I just had the feeling that Josh was genuine. I just got that vibe from him.
LITERARY AMBITIONS: [Before the film,] I always wrote poetry, I always wrote poetic passages, I guess you could call them. I used to write down essays about my theories of life and the universe, these philosophies. I always kept a journal, a personal thing. I always wanted to write stories, like fantasy and things like that. I have the ideas, but I have a hard time piecing it all together and writing the way I want it to be. The writing style and what I did with [Mad Love in New York City] is a lot different than that, and that's always what I wanted. This just comes naturally to me, and everyone tells me that it's great. If it is, and if it does something for people, then I guess it is, and I'm glad. But [writing] is something I always did. I just wrote down what happened. I eventually want to write films. Books… I guess I'm kind of on pause with them, but I have stories I want to write. I'm going to keep trying for that fantasy, sci-fi style.
ON-SET INSPIRATION: I didn't take any inspiration, specifically, to do this movie. I just did it. I didn't have anything I was trying to go for. I was just trying to go for my character. I know the character so well—it's myself! Josh and Benny didn't set me aside and say, "Hey, watch this movie," "let's try to do it like this or that." But Josh definitely showed me a bunch of movies before and after, similar in subject matter. I remember at one point, he was comparing [the character] Buddy Durres to the actor in Panic in Needle Park. I think it's Robert De Niro who plays him, right? Al Pacino! [laughs] When you see a glimpse of Interview with the Vampire [in the film], I think the drug lifestyle had a lot to do with why [the Safdies] picked it. Also, I love that movie and I love Anne Rice and all her books.
CAST CHEMISTY: Me, Caleb [Landry Jones, who co-stars as Ilya], and [real-life] Ilya hung out all the time, on and off set. I was really comfortable with Caleb by the time we started shooting. Eléonore [Hendricks] was fantastic, she was great. It was so fun to work with her. Buddy [Duress, who plays Mike] is a very, very good friend of mine. We've been close for a while. He was great in the movie. He surprised everybody—I think he surprised himself, too! It was kind of the same for both of us. We both never acted before, but I think it came naturally to us.
PLAYING ONE'S SELF: It was like creating something new. I told myself that whatever was happening in the scene was actually happening in real life. I told myself there weren't any cameras and that these characters, whether they were real people from my life or someone playing a character—like Caleb playing Ilya—they were the real person. My whole life, everything that happens in the movie, I'm so detached from it. I was never really traumatized by it. It wasn't hard for me to do. The first time I saw the film, it gave me a lot of insight on myself. I was able to look at my life through another lens, an outside perspective. It taught me a lot about where I was. I didn't even realize what I was doing.
THE PRESENT: I don't really know how to say this, but it feels right. I feel like I'm where I should be. This is an opportunity I've always wanted to have and I was lucky enough to have it, just by chance.
THE FUTURE: I want to play different types of characters. Deep characters. Characters that present a challenge for me to play due to different circumstances and self-discovery. The reason these characters appeal to me is because they are some part of myself. I feel that by doing roles that are challenging to figure out, not just for me but for the audience, it's a way of exploring myself. With a character like that, you can really touch an audience, you can relate with them. Those are the kinds of characters I'm interested in.
HEAVEN KNOWS WHAT WAS ACQUIRED BY RADiUS-TWC IN SEPTEMBER 2014 AND IS SCHEDULED FOR WIDE DISTRIBUTION IN THE U.S. IN 2015.