Don't Sleep Through These: Andrei Tarkovsky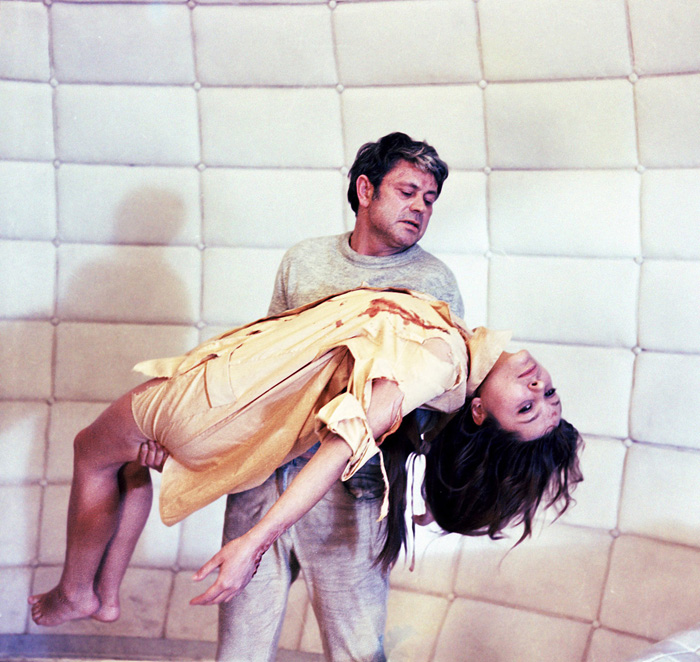 SOLARIS
This weekend, Anthology Film Archives will show three of director Andrei Tarkovsky's masterworks—films of epic intimacy, that distinctly probe the nature of Art, Love, Family and Memory. With Tarkovsky the capital letters are intentional; his films possess an unquestionable, unwavering gravity. As a director he's the picture of how heavy and how formal mid-century European fiimmaking got—and to great popular success. Watching a Tarkovsky film is like mixing Bergman's souls in despairs with Antonioni's gut-wrenching social decay and Resnais' labyrinth of memory, but through a slow and physical lens, one, focused on lingering and waiting, and finding places to breathe.
Tarkovsky skipped through time and space, although his films maintain a sense of the universe that's distinctly Soviet. Whether portraying his contemporary Soviet Russia (Mirror, 1975), the Russian Steppes of the 15th Century (Andrei Rublev, 1966), or a future Outer Space (Solaris, 1972), Tarkovsky has a uniform seriousness towards his characters and the spaces they inhabit; a murky-close proximity that pierces into the soul of the organism. And while there is a bit of sly humor in the films—he made an entire character to embody humor, the Jester in Andrei Rublev—the fun fades to propose difficult questions about the possibility for real creativity in the face of unending official suppression. You know, your run of the mill.

Tarkovsky has become so influential to generations of filmmakers that anyone with a passing interest in cinema will want to seek them out. The density of each of the seven works he directed is what spurs the reverence. Some will be spellbound, even have their souls stirred; others will fall asleep. Tarkovsky's opening sequences are some of the most unforgettable in film. Take a look:
Mirror is Tarkovsky's poetic swim through memory's maze. (Our pick)
Solaris concerns a cosmonaut's torturous and emotional visions on a space station (worth going through the first two clips for a true understanding).
Andrei Rublev is the inimitable art biopic—following the titular monk and painter of icons on a macabre picaresque through medieval Russia.
ANTHOLOGY FILM ARCHIVES IS LOCATED AT 32 SECOND AVENUE, NEW YORK. VISIT THEIR WEB SITE FOR SHOWTIMES.