The History of Man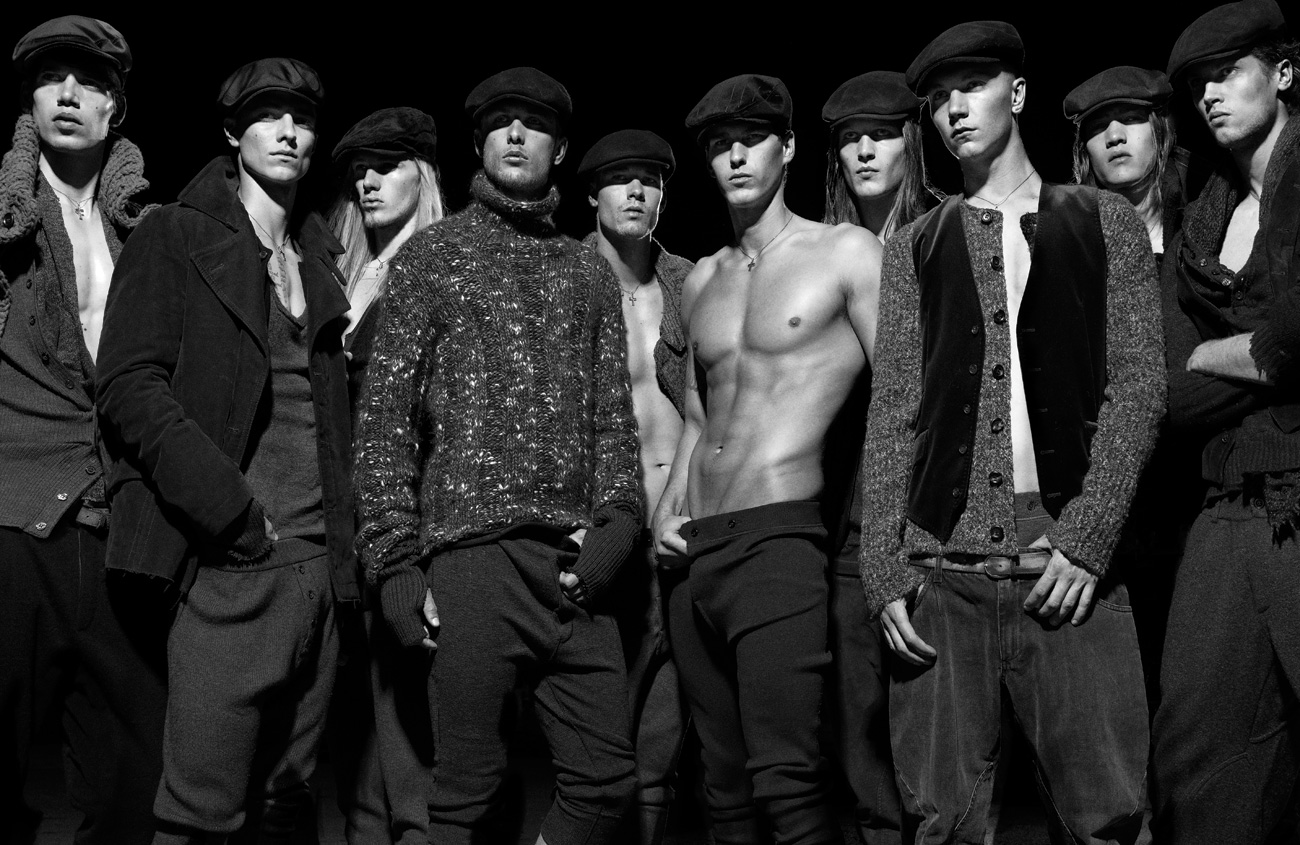 Photos: All clothing, accessories, and necklaces (unless otherwise noted): Dolce & Gabbana Autumn/Winter 2010 collection.
Domenico and Stefano have for me always been able to encapsulate Italian character and tradition in their clothing, along with sexy glamour. They know how to make men look smashing and smart. Tony War
When designers Domenico Dolce and Stefano Gabbana launched their first menswear collection in 1990, they did so with a very particular vision of masculinity that included plenty of muscles, stubble, and sex. Their clothes drew heavily on a cinematic, 1970s-influenced notion of raw, rugged male glamour, combining classic sartorial refinements like luxe fabrics and sharp Italian tailoring with a forward-looking fashion sensibility and a healthy dose of Sicilian machismo. This year marks the 20th anniversary of that foray into previously uncharted waters for the Milan-based duo, and as their latest collection proves, they're still the consummate auteurs when it comes to exploring and celebrating what makes a man a man.
Mr. Dolce and Mr. Gabbana have the ability to create a look that is relevant in the fashion world yet still masculine and timeless. It is classic style but still young and current. A Dolce & Gabbana man is a stylish man who isn't afraid to loosen his tie.Matthew McConaughey
Gloves: Haley Pisaturo. Hair products: Redken, including Urban Experiment Grit Wax. Fragrance: The one for men by Dolce & Gabbana. Hair: Sandy Hullett and Anthony Turner. Makeup: Maki Ryoke/Tim Howard Management. Models: First spread (from left): Paolo Anchisi/Ford, Matthew Coatsworth/Major, Francisco Lachowski/Ford, Clement Chabernaud/Wilhelmina, Max Motta/Ford, Mathias Bergh/Wilhelmina, Niels Raabe/DNA, Tyler Riggs/Red, Simon Nessman/Major, and Rodrigo Calazans/Next. This spread (from left): Mark Cox/DNA, Michael Wozniak/Ford, Berthold Rothas/Fusion, Laurent Albucher/Request, Brett Reeves/NY Models, Brad Alphonso/Wilhelmina, Ian O'Brien/Ford, Yuri Pleskun/request, Marcel Castenmiller/DNA, and Taylor Fuchs/Wilhelmina. Casting: Michelle Lee/KCD Inc. set design: Jesse Kaufmann. Stylist assistants: Karen Kaiser, Elin Svahn, and Matthew Tauger. Special thanks: Fast Ashleys.