DESIGNER
Jerry Lorenzo and Kerby Jean-Raymond on Reforming Fashion From the Outside In
When he launched Fear of God in 2013, Jerry Lorenzo, a fashion novice at the time, was uniquely positioned to succeed. He promoted parties in Los Angeles, where he got to know lots of influential people. He worked in sports marketing, where he learned how to sell a product. And, perhaps most crucially, he spent time in the stockrooms of companies such as Gap and Diesel, where he familiarized himself with fabric and fit. It was the perfect storm of experience, which explains, in part, Fear of God's dizzying rise. The other factor is Lorenzo himself, a perfectionist who knows exactly what he wants, and, more importantly, what his customer wants. Arriving on the crest of hype-driven men's fashion, Fear of God, with its trademark elongated t-shirts, short-sleeved hoodies, and flared track pants, existed somewhere at the nexus of grunge and hip-hop, a perfect union of high-fashion and streetwear. Justin Bieber noticed, and tapped Lorenzo to style his Purpose tour. Kanye West noticed, too, and soon, Lorenzo was serving as his design consultant, and making merchandise for his Yeezus tour. In the years since, Lorenzo has been releasing collections when he sees fit, oblivious to the calendar under which the rest of the fashion industry operates.  Fear of God has also branched out with a diffusion line, Essentials, and last December, the 43-year-old designer signed a long-term deal with Adidas Basketball, a partnership that could rewrite how corporate brands and independent labels coexist. Perhaps no one knows more about that inherent tension than Kerby Jean-Raymond, the founder of Pyer Moss who was recently named global creative director at Reebok. Here, the pair discusses reforming fashion from the outside in.   
———
KERBY JEAN-RAYMOND: How are you?
JERRY LORENZO: I'm phenomenal. Isn't it horrible that the only way we can connect is through a scheduled interview?
JEAN-RAYMOND: I'm always down and ready to come over, I just never get the invite!
LORENZO: You're always welcome, dude. I'm just slammed like you are.
JEAN-RAYMOND: You just came back from Portland, right?
LORENZO: Yeah. Last week was our second trip up there with the Adidas team.
JEAN-RAYMOND: How's that been? What key differences are you learning about how they function versus how you've been functioning as an independent?
LORENZO: The biggest difference is how flexible and fluid we are, and how quickly we can get to a decision and activate. With a lot of these companies, the levels of bureaucracy and people involved slow down the creative process, and make it a little tougher to respond to or direct the culture. In most of these previous relationships, that's why we've been brought to the table. We're able to activate so quickly, and move based on conviction and instinct, and not wait for an okay.
JEAN-RAYMOND: You're waiting for an okay from someone who doesn't have the wherewithal to have that conviction, or the experience to have that conviction, because they don't have the on-the-ground-experience.
LORENZO: Exactly. Most of the people our age that we're working with are on board with what's being proposed. But a lot of times, it's those individuals who then have to go back and sell that up the ladder to some older individual who might be a little out of touch, which is where things get lost in translation and slowed down. It's a constant juggling act. I think we've faced this with all the companies that we've worked with. The thing about Adidas is that they're in a unique position to bend in uncomfortable ways in order to make this work. They're already under the understanding that this is going to have to work differently in order for this to pierce culture in a way that we're all hoping it will. So, when it does get uncomfortable, there's a level of, "We're ready for this," versus at some other places, where it has felt very unfamiliar and like you were running into some walls, so to speak.
JEAN-RAYMOND: At these companies, there's a bit of a learning curve to get them to start putting creative first. They think in dollars and logistics and statistics. We're there to force their hand, to make them think a bit smaller, and to rally around the creative. That's been my experience. Would you say that's been yours, too?
LORENZO: One-thousand percent. I'm good at playing in the sandbox I've been given. We started Fear of God in downtown L.A., and were forced to make luxury products without luxury factories. Fast forward to this opportunity with Adidas, it requires a different level of flexibility within the sandbox. The charge is to literally leverage the platform of basketball to impact and shift culture. But it's like, "Hey, let's start with the idea." We can't force all these other agendas into it. It can't be, "We're focusing on this fabric and that material and this new technology," and also "sustainability" and "equality" and all these social issues. We can't force all that in there, especially if the company hasn't been about it. You have to approach all these different agendas and topics from
a place of honesty.
JEAN-RAYMOND: How much time is Adidas requiring of you?
LORENZO: A lot more than I anticipated, I can tell you that. But it's everything that we prayed for. I know that my worst day is someone else's dream day.
JEAN-RAYMOND: We're cracking this lane wide open, and that shit is fatiguing, bro. It's been so hard to balance the needs of 700 Reebok employees, while giving my 15 Pyer Moss employees quality time. As I've said to you before, it's like, "Damn, what did we sign up for?" I'm super grateful for the opportunity, but ultimately, I think we have to fix the position so that in the future there can be a natural progression for an independent designer, without having to essentially sacrifice your personal business.       
LORENZO: Yeah, I think you hit it on the head. You have to constantly remind yourself that it's not about you; it's bigger than you. That lightens the load a bit. I'm preaching to the choir, but, it's like, you may not get to see the fruits of everything you're planting right now through Pyer Moss and Reebok. It may come out through the person behind you. And that's something that I've just had to swallow and learn to live with. That's part of the responsibility of being first.
JEAN-RAYMOND: In my case, I'm worried that those seeds I'm planting are going to come out through the lens of whiteness. But this is not my interview.
LORENZO: All you can do is plant the seeds, man. Water them to the best of your ability. You don't really have any control over how they grow. It's like having kids. I've got three, and I'm seeding them as much as possible—spiritually, physically, emotionally, mentally. But once they're grown, their decisions are really out of my hands. That's the reality of what we do in fashion. If we see somebody on the street wearing our product wrong, we can't go over there and fix the jacket.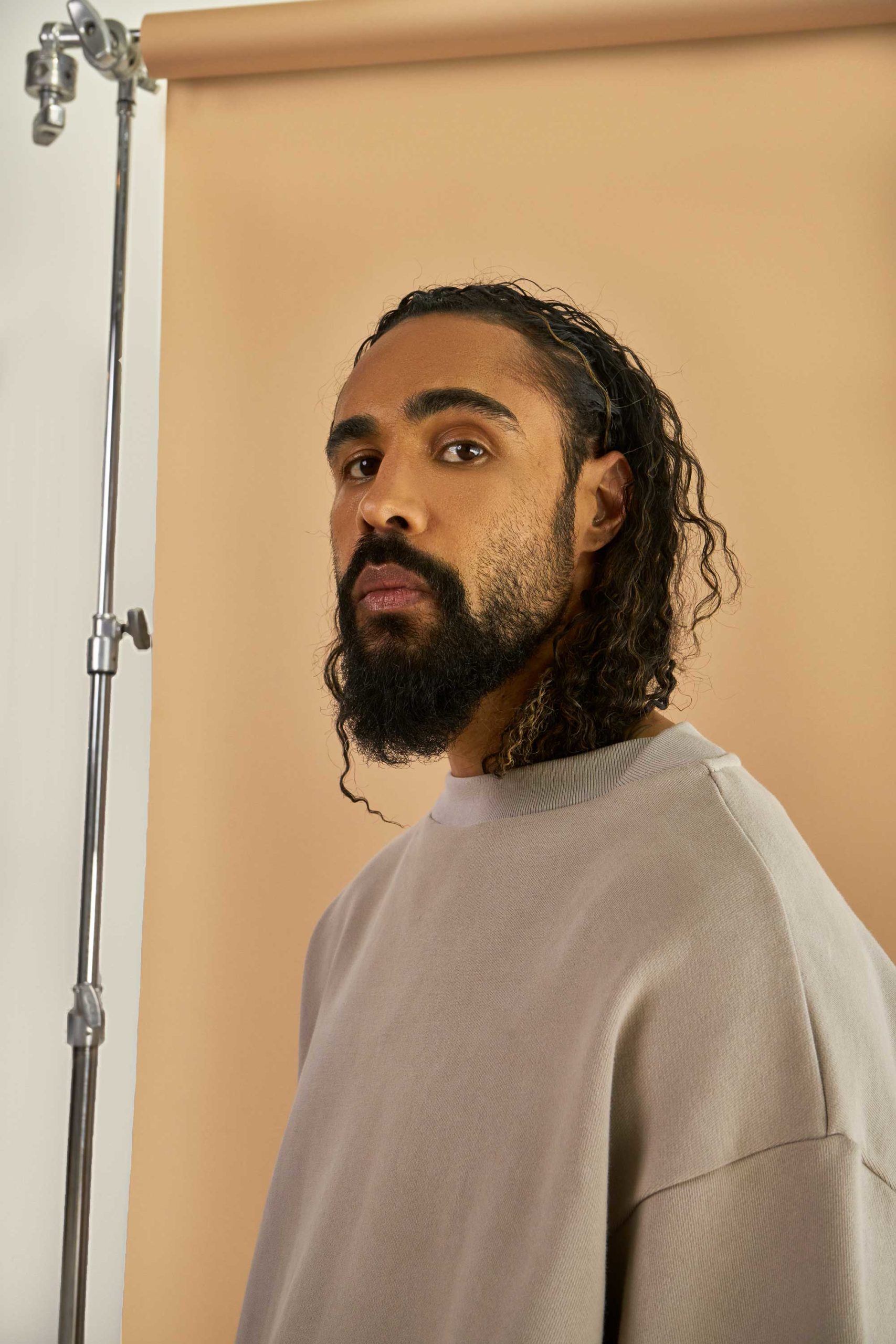 JEAN-RAYMOND: I still be trying, though. [Laughs] I walk up to people wearing my shit in the street and I'm like, "Hey man, tuck your pants inside your socks." I'm so happy that we're here in the footwear space, because so much of the industry is built on people who've never been able to call the shots. For you and me to be in this position, to go from sneakerheads to sneaker overlords, is kind of crazy.
LORENZO: Yeah, and I think we come into these positions with a nuanced understanding of what those sneakers really mean to that kid. Growing up, what was on your feet determined whether you were accepted or not, whether you could enter certain rooms or not. To a lot of kids, shoes can make or break their day, their week, their circles, their friendships.
JEAN-RAYMOND: The stuff that you and I are touching now won't come out until the end of 2022. How are you dealing with those public pressures, and people
maybe not understanding the
footwear timeline?
LORENZO: I don't deal with it. I only start worrying about the opinions of others when Fear of God has been quiet for a while. When you take on a job, you take on the good and the bad with it. At the end of the day, you signed a deal with Reebok, and I signed a deal with Adidas, in the middle of one of the most uncertain times in human history. Adidas took a bet on me when everybody else had an excuse not to.
JEAN-RAYMOND: Never underestimate that. What has the reception been like to Fear of God's Seventh Collection?
LORENZO: The reception to Seventh has been overwhelming. But I know that storms come and go, and praise comes and goes, so I'm trying not to get too high or too low. This too shall pass. You know what's crazy? I'd gotten so used to being the underdog, and fighting for validation in the minds of others. And when you get to that point, it's a very hard transition to make, to accept the praises of your work. Right now, I'm just staying level-headed and focused on the product. And again, focused on the generation coming after us, who we're beating these doors down for.
JEAN-RAYMOND: Yeah, I mean, Essentials is everywhere. You redefined what a diffusion line is. You can't even really call it "diffusion," right? Do you feel a certain way about Essentials being so polarizing and so ubiquitous versus Fear of God?
LORENZO: That's a good question. At first the line was called F.O.G. but we changed the name to Essentials two-and-a-half years ago because I didn't want it to sound like a takedown of our main line. When we changed the name initially, we got a lot of blowback. But I wanted it to reflect what it is: the best possible version of the basics. My heart's intent was to create something aspirational but accessible. You could wear Essentials sweats with a $3,500 overcoat from our main line. Or a mint hoodie with our $700, main-line luxury loafers. How do I feel about it? I mean, I'm happy about it. I know more people who can afford Essentials than our main line. Being able to reach those people means a lot to me. As much as I love the luxury world that we play in, I know it's not attainable for everyone.
JEAN-RAYMOND: I don't think people realize how much it means for a designer to see people wearing their stuff. I didn't really start seeing that until the Reebok thing, because that was affordable. That's the ultimate prize—running into people wearing your stuff. I do want to say, when you and I first met, you weren't getting all the fashion love that you are now. How does it feel now to be recognized by Vogue and Interview?
LORENZO: It is a little humbling and weird to be recognized. I understand what it's like not to have the recognition. So when it comes, I know that it's temporary. When the recognition isn't there, I can't let it break me or shake me. I think I'm just in a better position now to receive it, in that I understand it's not going to be a constant. And the fact that I'm older now, too. I'm getting up there. Maybe if this happened ten years ago, you might have caught me running around with my shirt off or something.
JEAN-RAYMOND: You look my age, so stop the bullshit now. Nobody's going to give you a pity party, so just get over it. You look 30, motherfucker. What's a goal that scares you?
LORENZO: I just want to be here 20, 30 years from now. I always use Ralph [Lauren] as an example—someone who had an American point of view, and didn't go overseas seeking anything. How do I tell the American story and simultaneously live the American Dream? That, to me, is not going to Paris and taking a creative director job somewhere, and leaving everything that I've built, you know? I don't say that to take away from any of our peers who have done that. The reality is, what Virgil [Abloh]'s doing with Louis Vuitton only further validates what you and I are doing. And also frees us up from having to go do that ourselves. He's carrying a cross that we don't have to carry. Whether it's someone as polarizing as Virgil, or my grandfather who worked five jobs, I'm fully aware of what it's taken for me to be where I'm at. That sacrifice humbles me, and further lets me know that this is bigger than me.
JEAN-RAYMOND: I hear you. I want to be careful about this one, because I don't want it to get written the wrong way. But what do you think about, I guess, the reaction economy? We saw what happened last year with George Floyd, and the series of black boxes on social media that followed. And then recently this article by Vanessa Friedman at The New York Times essentially confirmed what many of us suspected: that nothing has really changed behind the scenes. The leadership didn't change. What we've seen more of are D&I [diversity and inclusion] positions, which essentially don't have power. She called it fashion's version of affirmative action. What do you think about how corporate America has responded to issues of race?
LORENZO: That's a fully loaded question! I'd love to think that you and I have done everything to be deserving of the opportunities we've had. I'm not going to get caught up on why I'm at where I'm at, or why someone has chosen to have me at a certain seat. I'm focused on the responsibility of the seat. What we're doing is breaking the mental barriers of how people see us, so that we can open more doors for those behind us.     
JEAN-RAYMOND: Right, so whatever it takes to get us in the door, it is what it is. Once we get in the door is when the real work starts.
LORENZO: There's politics in everything, man. As a culture, we've been responsible for a lot of positive influences, but have never been able to participate in the value they create. How do we start to change that? How do we allow the people who are creating the value to participate in what's being taken home from that value? These questions have great potential to weigh on someone in positions like mine or yours. As soon as what we do becomes transactional and not transformational, it's a wrap. Our focus is on transforming lives in a positive way, through product, through messaging, through storytelling, and not falling into a corporate transactional structure. We already get hit for what our stuff costs, which doesn't bother me because I know what it costs to make. I know how much love I put into it. I'm standing in truth, and I wear that on my sleeve, when I walk into any room, any meeting, through any door.
———
Grooming: Eliven Q using Peter Thomas Roth