PARIS FASHION WEEK
BFRND Tells Us What Amanda Lepore Smelled Like at Balenciaga SS24
SUNDAY OCT. 1, 2023 9:30 AM PARIS.
One of our last stops at Paris Fashion Week was the Balenciaga SS24 show, an immersive tour through the codes and traditions beloved by Demna, whose husband, BFRND, aka Loïk Gomez, produced the show's show-stopping, three-part orchestral score (available now on all platforms), overlaid with a monologue by Isabelle Huppert. After the show, our Editor-in-Chief Mel Ottenberg pulled BFRND aside for a chat about their all-time favorite Demna shows, Amanda Lepore, and the wedding gown that closed the show (and might just force Demna and BFRND to renew their vows).
———
MEL OTTENBERG: Babe. Here we are. What a finale. Let's talk about the show first. Well, let's start with the music.
BFRND: So the voice was Isabelle Huppert, who's reading instructions on how to sew a tailored jacket throughout. So it's a monologue.
OTTENBERG: It's phenomenal. And then it starts with something baroque, right? We love a baroque moment in the theater.
BFRND: Yeah, it's like modern baroque music. So there are mechanisms of the baroque construction, but we did modern music out of it with a real orchestra. I think it's about 25 musicians who recorded this first chapter, which is called "Fugue in D Minor," and it's composed by me, BFRND. 
OTTENBERG: For the masses, how do I pronounce your name?
BFRND: B-F-R-N-D. You have to spell all the letters.
OTTENBERG: B-F-R-N-D. There was a really good song in the middle.
BFRND: That's "Montreal Love Theme" by Michelle Gurevich. It's just a good song to listen at home always, especially on a moody, rainy day or a Sunday, because it has this nostalgic touch to it, and it also proposes variety. We have the orchestra, we have the piano, and then we have the techno. The techno part is basically a mix of everything I like, because we recorded classical instruments such as double bass and the piano clashed onto some really hardcore techno. And Isabelle's voice on it that starts to scream at that moment—
OTTENBERG: Oh, it's so amazing.
BFRND: Yeah, because she's fed up sewing that fucking jacket.
OTTENBERG: Yeah, it's fucking hard sewing a couture jacket.
BFRND: So she gets mad and she really is annoyed. And that's exactly the brief I gave her before the recording.
OTTENBERG: Let's talk about love, shall we? Wait, first of all, let's see this dress. Look at this dress. Is this the perfect wedding look for you?
BFRND: Yeah, I'm already married, but I think I have to marry a second time.
OTTENBERG: I think you guys need to renew your vows in this look, right after he's done with these 8,000 interviews.
BFRND: Exactly.
OTTENBERG: Let's talk about our favorite Balenciaga shows. I think that this is my second favorite Balenciaga show. My first is the snow, FW22. I like watching him double down on the codes and what he really believes in with such confidence. What do you think about the show?
BFRND: To me, it's the most Demna show ever. It doesn't matter if it's the collection, the casting, the set, the music, everything is so Demna without any compromise. Yesterday we even had the best rehearsal we ever had at Balenciaga because there was this magic to it that is really, really rare. This sort of magic you get at the show normally, but we had it already yesterday. Once you see them together, it's just mind-blowing.
OTTENBERG: This is the most Demna show, even more than the Le Depot Vetements.
BFRND: Well, it's so funny you speak about that because yesterday I was talking with him and he told me, yeah, last time we had such a rehearsal was Le Depot with Vetements. So that's really funny.
OTTENBERG: Well, that's when I fell in love with Demna's work. You know what I mean? It fucking knocked me over. I'm drinking vodka tonic at the bar. I had no idea what was going on. But here we are. So what are your two favorite Balenciaga shows ever?
BFRND: Two favorite? I think the one on water.
OTTENBERG: Yes, Fall/Winter 2020.
BFRND: So fucking epic. Everything. Also the fact that the screen was lowering down and stuff, so you end up in this claustrophobic, brutal show. I really loved it. Also, fun fact about that show, people who weren't at the show don't know that the water smelled like gasoline.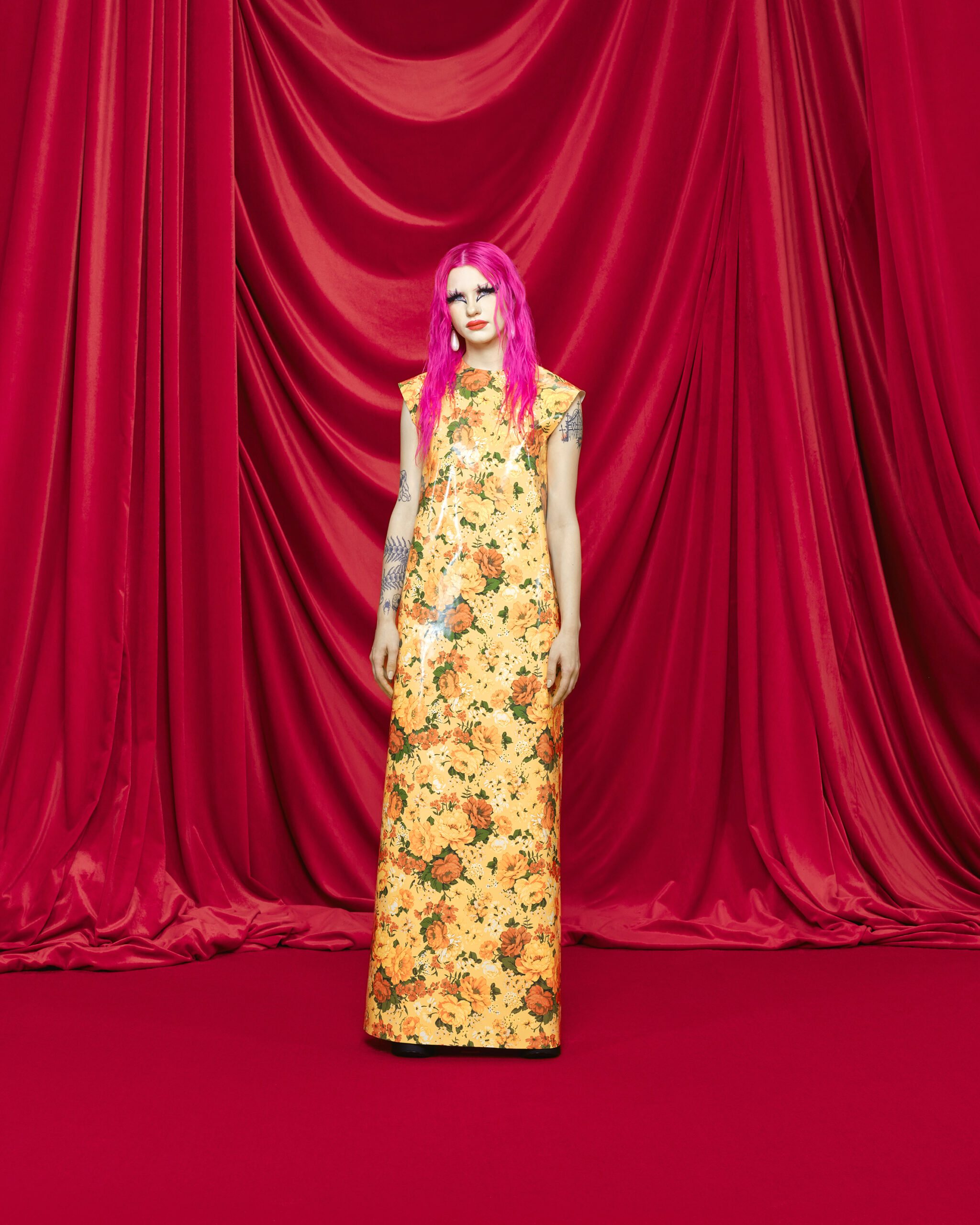 OTTENBERG: Right. I remember.
BFRND: And I love when we stimulate all the senses, right? So for that same reason, I think the Blue Show was one of my favorites.
OTTENBERG: Absolutely.
BFRND: Because it was also a mix of smells, and a bit similar to the curtain play. I couldn't believe at the time that I was doing industrial metal music at a Balenciaga show.
OTTENBERG: With the most beautiful shapes that I saw that season.
BFRND: Exactly, the contrast was really cool.
OTTENBERG: And it's interesting to me that you're bringing up the Walk on Water Show because that was in March 2020 and the drama and the buildup. We're a week away from lockdown across the world. It was really speaking to the times and the drama. Is there any music that's brand new that you're really into right now?
BFRND: That's a difficult question.
OTTENBERG: What did you listen to when you were getting ready today?
BFRND: I listened to Black Metal. That's my way to wake up, to bring me out of sleep mode. I like a good brutal metal under the shower.
OTTENBERG: Fuck yeah. So you were the finale today. Amanda Lepore was second to final. Any genius things she said to you today, because she's always filled with them?
BFRND: The funniest thing is actually that Amanda Lepore has her own perfume that she also sells, but she put so much of this perfume on herself that all I could smell was her perfume. And I think I was not the only one, because it was so strong. So I was in an Amanda Lepore fantasy.
OTTENBERG: What does Amanda Lepore's perfume smell like?
BFRND: Amanda Lepore's perfume smells like champagne.
OTTENBERG: Fabulous.
BFRND: It's literally written as one of the ingredients.
OTTENBERG: Do you know the song by Amanda Lepore, "Champagne"?
BFRND: Of course.
OTTENBERG: I drink champagne in the morning, I drink champagne in the afternoon, I drink champagne in the bubble bath, I drink champagne in my dressing room.
View this post on Instagram