She, Amanda Lepore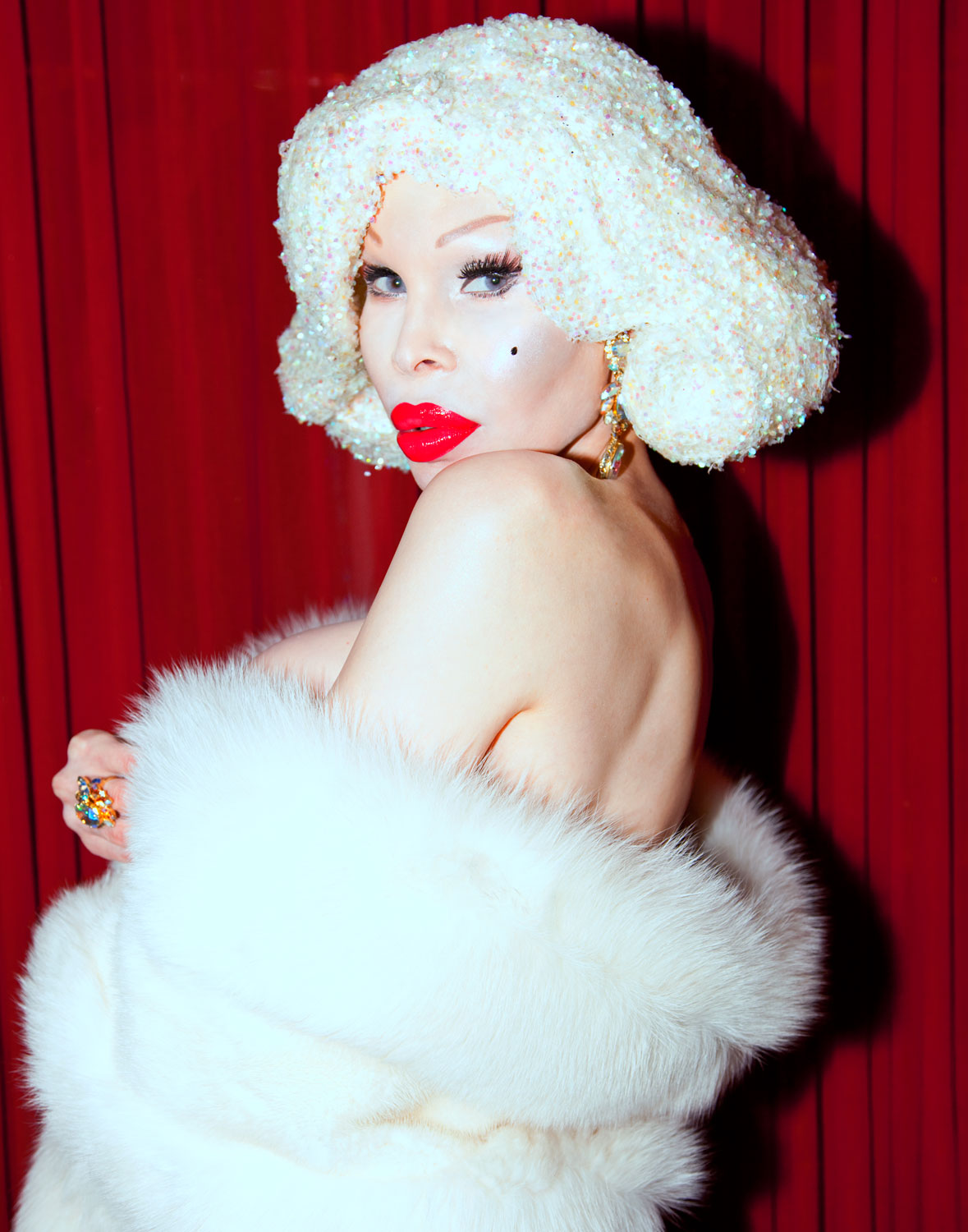 AMANDA LEPORE. PHOTO COURTESY OF NICO ILIEV
Amanda Lepore is almost definitely the most famous post-op transsexual housewife of New Jersey. After her sex change but before she started collecting "friends in high places with plastic faces," as she sings on the club jam "My Hair Looks Fierce," Lepore was just a simple Jersey girl who wanted to get married and have a family. An unspecified number of plastic surgeries, enhancements, modeling gigs, and club appearances later, Lepore traded the comforts of suburban life for the bedazzled stage of the international club circuit.
On I… Amanda Lepore, out now on Peace Bisquit, Lepore serves up a campy, upbeat dance album with new tracks and some repackaged favorites, like "My Hair Looks Fierce" and "Champagne." We caught up with Amanda, a beautiful cross between Jessica Rabbit and Marilyn Monroe, who floated into the room on a cloud of Chanel No. 5 just hours before she skipped off to Ibiza for a run of club appearances to support the new record. We chatted about how glamour keeps you out of trouble, staring at her vagina, doing a striptease with Lil' Kim, and playing in Daphne Guinness's closet.
MADISON MOORE: The release party for your new album I… Amanda Lepore is at the Highline Ballroom this Saturday, June 25—the same weekend as Gay Pride.
AMANDA LEPORE: Yeah, the performance kicks off Pride. The album took a long time to do, but the songs are really good. I did a song with Mya and Roxy Cottontail and Cazwell about getting your nails done.
MOORE: Would you say the record is autobiographical?
LEPORE: Yeah, definitely. Cazwell wrote most of the songs. He hung around with me and tried to make an album that was very autobiographical.
MOORE: I'm not sure if I believe you when you sing, "I don't know much about clothes, but my hair looks fierce."
LEPORE: Well, I like taking off my clothes as well! I won the Glammy Award for Best Dressed. That night I said, "I don't know much about clothes, but my hair looks fierce"—and I took off my clothes. Meaning, check out the shoes and hair! [laughs]

MOORE: You host Club 57 in New York on Saturday nights, and you just performed with Lil' Kim there. How did that go?
LEPORE: Oh, I was having so much fun. Lil' Kim told me, "You got me through prison. I used to listen to 'Champagne' every day." I was floored. It was shocking to me because she has all these hits. And she sang "My Pussy," too. Like when we did "How Many Licks," she sang "My Pussy," and I took off my clothes. [laughs]
MOORE: What does glamour mean to you?
LEPORE: For me, it was always an escape. When I was a kid, my mother was hospitalized, she was schizophrenic. When she was sick, she wouldn't do her hair or her makeup, and she just looked terrible. But when she got on medication and she was happy, she would go to the beauty parlor and wear makeup. So I really associate glamour with being happy. If you put on high heels and lipstick or get a new outfit, you feel great. It's a celebration of loving yourself, and the whole ritual of it is so great.
MOORE: How so?
LEPORE: It kept me out of trouble. When I worked for Michael Alig, everybody was overdoing partying. It would take me so long to get ready, because I was never one of those girls that were naturally the cover of Vogue. I had to really work hard to look nice. I would take hours and hours to get ready. If you have high heels on, if you're dressed nice, you really can't be drunk or sloppy because it's dangerous. It's part of being a lady, so it really kept me out of trouble.
MOORE: Do you think of "Amanda Lepore" as a commentary on gender?
LEPORE: I really, truly, feel like a woman. After having the sex change, it was about getting married and fitting in and blending into society, so to speak. When I had jobs, people would say, "Don't talk about that." It really made people uncomfortable.
MOORE: So before becoming a nightlife icon, you were just a suburban housewife trying to fit in?
LEPORE: Yeah, but I escaped all that. The club scene was really like a… they really weren't sure if I was a girl or a transsexual. When they found out, it was celebrated instead of "Ssshh! Don't tell anyone!" That felt really liberating.
MOORE: How did you initially get involved with the club kid scene? You grew up in New Jersey. Did you sneak to New York at night?
LEPORE: At that time, I just really liked being a girl and being with a family. And, you know, I had this vagina and I was so happy, and I could just spend hours looking at it. I didn't really care about going out for years. Then my roommate took me to a Disco 2000 party and they were like, "Oh, you're fabulous. I want you to work at this party."
MOORE: How do you feel about people who lament the death of New York nightlife?
LEPORE: People always think that when they grew up it was better. The people who went to Studio 54 say, "Oh, this is nothing!" or "The Limelight is nothing. In our day it was much better." But I mean, it's always great. It's always fresh to the kids. And to me, you've just got to make it happen. You can't be a downer and say, "This is nothing like the roaring '20s." [laughs]
MOORE: Tell me about when you were a dominatrix.
LEPORE: When I first came to New York I did nails, and I really didn't get a lot of money. I would get $40, and so I was gagging. I mean, even if you just bought lunch and took the subway, there would be no money left. I thought, my God, how am I going to buy hormones and makeup? And then this gay guy I knew told me about this dungeon where I could work. They said, "You don't have to have sex with these guys. It's just fantasy and role-playing." I was so not interested in all this, but I thought it was kind of funny to do these things and get paid for it.
MOORE: Did anything really strange happen?
LEPORE: Some of them are really funny. One guy had a lipstick fetish. He was quite good looking and well-hung. And he would just pleasure himself while I put more and more lipstick on. I didn't mind doing that at all, and I didn't mind looking at him. [both laugh] And a lot of them were really fun. Like one guy would bring tons of pies and stuff, and you would hit him in the face with pies. It actually turned me off to guys for a while. I didn't date guys the whole time I did that, because I thought all guys were crazy.
MOORE: Back in November, you tweeted about being in Daphne Guinness's closet. How did you end up there?
LEPORE: I went to a dinner with David LaChapelle and Daphne Guinness came, and we were partying and everything. And we ended up going back to Daphne's. David started playing in her closet, and they started putting on the Philip Treacy hats and I was like, wow. She had all the… what are those shoes called?
MOORE: The Nina Riccis?
LEPORE: Yeah! She had tons of the Nina Riccis, including some I'd never seen before. Pink metallic ones, a lot of glitter ones. She had runway pieces from Alexander McQueen and all this stuff. She had beautiful flower arrangements and this mirrored hall, so you'd see a million Amandas down there. And when everybody was going to sleep, she was singing Bob Dylan songs. I was like, wow, how great is my life? So decadent!
MOORE: Do you ever feel lucky?
LEPORE: When I was in the hospital getting my sex change, I was just wishing I could be a pretty girl working in a mall. If I could have a crystal ball and see what I look like now—you know, modeling, David LaChapelle, hanging out with Daphne Guinness, singing with Lil' Kim, and traveling all over the world, I'd be like, "Wow, I can't believe this."
I… AMANDA LEPORE IS OUT NOW. THE ALBUM RELEASE PARTY IS THIS SATURDAY, JUNE 25, AT HIGHLINE BALLROOM. FOR MORE ON AMANDA, VISIT HER MYSPACE.