MEN'S FASHION WEEK
At Pharrell's Louis Vuitton Show, the Night Luxury Went Electric
Paris looks cutest from the Seine, all Neo-Classical with quays blocking one's view from any unpleasantry on the street. Maybe that's why the PR who invited us to the Louis Vuitton Men's Spring-Summer 2024 show insisted that all us press people, influencers, and other non-famous fashion denizens arrive at Pont Neuf by a pre-arranged boat, even though the bridge is more conveniently accessible by any other mode of transport. We needed a palate cleanse before seeing what Pharrell Williams was about to do to the French fashion house. 
The Pont Neuf itself was gilded—maybe a reference to the Midas touch, or maybe to the yellow brick road theme of Virgil Abloh's own debut at Louis Vuitton. We didn't ask too many questions. We had an hour to kill before the show started. It was the kind of scene that would take an hour to soak up: the suited and booted clients, the sun setting over Paris, the caterers passing around trays of juice, champagne, and Diet Coke. 
Standing on the Pont Neuf on this particular evening you got the feeling of living in a planned reality—an LVMH sequel to The Truman Show. The view was too perfect, the weather almost pre-ordained. Above us on the bridge towered three colossi: the relatively newly opened Cheval Blanc Hotel (also an LVMH joint), a massive statue of Yayoi Kusama, and of course the Louis Vuitton headquarters at 2 Rue du Pont Neuf.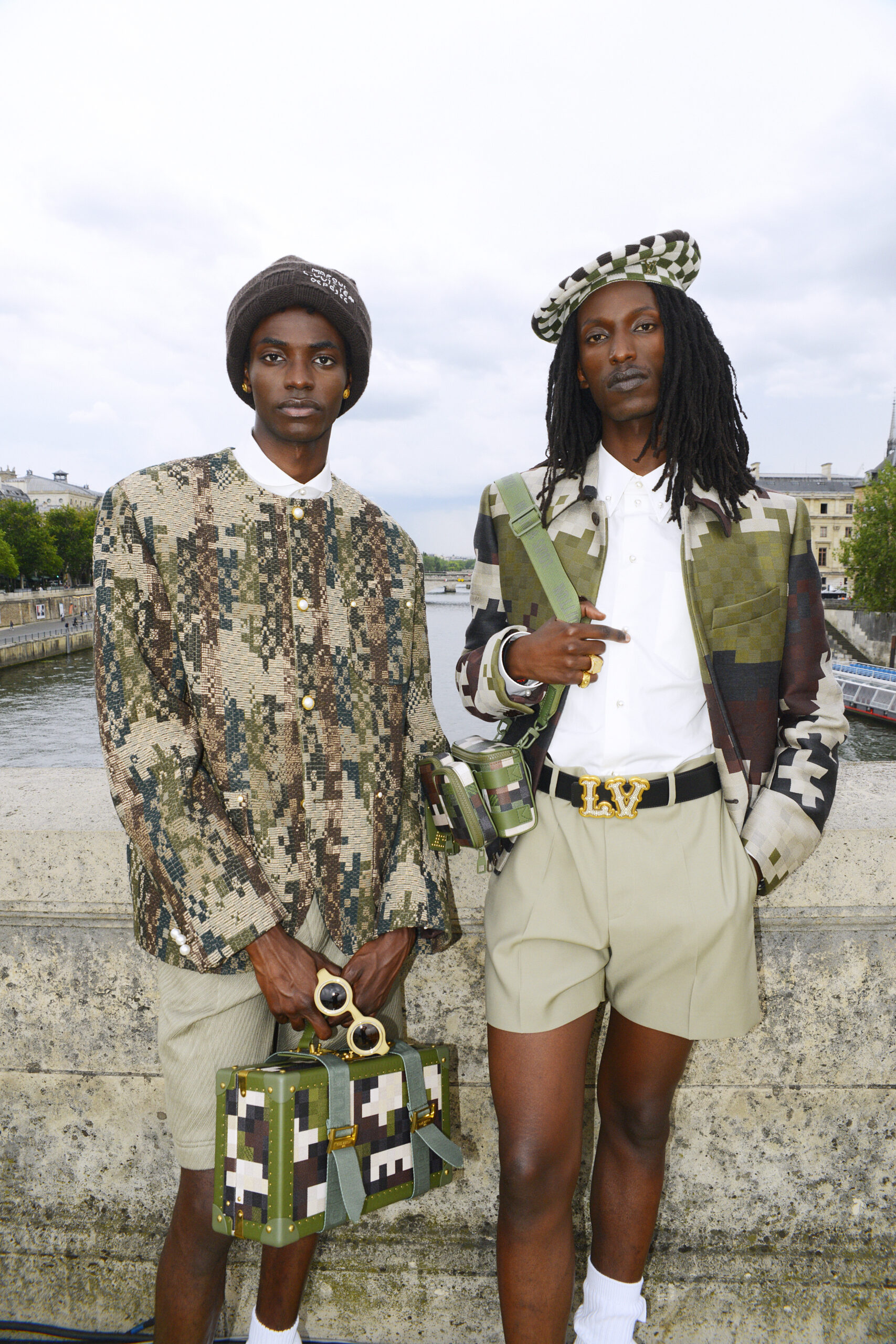 We guests were just citizens in a large assembly of processionary architecture. The fame of the crowd slowly increased as the show got closer. Globs of iPhone-wielding onlookers stuck to the major spots in the front row like little hornets nests—Beyoncé, Kim, Lebron, it never stopped. Rumors began swirling about a performance after the show. Jay-Z was going to perform with Beyoncé. No, they were going to do a double date performance with Rihanna and Rocky. More on that later, maybe. 
They finally got us to sit down. It grew dark. The show erupted from the north and flowed southward toward the Rive Gauche. It started with lots of camo, an apt choice considering the conceit of a giant military procession. But here's our first riddle: What exactly does camouflage mean in the happy-go-lucky universe of Pharrell Williams? It's definitely not about war, and no one was blending in. In the high-def technicolored world of the new Louis Vuitton, camo was actually its opposite: the loudest possible thing. 
A golf cart stacked with trunks ended the first movement of the show and we moved into the "International Boy About Town" chapter. It was big bright damier-print everything: jean sets, overcoats, keepalls, leather jackets—everything. The highlight? Anna Ewers in a big Louis Vuitton rugby shirt with damier-print basketball shorts and an armful of leather shopping bags, my favorite accessory of the evening.
The next chapter opened with Pusha T and his more elusive brother No Malice of Clipse. It was, in a sense, the act that gave birth to Skateboard P himself, but also vice versa. In my notes, I have this down as the "Baby Medici" movement of the show. This sense of youthful opulence is best encapsulated by Look 42—a tweed short-suit topped with an extra-large beanie adorned with pearls rooted with a fat pair of diamante snowboard boots. It was an outfit perfect for the Tik-Toking son of a modern pasha. An all-croc varsity jacket, a floor-length mustard fur coat, and the inexplicable yet delightful appearance of Stefano Pilati on the runway were some other "Baby Medici" highlights.
As the second procession came to a close, a gospel choir flanked the entrance to the runway in a pearlescent eggshell version of the aforementioned camo. The music was new and really good, energizing to the point that some in the front row stood up to feel the Holy Ghost. "Joy! Joy! Joy! Joy!" was the central chant of their song. Someone who had interviewed Pharrell earlier that day told me that he said god had given him his job. In a "divine right of kings" type way, that statement makes a lot more sense now. Pharrell is Charles III for people who grew up listening to rap music.
A lot of people have asked me what I think of this fashion show, and I find myself having a lot less to say than I thought I would. It's difficult to talk about in a way that sheer power and wealth is difficult to talk about. It's a bit embarrassing to love opulence this much, but then it is also in some ways undeniable and unimpeachable. Something that I found myself thinking about a lot during the four hour journey was how all the other fashion shows I have been to felt very niche in comparison. This was the night luxury went electric, a lot more electric than you already thought it was.
Almost two years ago, I wrote a little essay about the idea of "Merchtainment" and how things like Telfar starting a television channel and Balenciaga making a Simpsons episode were collapsing the designation of "consumer" and "audience" and creating a new continuum. Pharrell's debut at Louis Vuitton felt a lot different than those things, perhaps most notably in terms of its fluidity. Fashion here isn't infiltrating the machinery of pop culture, rather, it is the popular culture—point blank period. Not only is Pharrell both the "designer" and the "talent," but his existence creates a bridge between those two worlds. Seeing the wattage of his work makes one realize that a celebrity-designer in the vein of an Abloh or a McQueen is not the same thing as a true celebrity turned designer. 
Another fascinating thing about the collection is how contiguous it was. Designer debuts are often about disruption—about obliterating the past and asserting one's identity—but Pharrell seemed to carefully build on what Virgil Abloh was doing at Louis Vuitton rather than rip it to the studs. Shockers from a couple years like the snowboard boots, the varsity jackets, the loud-upon-loud layering of color and pattern were now staples and not oddities. Pharrell clearly came in peace. 
By the way, it was just Jay-Z who performed afterward. Not with Beyoncé, but with Pharrell.