CLUB
An Oral History of The Cock, NYC's Sexiest Sloppiest Gay Bar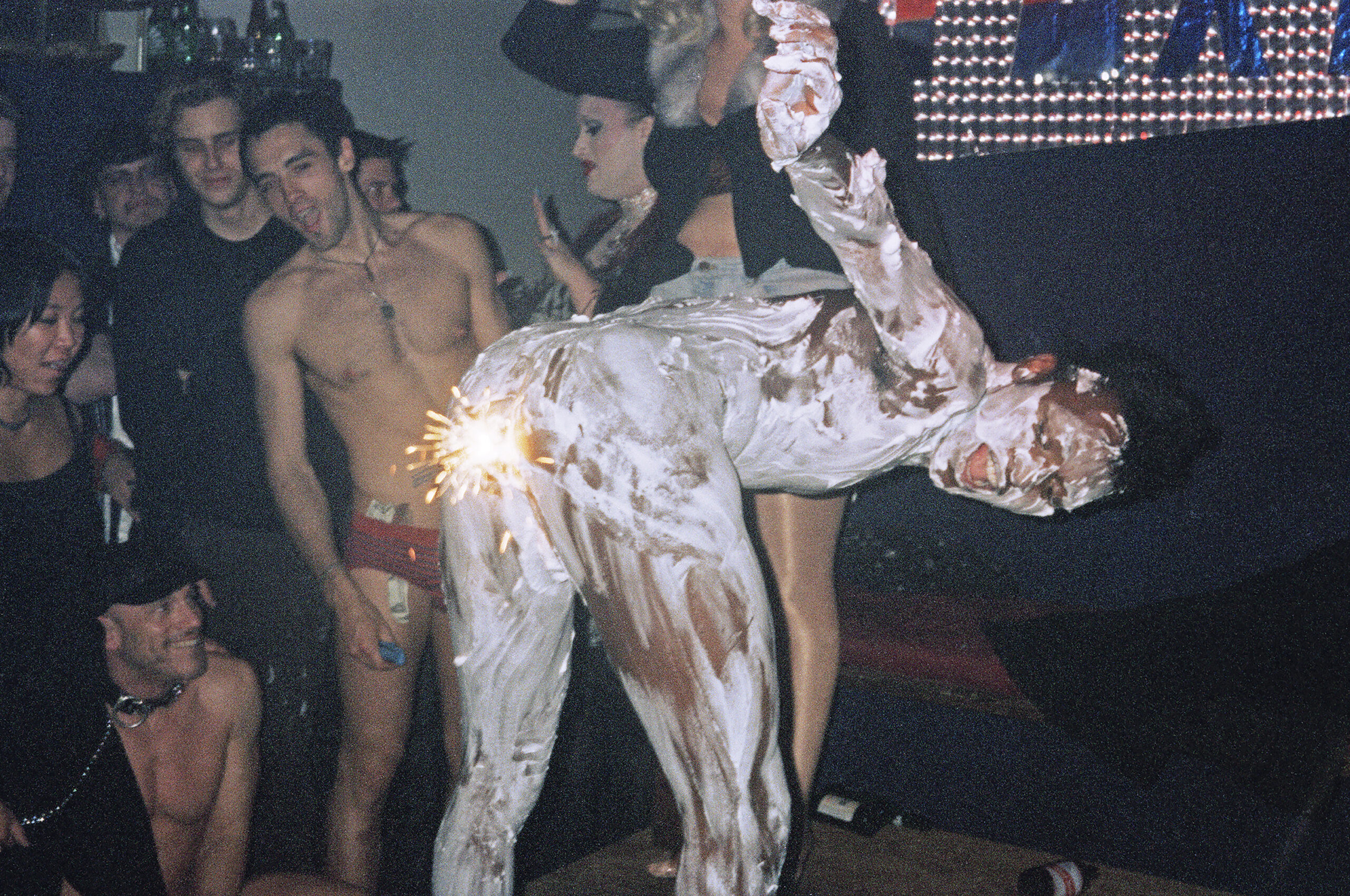 On December 3, 1998, a new generation of New York City's most outrageous homosexuals packed themselves into a tiny new venue on Avenue A and East 12th Street in the East Village. It was called The Cock, and there was nowhere else like it. A cruising mecca, The Cock was the byproduct of luck, vision, and circumstance. Nineties club-kid culture had run its course; designer drugs, shocking costumes, and the overblown venues that had ruled New York nightlife for a decade lost their shine. Then, in 1996 the AIDS drug cocktail was approved by the Food and Drug Administration, allowing gay men, for the first time since the early '80s, to untangle sex from death. That's when the dazzling young promoter Mario Diaz moved to town. With the right combination of chutzpah, balls, talent, and vision, he seized the moment with his own campy, rock-n-roll, fantasy version of pre-AIDS New York City and quickly became the P.T. Barnum of queer nightlife, consolidating every major talent in the East Village into one sleazy, debaucherous, seven-night-a-week extravaganza. This is the story of that time and place, from some of the people who lived it. —MICHAEL BULLOCK
———
MARIO DIAZ, founder: I was known in Seattle for throwing parties that fused the rave scene with the bar scene, but I always knew I would end up in New York. When you're young and queer, you long for that experience. I remember reading in Interview about the New York City underground and the art and leather scenes. But when I moved to New York, the sexual underground had been wiped out by the AIDS crisis. I felt shafted. I had come for all this excitement that I dreamt about and now I'm here and it doesn't exist? Where are the backrooms? Where is that seedy underground?
LINDA SIMPSON, host, NYC drag legend: When Mario started, New York nightlife was at a real low point. He managed to reinvigorate it with this very wild place.
KRYLON FRYE, performer: The major club kids never hung out in Alphabet City. They were at Webster Hall, Limelight, and Club USA. There was no room in that scene for punk rock misfits like me and Mario. Around that time, Tina Sparkle, my trans mother, told me, "You're really beautiful and you can make a lot of money, but you have to give up this club-kid thing, get rid of all that clown jewelry and goofy makeup and those ridiculously big shoes. Be the lady that you are so that you can become a supermodel." So, I weaned myself away from the club-kid world. Then Michael Alig killed Angel Melendez, who was a friend of mine. Angel was really sweet.
JUSTIN VIVIAN BOND, party host, cabaret icon: Before The Cock, Mario and I collaborated on a party called Cream. Our first night, I was like, "We gotta get this place on the map! What are we going to do?" We decided to have a big-load contest. I'd take people into the bathroom to make sure they didn't cheat and they would jack off into a condom, and then I'd put the condoms with numbers on a clothesline on the stage. The first guy was so drunk, he couldn't get it up. I wasn't going to walk out of that bathroom with an empty condom so, I had to jack off into the condom myself. At the end of the night Mario would weigh each condom on the drug scale and whoever had the most cum got whatever—not money, but a two-headed dildo or some stuff that Mario found in the junk store. I came in third.
DIAZ: I started a night called Foxy, which to this day was the most spectacular party I've ever done. There was an open call for performers to compete and I made play-money with little foxes on it, and every guest got 500 Foxy dollars that they could give to their favorite act. Whoever had the most Foxy dollars at the end of the night would win the title of "Foxiest Person Alive." I counted those dollars every Saturday night for years.
BOND: I hosted Foxy with Jackie Beat and this amazing queen from London called Cookie and the World Famous BOB. The concept was basically, "What would you do for 100 dollars?"
FRYE: My first performance for Foxy was, I covered myself in shaving cream, stuck a broom up my ass, and started sweeping the entire club. I told the audience to exit the club with me, which they did. And so, there's this huge crowd following me down Avenue A and I jumped on a police car. I was like, "This is what I'll do for a hundred dollars! I'll get arrested for a hundred dollars!" I absolutely won that contest hands down.
DIAZ: Foxy was very extreme. I'd have to leave a venue and then have three days to find another place. It still blows my mind how people found us, but they always would. That's how The Cock happened. There was a little venue in East Village on 12th and A that didn't have a name; had white drywall up. It hadn't even been established as a bar.
BOND: When Mario moved in there he was like, "I think I'm going to rename it The Cock," and I was like, "Oh god, that's so stupid." Obviously, there's a reason why Mario was the promoter and I was the talent.
DIAZ: I remember hearing about the man who owned it, Allan Mannarelli. This straight man had never done anything in queer nightlife, but he did have a bar in the East Village that was infamous for being a drug haven. I asked him if I could throw Foxy there, and he said, "Sure." He didn't have anything going on and it was gangbusters. He was really blown away by the numbers and he let me push capacity. Didn't play the city's games. Turned out he had a slew of lawyers on hand to fight any violations.
SCOTT EWALT, DJ, artist: Allan told me once, "I love owning gay bars because gay men make art and they don't fight."
DIAZ: I brought my friends in one day. We painted the walls. I blew glitter everywhere. I cut out these lightning bolts and stars and had some signage made. I knew I wanted to have a red neon rooster. I didn't want to write The Cock on the front. I thought the mystery of just having the red neon would be impactful. I commissioned Scott to design it. From day one, we promoted seven nights a week. It was always a disaster, which was part of the charm of The Cock; it was falling apart. That was the seedy beauty of it.
EWALT: It didn't come out of nowhere. It came out of the zeitgeist. There was an excitement about the changing in the millennium, and this idea of, "We have to tear everything apart from the 20th century and put it back together as fast as we can." That energy was everywhere.
BOND: At that time there was this whole sex panic, and people who were otherwise progressive were trying to shut down all sexuality in gay places in New York. In 1996, they first came up with the cocktail, so my modus operandi for the club was to make sexuality fun. Everything we presented was sexy, but not hardcore, dark, or aggro. It was silly and stupid.
EWALT: We were still dealing with the AIDS crisis. The Cock opened just two years after the cocktail came along and people with HIV were going to finally be able to survive. I remember, at Cake, Justin Vivian Bond being on the bar with the mic the night that Bill Clinton announced the cocktail was approved, and she shouted, "Alright honeys, we're not going to die anymore!" It was profound because for the first decade I lived in New York, it was unthinkable that there weren't going to be severe consequences to your sex life.
DIAZ: Bringing back the backroom is one of the essential components of what I did for New York City. It's not even something I particularly needed or used. It was more the idea that it's a part of our history that we deserve. It's really simple. It's like, "Oh, I'm into that, too. I have those same desires. I can do this here. I can meet somebody like me." Which is why queer spaces are so essential, even today.
FRYE: There was a need to celebrate sexuality again. And there was also a need to be part of a creative movement again. People were craving something that wasn't the same old club-kid shit—crazy costumes, house music, coke, and k-holes.
BOND: Sometimes I would grab cute boys and take them into my building and blow them under the steps, or whatever I felt like doing. It was easy access.
DIAZ: We were part of a younger crew that were ready to bring it hard. At that time Giuliani was pushing his "quality of life" campaign. We all knew he was a pig and that he didn't have us in mind. It was just for rich white folks. He was specifically targeting queer and POC venues. We were up against that, but it just made us even more venomous and determined. It became an experiment of sex positivity. My MO was, let's see how far we can go.
BOND: One time we had a tasty dick contest. My friend sat behind the hole in the curtain, and anyone who wanted to enter the tasty dick contest would just shove their dick through the curtain and get it sucked. She sat back there for hours. Then my friend decided who had the tastiest dick and that went to Julian Fleisher. Believe me, you can quote me on that. Talk about bragging rights. Until this day he can't go anywhere without bringing up the fact that he won the tasty dick contest 500 years ago.
FRYE: It was hot, tattooed punk boys in eyeliner peeing on themselves.
BOND: It was before people had phones, so people would piss on each other.
EWALT: My overall thesis statement for The Cock was that the owner wanted to give employment to artists. Almost everyone who worked there was either in a band, or making art, or music, or performance. And that's why so many of the people from the first Cock are now big designers, big photographers, performing at Joe's Pub. You couldn't get a job there without having an outside ambition.
DIAZ: Something that I've done throughout the years is this idea of being interactive. What's onstage helps facilitate the show. But the audience is the show.
BOND: I wouldn't say I cut my teeth there. My teeth were definitely breaking through the gums by the time The Cock began. I just love free association onstage, and I knew the audience; it wasn't like I was talking to a bunch of Shriners. I was talking to East Village freaks. It was a smart crowd, so I got very lofty in some of my absurdity. Because as trashy as it was, I thought it was very sophisticated. My favorite line of graffiti in the bathroom was, "Read Noam Chomsky!"
MEL OTTENBERG, patron: First of all, it's 1998 and I don't think gays are cool and I don't think I fit in with any gay subculture. But I'm horny. So, these girls were like, "We have to go to this new party: Foxy!" I can still see it perfectly. Bill Van Meter peeing on the dumpster right in front of the door and it's unhinged so of course we became instant life long friends. We walk into The Cock together and instantly it's like Beyond the Valley of the Dolls meets Please Kill Me meets CBGB '70s meets Squeeze Box. There are hot men everywhere. It's giving freaky. It's also giving sexy hairy muscle man. It's giving vibes that I never knew I wanted.
DIAZ: There was a nude stage diver, there was a guy who fucked fruit. These two dykes once came out as lunch ladies and one pulled a giant turkey leg out of her vagina, and then they proceeded to eat it together. There was a girl who queefed "Don't Cry for Me Argentina." It was the most amazing thing. I cried with joy. However, our hands-down biggest Foxy winner was Krylon Superstar. I refer to her as, "Anal arts and crafts." Their artistry was all ass-related.
BOND: There was this person who would pull different things out of their ass every week. Around the holidays, she came in with bunting around a Christmas tree. She bent over and the tree was sticking out of her ass and she had the audience decorate it.
DIAZ: I cannot tell you the number of things that were pulled out of Krylon's ass and the creativity that went into it. I remember Justin Bond being like, "Krylon has had everything pulled out of her but the kitchen sink." Literally 20 minutes later, Krylon had dismantled a sink from The Cock's bathroom and inserted it into her ass, onstage.
FRYE: Foxy was The Cock's main attraction, and I was the reigning champ. Mario actually confronted me: "Krylon, you have to throw the contest because we need other people to win in order for it to be interesting." So I dressed like this cowgirl with the little Daisy Dukes and ponytails and freckles, and I danced to Dolly Parton's "Mule Skinner Blues," with a huge corn on the cob sticking out of the back pocket. So, I do this whole dance while I secretly put popcorn in my mouth when nobody's looking. Then I stripped, shoved the corn cob up my ass, and spit popcorn out of my mouth. I was a human popcorn machine.
OTTENBERG: Foxy starts, and the icon that I now know to be Krylon Superstar roller skates out from the back room and gets onstage. This gorgeous Black twink is wearing a Little Debbie wig and a 1950s scalloped-edge drive-in apron, and a tray with hot dog buns and all the fixings, and she's singing the Oscar Meyer wiener song. And then Krylon bends over and out of her butthole pops an Oscar Meyer wiener, she puts it on a bun, slathers it up with ketchup, mustard, and relish and then puts it on the little tray. The entire place is screaming. It's not just sissies screaming, it's punks screaming, it's tough guys screaming, it's trans girls screaming. And then Krylon drawls in this deep voice, "Want a bite?" and presents it to the crowd. Everyone recoils in horror from the butthole hot dog. And then Mario Diaz, this hot, hot man who I'd never seen before who's standing next to the World Famous B.O.B., yells, "I want it." He grabs it and eats a giant bite of it, like really chowed down. And I'm like, "Oh my god, gays are the best. I'm in love with that man. I'm in love with this whole world."
PAUL KOPKAU, patron turned bartender, artist: I was 19, underage. Ryan McGinley gave me a fake ID and I went with Keith Gonzales and Humberto Leon. The first summer I moved to New York I was at The Cock every single night. Coming from a small town in Michigan, my first impression was, "I can't believe guys that look like this are gay." They all looked like they were skateboarders. There were definitely never any Will and Grace girls hanging out there.
XANDER C. GAINES AVIANCE, patron, artist: I got there consistently at 3:30 a.m. If I got there before 2, it was like, "Are you okay?" I'd pack everything into 30 minutes like a powder keg. Like: "Hey, bitch." "Work, bitch?" "Bathroom, bitch?" "Who's got the poppers? Work." It was nonstop going, going, going.
DIAZ: Allan and I had an equal partnership on owning the venue. And he gave me full permission to curate as I liked. I staffed everybody that worked there, including Nashom Wooden, who eventually became The Cock's long term manager.
EWALT: Nashom and I both worked at a place called Boy Bar on St. Mark's Place. He was one of the most attractive men that went there, and he got reeled into being a drag queen kind of against his will. Initially, they wanted him to be kind of like a clown queen, Aretha Franklin but with white lipstick and a white wig. He did not like that, and he broke out of it real fast and became a sexy mama, and started doing First Choice and Lil' Kim. He liked sexy, provocative Black women. He got a huge following from it and really empowered himself, and by the time he was 20, he was a full-blown downtown phenomenon.
OTTENBERG: I had Mario's cell number, and his answering machine message was like, "Hey, hey, hey. This is Mario's cell phone. Leave a message." And then there was a honking horn and he went, "Ah, don't you just love New York?" I used to call it so me and my best friend could just listen to Mario's phone message and his sexy voice and I guess relish the fact that I had his number, and we would talk about how hot he was. While this makes no sense in 2023, I stand behind it.
BOND: The Cock patrons mostly just did blow and marijuana. It was a really cool young crowd, people who were going somewhere, you know what I mean?
DIAZ: I was in my early twenties so I had the energy to do it. We would stay up all night. We'd get up at two in the afternoon, 10 of us would have brunch. I'd go to work with heartburn, spitting in a cup and drinking more fucking vodka just to get through another night. It was so much fucking fun. But it was hardcore.
KOPKAU: My experience as a customer would be getting really drunk to the point where you wouldn't be in fear of catching AIDS, basically. And then you would randomly hook up with guys in the back.
EWALT: Nashom would get on the mic and say, "Clown car!" And he would count off how many people came out of the bathroom and comment on each one like, "Oh girl, you still got cum on your face."
DIAZ: It wasn't a druggy place. I know that there was a little bit of that, but people smoked pot and drank booze. We were the antithesis of the club-kid movement, which was narcissism and drugs. We were rock-n-roll and sex.
EWALT: The Cock was like the LVMH of queer rocker East Village nightlife. Mario consolidated all the successful East Village nights into one new club. All of a sudden, the people that were doing different things in the East Village worked at the same place. It became our headquarters. There were roughly 50 employees at the first Cock, and Mario handpicked the 50 best people. On Tuesday, Amanda Lepore and Sophia Lamar had their night with Lina [Bradford] deejaying and the two of them would just walk the runway from one end of the bar to the other all night long. The music was psycho and really worked. I remember Miss Guy and Jayne County in the DJ booth late on a really wild night playing "Ghostbusters" and thinking, "These bitches have lost their damn minds."
BOND: During the Giuliani administration you couldn't dance in places unless they had a cabaret license. If you didn't have one you could only dance for one minute and 30 seconds. So, BOB would set a timer, and everyone in the club would dance for one minute and 30 seconds. This predates 9/11. Then when Bloomberg came in, he made everybody stop smoking. That changed everything. At the first incarnation of The Cock, you couldn't see. It was like you were in the fog of San Francisco because everybody was in there smoking.
OTTENBERG: New York was like Footloose. It was illegal to dance in bars. Everyone would be sort of bopping around and shaking, and they would warn you to stop dancing. But some nights were just too major and everybody danced anyway.
SAMMY JO, DJ: The aesthetic for the go-go boys at the original Cock was skinny, skater, rock-n-roll trash in the best way. It wasn't muscle, it wasn't twink. Mario had a very specific aesthetic as far as who he hired to dance. Never about magazine beauty, always about street beauty.
OTTENBERG: So many hot guys worked there. Matt Bell was such a star, truly stunning, back when go-go dancers could be New York famous. But also, the hottest clientele was there fighting over these boys, especially Matt.
EWALT: The Cock was a living work of art, for sure. It was a place to meet other artists and it inspired people to make art. As dodgy as it got in there, every gay artist in town was there all the time. And every gay designer, and every gay hairdresser. All of a sudden, the stylists for Britney Spears, Kurt and Bart, became regulars and friends with all of us. They got the job when she turned 18 to make her into an adult. And they were like, "Why don't we turn her into Peter Berlin?" They brought Britney to The Cock once. Christina Aguilera and Katy Perry came too.
DIAZ: I can tell you the celebrities that I know hung out there: [Pedro] Almodóvar, John Waters, Calvin Klein was there all the time. George Michael, Pete Burns, Mark Almond, Chloë Sevigny. Even Katie Holmes. They didn't feel bombarded. They didn't have bodyguards. Everybody was equal.
OTTENBERG: This one night I happened to be in the backroom smoking cigarettes and looking around for some kinda action or show. And then one of the most famous designers of all time, my fashion idol, busted in completely wasted doing full runway and stomps into the even weirder backroom. You took a right past— sort of behind where the bathrooms were. There was a dirty sheet up and figures writhing back there, and I thought, "Drama, I love this place and I will never forget this!"
AVIANCE: During the blackout of 2003, no one had power. Everybody on the East Coast was going through it. Everybody was calling their drug dealers and getting drunk and really turning it out. No businesses were open, but I figured something would be happening at The Cock. I walked up to The Cock at its first location, and you could feel the steam and the heat coming out of the door and I thought, "These faggots aren't playing no motherfucking games." As I'm saying that in my head, all of a sudden, a horse-drawn carriage pulls up on the sidewalk and Amanda Lepore comes out wearing nothing but red lipstick, a red clutch purse, and red pumps. The naked bombshell gets into the horse-drawn carriage, waves goodbye, and rides off into the night.
BOND: Everybody rolled through there. That's where I met Rufus [Wainwright] the first time. I know Alan Cumming came in. I once brought Tilda Swinton. It's where the Scissor Sisters first started performing.
DIAZ: And of course, there's my gorgeous, beautiful door girl, Irene. She's legendary. I honestly don't remember how I found Irene. "Hi, honey, it's going to be 10 bucks please." If you treat somebody lovingly, call them sweetheart and darling and honey, they're not going to fight you. They're going to give you what you need. She's the perfect example of how you handle a door job.
AVIANCE: The Cock is the first place I had public sex and didn't leave full of shame. You could discover your sexual nuances there, like, "What type of fetishes within that fetish are you into? What texture of that fetish are you into? What detail of that fetish do you really live?" I didn't know there were those levels of nuance.
BOND: I remember Mario telling me one time he thought he was getting a blow job from some guy, and then all of a sudden he reached down and the guy just somehow squirreled his ass onto Mario's cock. He was fucking someone without even knowing it.
EWALT: No shame and maximum freedom were the name of the game. I'm old enough that I was born when it was illegal to be gay. And then I came of age when you could die from being gay. So, to reject both of those things and have no shame was powerful. The thing about The Cock still is that it's a place where you can be yourself and feel free. "Safe space" is such a coined phrase, but The Cock really is one.
OTTENBERG: I will abstain from saying things that make me unhirable, but I did have a moment at the bar, at the original Cock, that involved a not hot, incredibly hairy go-go dancer. Our actions led Sophia Lamar, who was standing next to me, to scream, "Oh, lordy, Mel, stop! No!" I was thinking, "I'm not stopping. I'm going to do whatever the fuck I want."
DIAZ: I can tell you that our moment in the '90s was one of the best times of my life. I feel like I created something iconic, and I'm very proud of it. To make people feel more comfortable with who they are, particularly when you're queer and you grow up thinking you're going to burn in hell for eternity, is important. I try to say to my community, "You're good, you're fun, you're beautiful, you're charming. Everything that you feel, as dirty and seedy as it might seem, is completely natural." Something as silly as a little party can help that message sink in. It was a wonderful time for all of us.
———
The Cock is still throbbing with life five nights per week at its third location: 93 2nd Avenue, New York, New York.