Christy Turlington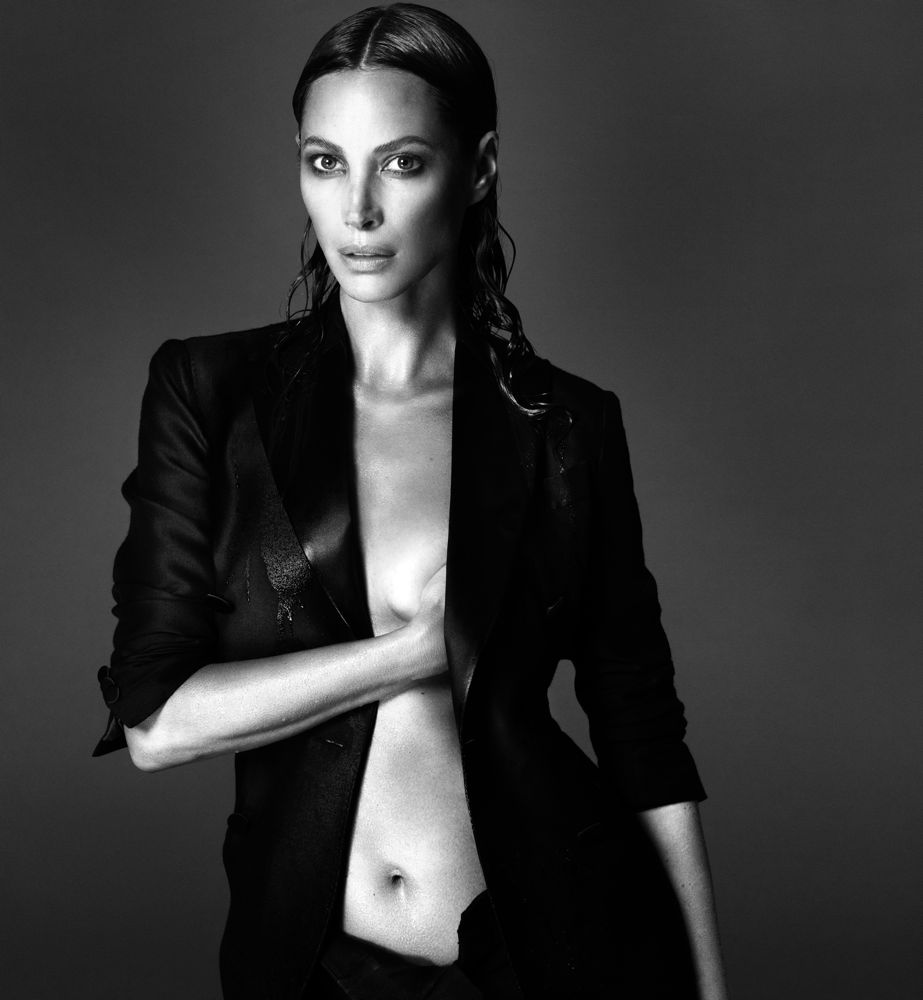 ABOVE: CHRISTY TURLINGTON IN NEW YORK, JULY 2013. STYLING: LUDIVINE POIBLANC. JACKET AND PANTS: DSQUARED2.
 After one particularly grueling season at the couture shows in Paris in the summer of '94, I decided that was it. I came home and applied to NYU. Christy Turlington
INTERVIEW: What was your relationship like with fashion when you were a kid? Were you into it?
CHRISTY TURLINGTON: I never looked at magazines before I started modeling. I was 13 or 14 and none of my friends were into magazines. We were into the fashion of the day, though. Designer jeans were really popularâ??Sasson, Gloria Vanderbilt, Calvin Klein, Jordache. Once I started modeling, I began to learn about these things, and magazines helped me to understand who was who.
INTERVIEW: What was your first professional modeling gig?
TURLINGTON: I lived in Miami for a few years and that's where I got "discovered." I'm not 100-percent sure what my first job was, but it was probably for the department store Burdines. I worked with them quite a lot until my family moved back to California. The photo studio was in the department store itself. My mom would drive me downtown at 13 and we'd get lunch or frozen yogurt before my booking. I started modeling clothes for my age group but quickly moved into doing cosmetic and jewelry ads, which was funny to me at that age. I noticed that older, more established models would come down from New York for "special bookings," so that became a bit of a fascination for me.
INTERVIEW: How did you get from Miami to New York and Paris? What or who redirected your career?
TURLINGTON: At 14, I met a scout from New York named Bibi Monnahan who was with Ford and another affiliated agency called Karen in Paris. Both agencies invited me to visit but I was moving with my family to California. But the following summer I went to Paris and stopped through New York on the way home. Both experiences were great. I loved being in big cities and getting to see how the industry really looked and what it felt like. I didn't work much, but I loved walking around the city and meeting photographers and shopping.
INTERVIEW: Eventually, you lived for a summer at Eileen Ford's townhouse on 78th Street. What was that like?
TURLINGTON: I returned to New York the next summer, at 16, and I stayed at the Ford's home. It was fun getting to meet other 16-year-old girls from other countries. I made some good friends there. Eileen and Jerry Ford were probably the only agents I had heard of before I started modeling, so I felt they were the best and I think my parents trusted the Ford brand. They were known to be tough and professional, which gave us a sense of security. Things took off for me that summer. I was working a lot with Vogue so even after I returned to high school in Northern California in the fall, I would come back to New York and fly to Paris or Rome for "special bookings." That happened until I turned 18 and moved into my own apartment downtown. That was in 1987.
INTERVIEW: You just did an underwear campaign for Calvin Klein, a brand you've had a long association with over the years. Then, on the flipside, you also just did the campaign for Jason Wu, a younger designer. How does it feel to be working on those different kinds of projects now?
TURLINGTON: While I haven't worked as a full-time model for about 20 years, I've always maintained a few relationships. Calvin and Maybelline are the two longest. I'm flattered by the offers I receive, but there's no real strategy to the way I choose what to do these days. If I'm in a good mood and have the time, I'm more likely to consider it. Often the photographer and team are important factors, too. I needed to think seriously about the CK underwear campaign, because I knew it would be everywhere, and I wasn't sure I wanted to be photographed in my underwear now that I'm a mother. But I knew the images would be tasteful and I liked the idea of continuing a relationship with a brand that I grew up with. The Jason Wu campaign was totally different. I've worked more with Inez and Vinoodh than with any other photographers over the last dozen years, and I trust their vision and instincts. I know the photos will be pretty and the day will go smoothly. I was worried about having two fashion campaigns out at the same time, and when I got the offer for Jason Wu, I had just shot Prada with Steven Meisel, and my kids were in their final week of school. But I'm happy I agreed in the end. People seem to really like them.

INTERVIEW: Who were some of the important people early on in your career?

TURLINGTON: There have been so many photographers and editors who mentored me over the years. At the very beginning, the person who taught me the most was Arthur Elgort. I always loved working with him. We traveled a lot together. I couldn't wait to work with Steven Meisel, and once we met, we did a lot together too. I remember some great years working with him and Paul Cavaco, Brana Wolf, and Carlyne Cerf when she first arrived in New York. I did a lot with British Vogue and loved working with Liz Tilberis and Grace Coddington. I started with Vogue during the Grace Mirabella years, but then Anna Wintour returned from London and quickly made her mark. I also loved working and traveling with Herb Ritts. I met Lori Goldstein in L.A. through him. I worked with Patrick Demarchelier, Avedon, and Irving Penn. There were teams with each photographer and those would change periodicallyâ??Sam McKnight and Mary Greenwell, François Nars and Oribe, Stephane Marais and Odile [Gilbert], Linda Cantello and Julien [d'Ys], Kevyn Aucoin and Garren, Christiaan [Houtenbos], and Sonia [Kashuk] …

Christy personifies beauty in every sense of the word. Her extraordinary look, her style, her grace, and her commitment to giving back in significant ways are ever inspiring. Narciso Rodriguez
INTERVIEW: Once you achieved a certain level of success, what were some of the most important decisions that you made in terms of your life and career.

TURLINGTON: I signed an exclusive contract with Calvin Klein in 1988, and there were some pros and cons to that. I didn't feel that I was given the best advice at the time from my agency and I didn't have my own lawyer. I was young and wasn't ready to be locked up. I made the most of the time, but I missed the pace I was just starting to enjoy. I was also in a new relationship and started taking creative-writing classes in L.A. I renegotiated after a few years and came back, maintaining the Eternity fragrance contract, so I had the best of both worlds from then on. In hindsight, I probably would have burned out much sooner if not for that hiatus.

INTERVIEW: But in the mid-'90s you did decide to step away from modeling. Was that in order to focus on college?

TURLINGTON: I never thought I would model for more than a few years. And almost as soon as I wasn't a student who modeled part time, I started to feel like being a full-time student again. That was a goal I set for myself. Each year I would say "one more year," and that got old. So, after one particularly grueling season at the couture shows in Paris in the summer of '94, I decided that was it. I came home and applied to NYU and started classes that fall. I loved my college experience. I was so ready to stay put for a few years and focus on my education, make a home for myself, and slow down. I went year-round so I could graduate in four years. I loved that period of my life.

INTERVIEW: Looking back on the late '80s and early '90s, when you were becoming such a recognizable face, are those positive years for you?

TURLINGTON: For a long time I couldn't think about any of that period as positive at all. It all felt so exploitative to me at the peak of it. I am finally able to look back and see the good stuff over the rest, but it has taken time and distance. We had a lot of fun throughout those years. Now I can see there has been a positive impact on the industry.

INTERVIEW: You've also done some substantial work outside of the industry, like Every Mother Counts, which is a campaign to end preventable deaths caused during pregnancy and childbirth around the world, and the documentary No Woman, No Cry [2010] you directed, about at-risk pregnant women in four parts of the world. Where does that drive come from?

TURLINGTON: I always recognized that modeling would allow me to see and do a lot, so I looked for opportunities to learn and grow. I continue to find opportunities to challenge myself and I think I always will. I don't know where it comes from but it's always been there.

INTERVIEW: What's the best piece of advice anyone has ever given you?

TURLINGTON: Funny enough, some of the best advice I ever got was from other models. I met the famous Avedon model Dovima once, who told me to keep everythingâ??letters, invitations, photographs, clothing. It was at the end of her life and she hadn't done this and had a lot of regret. The other was from Lauren Hutton, who advised me to always stay in a country longer than my work required, to take advantage of the travel and experiences that come from it. I followed it all.

INTERVIEW: What advice would you give someone who is just starting out in modeling today?

TURLINGTON: I don't know. To stay in school as long as possible, I guess. There is nothing important that won't wait, and it isn't easy to go back once you leave. Take breaks. See the world. Keep working on your inner life, too.
 


PHOTO: COSMETICS: CLÃ? DE PEAU BEAUTÃ?, INCLUDING EYELINER PENCIL IN BLACKAND EXTRA RICH LIPSTICK INT9. HAIR: MALCOLM EDWARDS/STREETERS LONDON. MAKEUP: LUCIA PIERONI FOR CLÃ? DE PEAU BEAUTÃ?. MANICURE: BERNADETTE THOMPSON FOR THE BERNADETTE THOMPSON NAIL COLLECTION. CASTING: MICHELLE LEE. PRODUCTION: LALALAND. PHOTOGRAPHY ASSISTANTS: MATTHEW EASTON, TEDDY PARK, AND PAWEL WOZNICKI. DIGITAL TECHNICIAN: DTOUCH. RETOUCHING: DREAMER. TAILOR: MARIA DEL GRECO FOR LARS NORD STUDIO. STYLING ASSISTANTS: COQUITO CASSIBBA,MARIKA AMES, NICOLE REDA, AND LUCA GALASSO. HAIR ASSISTANTS: NEIL GRUPP AND ANDREA MARTINELLI. MAKEUP ASSISTANT: LYNSEY ALEXANDER. SPECIAL THANKS: MILK STUDIOS.

For more from our Model Issue, click here.