The Future Perfect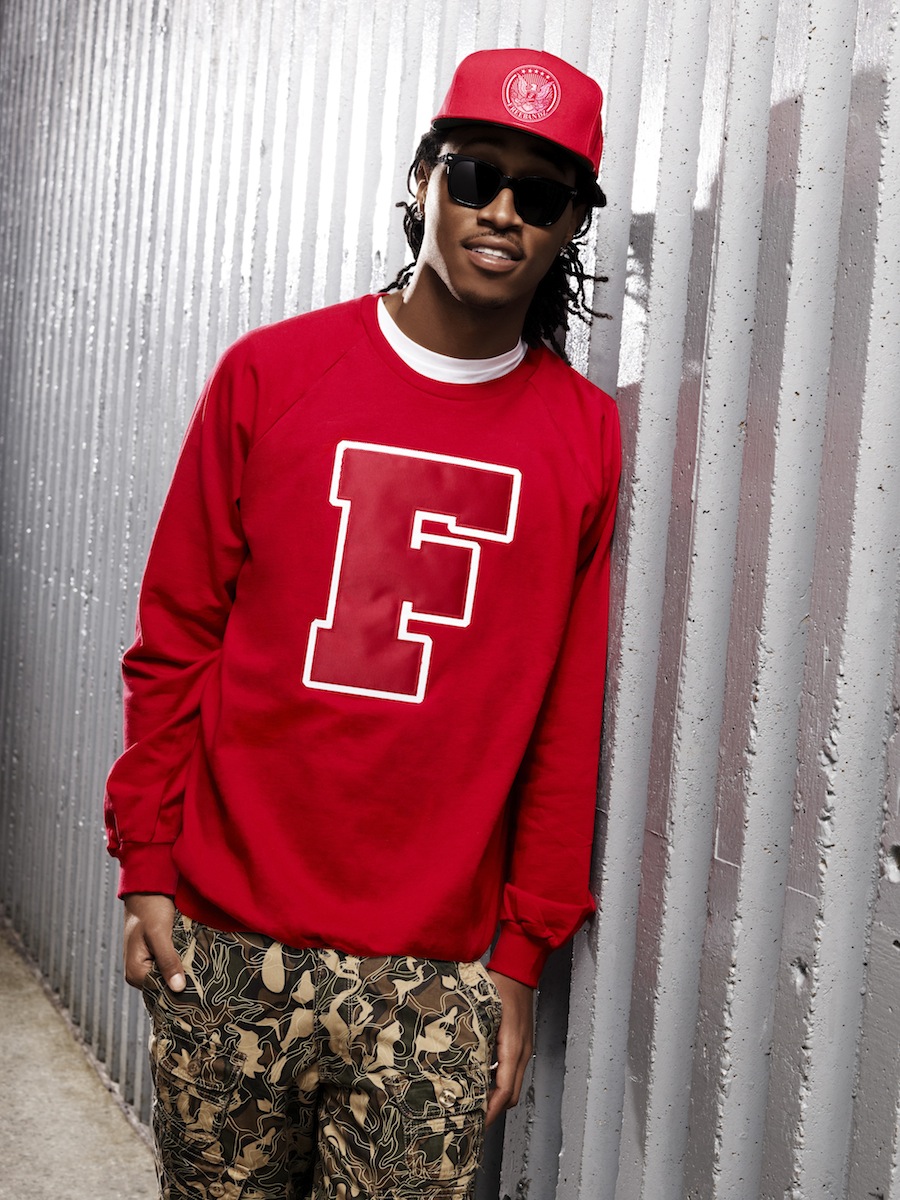 ABOVE: FUTURE.
There's no doubt Future (aka Nayvadius Cash) is special—whether it's his reinvention of Auto-Tune, his hazy pop hooks, or the uniquely effective rhythms he records on, something undoubtedly sticks. A longtime Atlanta staple, thanks in large part to his outpour of signature mixtapes and tight ties to the legendary Dungeon Family (home to groups like OutKast and Goodie Mob), Future officially arrived in 2012, his Epic Records debut Pluto producing a number of offbeat hits that continue to take the rap world by storm. A new edition of the record, Pluto 3D, was recently released, featuring collaborations with Diddy and Kelly Rowland. Following his first performance in New York and in anticipation of his upcoming sophomore release, Future Hendrix, Interview spoke to the eccentric artist about his upbringing, L.A. Reid, and his star-making collaboration with Rihanna.
ALEX CHAPMAN: You just did a gig at the Highline Ballroom in New York City. How did that go?
FUTURE: The show was great. The feedback from the fans—my die-hard fans who came out—I call them my die-hard fans because any time a fan pays to see you, they have to love what you're doing, respect the craft.
CHAPMAN: And is it just you on tour?
FUTURE: Just me. It was all me—that's my first time in New York, so I wanted to just give them everything on my first go-around. First time, I wanna let them know it's all me, and let them know what I have to bring to the table, make sure they understand the movement.
CHAPMAN: So you don't have anybody opening for you?
FUTURE: I don't really have anyone opening up for me right now. We're gearing up for 2013, to have different artists tour with me.
CHAPMAN: Your career is having a big moment right now. Where's your head at?
FUTURE: I'm just making hits, 24/7.
CHAPMAN: That's a good place to be, I'm sure. I feel like a lot of your success has to do with the genuine nature of your sound.
FUTURE: If I didn't love to do it, or if I felt like it wasn't on my mind or heart to say something, or it wasn't something I went through personally, or seen someone else and took from their story, then I don't even speak on it.
CHAPMAN: Growing up, was there any type of music that directly influenced your passion, or some type of trigger that you can remember?
FUTURE: I just always loved the sound of beating on drums—when I was kid, my mom bought me a drum set, and it was so cheap I fucked it up the first day I had it, probably because it was made out of paper, it wasn't an official one. But she tried her best to just make me happy, giving me things I liked. She knew I was talented in something—football, she bought me a football, basketball, she'd buy me a basketball. If she couldn't buy the goal, she bought the ball. If she couldn't buy the bat, she might buy the glove. [She was] always about if I was creating, or anything I wanted to do.
CHAPMAN: It's great to have a parent that supports your beginnings.
FUTURE: Yeah, and it goes back to music—if you want to play piano, you just gotta love piano, and I loved the way that music sounded from the beginning. Always did—everything about an instrument I loved. All different instruments—the guitar, etc.
CHAPMAN: When you were younger, you recorded music with an older crowd. How do you think that affected you?
FUTURE: I always hung around older dudes. I feel like I was more wise and I just had more knowledge of what was going on. For the present time, I know how to take from that, and build and strategize from it. Having a young mind—I still had a young mind, I still had childish ways. I still had a group of dudes that I grew up around that were younger than me. But when I hustled and did certain things in my life, I always did it with an older group of dudes. I would probably hang at the park on a Sunday with the dudes I grew up with.
CHAPMAN: Switching between two distinct age groups like that must've given you some perspective.
FUTURE: You see both sides. But a lot of the kids I was growing up with, we were already grown when we were young. Like when we were around 11 or 12, we were making our own decisions. Their moms were probably on drugs, or they might not even live with their mom, they might be with their grandma. Nobody had a dad that was really in their life—it was just us. We knew how to build our family—the dudes that you grow up with, that's how I learned to build my family. That was my family—the people you were born with in your neighborhood.
CHAPMAN: L.A. Reid signed you, which is obviously a huge deal, but what made you decide to work with him, as opposed to the other interested labels?
FUTURE: He's found so many superstars. When he says you're a superstar, you've just got to work and prove and show and prove to the world who he thinks you are. Whatever he saw when I walked in his office and played him my music, I want to live up to those expectations, and I want the world to see what he saw in me. The only thing I do is keep dropping hits, show and prove, and only time will tell.
CHAPMAN: What is Pluto's significance to you?
FUTURE: Pluto was a journey. From my first mixtape, I knew I wanted to drop Pluto, and to see it come to life on the album—you go back to my first mixtape, I'm marketing and ad-libbing about Pluto. Everything I did I always said Pluto, and then I made it an album. I was ahead of the curve then, to understand what I was doing. But that's what you do when you're a trailblazer—you set trends, and they don't even see you coming.
CHAPMAN: How do you describe the album?
FUTURE: It's timeless music, point blank. The world needs to understand that, so every time I do an interview, that's what I tell them. Pluto 3D is just more personal for us—it's the level of songs I'm putting on, for the DJs, just to get them enthused about going into this new year. It's gonna be a wonderful year.
CHAPMAN: You've had a lot of great collaborations this past year, such as Kelly Rowland, who jumped on your remix to "Neva End."
FUTURE: The beautiful Kelly Rowland.
CHAPMAN: Can't argue with you there.
FUTURE: Her personality is way stronger, though. She's beautiful on the outside, but on the inside she is amazing. She's amazing all the way around the board—no flaws. She's one of those black women with no flaws at all. There's only a few women like that.
CHAPMAN: Who else do you feel fulfills that?
FUTURE: Ciara, Rihanna. Rihanna takes risks, and I love a woman who takes risks. It just goes to show you have your own mind and your own way of thinking.
CHAPMAN: Let's talk about your collaboration with Rihanna on her new album—a huge moment for you. What was the process like in making that record happen?
FUTURE: It was easy. It was Bu [Thiam], vice president over at Def Jam and Akon's brother, and Omar [Grant], Rihanna's A&R man—they quarterbacked the play, and I was just happy to be apart of it. But at the end of the day, everything takes a team. Jay-Z named the song "Loveeeeee Song." Rihanna went in on the verses—she helped me to understand when you're professional and God gave you a gift, no one can take it away from you, no matter what they say or print about you. No matter what pictures they put out, that gift and that talent are going to speak for themselves, so keep doing what you're doing.
CHAPMAN: Did working with her get you excited about the potential of reaching that level of success?
FUTURE: I feel like I want to be a household name—I understand the way that move went down. Like I said, there's more people to quarterback the play than me. It's teamwork, from the coach to the quarterback to the running back. However you analyze it, you gotta have a team. I understand I'm the voice of it, but the brains of it and the way it moves—that's my team, it's around me. Doing a song with her and the way they put it together, when I do my projects and let my team put my shit together, it's about building that team—that superstar team.
CHAPMAN: It seems like you're invested in the branding aspect of things as well as the artistic aspect.
FUTURE: Because I wanna be consistent. Last year, when they asked me what I wanted to do, I would say, "I wanna consistently drop hits." Now I got hits that I dropped, I got hits that are coming up, I have an album that's about to drop, I already signed my label deal—certain questions that I wanted to be answered are right there on the table. Everything makes sense. Where I know I wanna go is being consistent on business, and that's just making another artist, my clothing line—capitalizing off the moment. I wanna be consistently doing that—capitalizing off every move I make.
CHAPMAN: Can you speak on any of that stuff?
FUTURE :The label deal is already done—Freebandz Epic. So the top of the year we are really gonna go full-fledged with it. I've been strategizing about it and thinking and moving and staying up all night trying to figure out the next move.
CHAPMAN: What can we expect from you musically in the next year?
FUTURE: Expect greatness.
FUTURE'S SOPHOMORE ALBUM, FUTURE HENDRIX, IS DUE OUT NEXT MONTH. FOR MORE ON THE ARTIST, VISIT HIS FACEBOOK PAGE.