coming soon
Rebecca Ferguson Shares Her Dune 2 Checklist with Denis Villeneuve
Dune fever rages on. In the month since the film's premiere, the desert-set Sci-Fi epic has torn through box office records, spawned an entire universe's worth of otherworldly fashion references, and given rise to a slew of new household names. One such name is Rebecca Ferguson, who stars as Lady Jessica, an extraterrestrial matriarch whose revolutionary potential threatens to disrupt universal order. Despite a career studded with blockbuster titles (from The Greatest Showman and Doctor Sleep to the Mission: Impossible saga), Ferguson's performance marks a long-overdue pivot to lead roles, signaling her arrival as a Hollywood heavy-hitter ready to anchor any marquee. 
For Denis Villeneuve, the Dune director and Ferguson's longtime friend, casting the Swedish actor to play the strongest woman in the universe felt like a no-brainer. "Sometimes, Rebecca, when you feel that everything is too comfortable," Villeneuve told Ferguson on a recent Zoom call, "You like to throw a bomb." For Villeneuve, Ferguson's blend of charisma and bite was the secret sauce that transformed Lady Jessica into the kind of magnetic on-screen presence that viewers witnessed in Dune. What's more, it makes for a lot of on-set hijinks: over months of filming, the pair developed a friendship that has not waned in the weeks since the film's press circuit wound down earlier this month. In fact, they can't get enough: Villeneuve has already begun writing the trilogy's second installment, and Ferguson has a long list of demands, regarding outfit changes and her character's arc, at the ready. So, it was only natural that we turned to Ferguson and Villeneuve, two people who never get tired of talking Dune— or of each other—for a discussion of the film's meteoric impact, Ferguson's approach to her role, and what to expect from Part II. —MARA VEITCH
———
DENIS VILLENEUVE: Hello, Madame!
REBECCA FERGUSON: Hi! I've never done this before…
VILLENEUVE: You've never done an interview by Zoom? It's 2021!
FERGUSON: With one of my closest friends? No! I have to be really careful, you know me. I'm gonna have to bite my tongue.
VILLENEUVE: If you don't mind, I have my own questions for you. I was trying to come up with questions that people might never ask you, but people ask you questions all the time, so I apologize if these aren't new. You can just say, "fuck off," and we can move on.
FERGUSON: Great.
VILLENEUVE: I'm not sure you're going to like this one. Once, someone asked Lars von Trier why he became a filmmaker. His answer was, "When I was a kid, I was walking in the countryside and suddenly a flying saucer flew over me. Then, I became a filmmaker." So tell me, why did you become an actress? Where did the spark come from?
FERGUSON: I never thought that I was going to be an actress. My mom, who's so eccentric, made me try so many things—whether it was learning to play bridge with three 70-year-old women, or tap dancing. Once, there was a casting for a soap opera in my neighborhood, and the queue for the audition was around the block. I don't remember the process, but I became the lead of this soap opera.
VILLENEUVE: Wow. 
FERGUSON: I didn't love it. It wasn't until I met the other leading actor, who was a well-known heartthrob for us girls, that I started enjoying it. 
VILLENEUVE: And you had never been to any acting school?
FERGUSON: No theater, no school plays. The soap opera went on for two years. Two and a half episodes a day.
VILLENEUVE: So that was an education in itself. Did you stop going to school?
FERGUSON: From that point, I never had any more education.
VILLENEUVE: [Laughs] That explains so many things.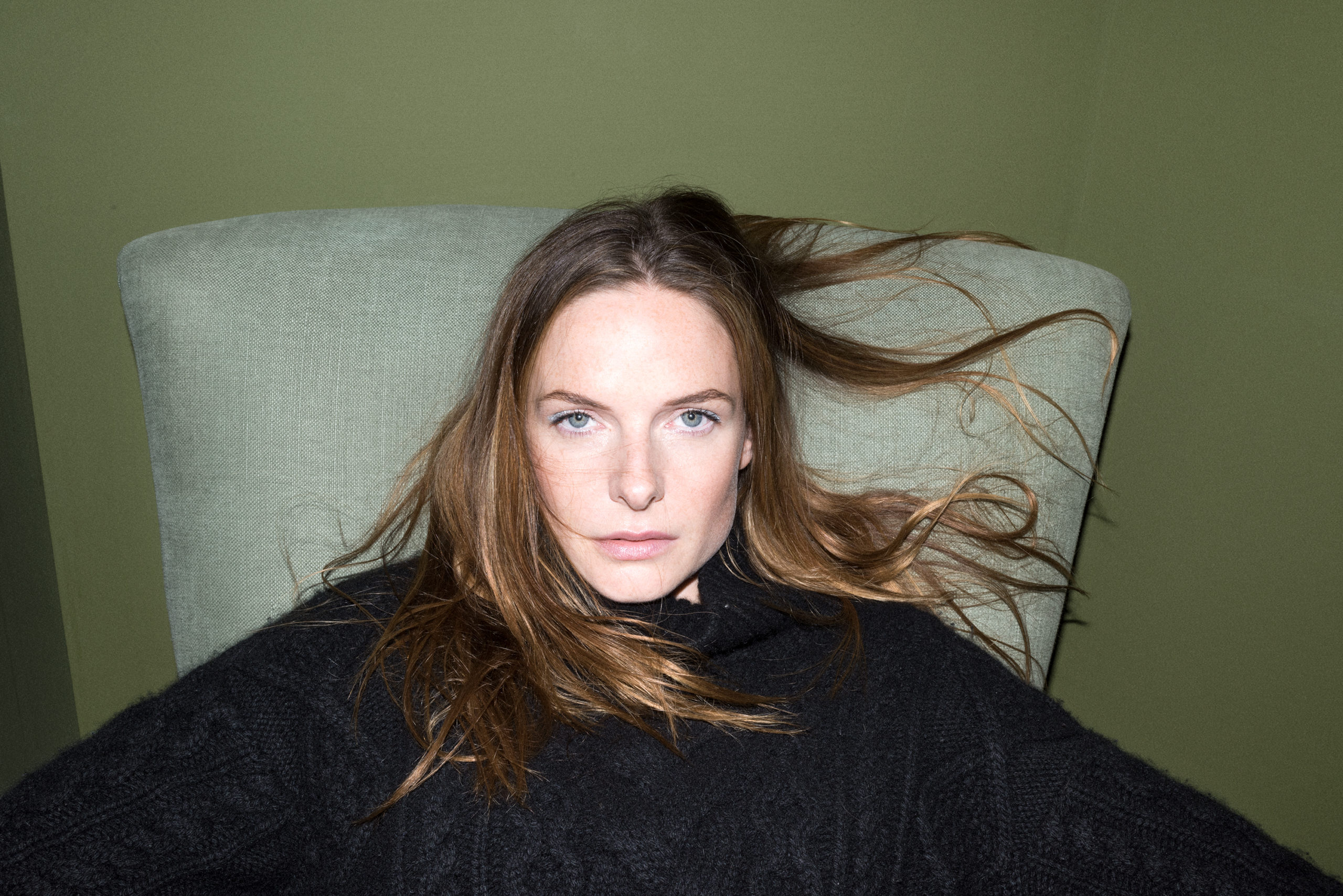 FERGUSON: Well, I started working.
VILLENEUVE: You started working at 15 years old?
FERGUSON: I moved away from home, everything. I had a flat, I had income, I had responsibility. That's why I was such a rebel on your set.
VILLENEUVE: You're an actress of extraordinary precision and a very high focus. You can be joking around on set, and I can ask you to go to a zone of high vulnerability and emotions in front of the camera, and you can switch in a split second. I was always destabilized by how fast you can dive into character. How do you achieve that? 
FERGUSON: I've worked a long time, but I'm still finding my way, my process. It changes every time.
VILLENEUVE: I relate so much to that. When people say, "What is your recipe?" I tell them I'm still learning.
FERGUSON: I've asked you many times, "What do you do in the morning? Do you drink coffee?" I love hearing people's routines for how they start their day. For me, I do a lot of prep work. I break down scripts, and I always have someone—an acting coach, a dialect coach—to talk about scenes with.
VILLENEUVE: Do you ever have trouble accessing a character?
FERGUSON: When I do, it's because it's a small scene or character. High voltage emotions I have no problem with. It's the smaller things where I struggle not to just be Rebecca on camera. But I am a believer of trusting my director. If I trust that they're seeing something in me, then we'll get there.
VILLENEUVE: As a French Canadian, when I talk in English, I have a slightly different persona. I am a bit more clumsy and goofy.
FERGUSON: But you're not goofy when you're speaking French! 
VILLENEUVE: I'm super dark, serious, and cerebral. [Laughs] When you act in Swedish, is something different? Is it easier?
FERGUSON: I haven't acted in a Swedish film for so long— think I'd feel so comfortable. This might sound… How do I say this. I'm aware that I have done very well for myself as an actress. So, to come back to Sweden and do a Swedish film would make me feel very safe. I wouldn't feel like a rookie. Meanwhile, when I do an American accent, I feel very claustrophobic. I can't ad lib, I can't just go with the flow because I worry about intonation, so my goofiness cannot come through. 
VILLENEUVE: What about an English accent?
FERGUSON: English I feel fine with.
VILLENEUVE: One thing that people are always seduced by is your fantastic sense of humor. You are a very funny human being.
FERGUSON: On your set I felt very free. On some sets, not so much.
VILLENEUVE: What do you think makes you funny?
FERGUSON: A couple of years ago, I had  a change in my life, and suddenly simple communication didn't do it for me anymore. Some people feel that you can just fluctuate like a butterfly on flowers in conversation, but it makes me quite stressed.
VILLENEUVE: I understand.
FERGUSON: I like going straight into it—"So, how's your sex life? Are you happy?"
VILLENEUVE: That's very Ferguson-like. When I wanted to offer you the part in Dune, we were excited to talk to you, but you were doing a little bit of sabotage. Sometimes in interviews, you like to provoke. I mean, it's hilarious, I love it. Sometimes, Rebecca, when you feel that everything is too comfortable, you like to throw a bomb. Is this a way to test people's love?
FERGUSON: No, I've just always done it. I don't analyze it. When I feel safe, I just need to shake it up a bit and see if everything holds together.
VILLENEUVE: To test the limits?
FERGUSON: Not all the time. Also, once I open up with someone like you, we can start to have moments of quiet because we've then tapped into each other's frequency. It's vulnerable to give yourself away!
VILLENEUVE: There's something about authenticity. You love authenticity.
FERGUSON: I do. Don't you?
VILLENEUVE: It has brought me deep comfort. I love when people are true with me. I hate schmoozing, that's why I'm such bad company. I'm a thousand times more comfortable with someone coming up to me and saying, "Denis, I hate your movie." 
FERGUSON: I was at a children's party with my daughter today. People either know me or don't know me—I don't analyze it, I don't think about it. I'm just me. We walk up and say hello to the hosts, and the mother says, "I actually don't know what you do."
VILLENEUVE: That's cool.
FERGUSON: Then you get a choice. The choice is, do we go down this road, or not? I said, "I work in film." And she said, Oh! Have you been in anything that I would know?" And I said, "I've just done a film called Dune." She stopped and stared at me, and said, "What are you talking about? I just saw it at the IMAX yesterday." Then she recognized me and started shaking and nearly crying! She was so shocked, and I turned so red. I was like, "Don't be embarrassed! Did you enjoy it?" But my point is, it was so sincere. Eventually I laughed and she laughed. 
VILLENEUVE: I mean, it's strange to go to a kid's party and see Lady Jessica cutting the cake [Laughs].
FERGUSON: I was wearing big socks because I bicycled there, and a big hat.
VILLENEUVE: That says a lot about you and your relationship with reality. You're a very grounded human being.
FERGUSON: We travel so much, and we see so much, and meet so many people. and I'm happy and energetic, but when I come home from set, I'm quite tired, I've given quite a lot. 
VILLENEUVE: Once, an actress told me, "Your brain knows that you're acting, but your body doesn't, so you're going through all these things that your body doesn't know aren't real." 
FERGUSON: That's so true. That's why when I come home, I paddle board on the Thames, I go rowing, I organize picnics in the garden. And my friends cycle through, our home is always open for people to come and go. 
VILLENEUVE: Your bubble is an anchor for you.
FERGUSON: Yeah. Do you like that? 
VILLENEUVE: I completely relate to that. I can only do movies because of my family and my wife. What is your relationship with your on-screen self? Is there a narcissistic side of you that means you love seeing yourself on screen? Or is it more complex? 
FERGUSON: I think Josh [Brolin] said it so well: "There's the film we read and sign onto, there's the film we make every day for months, and then there's the film we see later." They're all different. I can sign on to a project, and then realize during the process that it's not going the way I want it to, then wait until it's finished to find out for sure. I'm at a stage where I'm choosing films that I actually like, where I actually do want to see the film. There have been earlier moments in my career where I didn't love the film, but I just wanted work.
VILLENEUVE: And what about the narcissism part of my question?
FERGUSON: There are so many aspects for me of watching myself that get me really depressed. What am I going to look like? That's number one, then there's the arc of the character. I watched a film of mine recently and I burst out crying. I hated it. 
VILLENEUVE: Which movie?
FERGUSON: A movie.
VILLENEUVE: Okay, a movie. I apologize.
FERGUSON: I'll text you about it later.
VILLENEUVE: I thought it was my movie.  I was like, "Whoops!"
FERGUSON: Oh, my god no. 
VILLENEUVE:  I would've been so sad. You know, I am narcissistic.
FERGUSON: We all are. They completely changed my character, the choice of shots was off. I was like, "Not only do I hate it, I hate myself!" I was really upset. I called a meeting, which I've never done before, and I said, "These are my issues— bam, bam, bam. What can we do?" They did lots of major tweaks. Dune had so many incredible moments in it. Watching it really affected me— I thought, "What an amazing movie. Oh my god, I'm in it!"
VILLENEUVE: I had a similar moment as we were shooting. We had just done a shot, and I said to you, "I wish I was making a full movie with you—wait, I'm doing it right now!" [Laughs] An actor once told me that he considers his paycheck in exchange for promotion—not acting. Interviews and promotion was considered work for him. Is doing interviews something that you enjoy? 
FERGUSON: I can't really stand actors who go, "Ugh, I have to do promotion." I think to myself, "Buddy, suck it up. This is a part of the job, so make it fun." It can be quite tedious, you're sat in a room, it's day five, you have 50 back-to-back interviews, you already know the questions. But it's your job to make that fun. And I agree with that actor you mentioned—I find it odd that I'm even getting paid for this work at all. Plus, any journalist who has watched Dune arrives at an interview exuding joy.
VILLENEUVE: [Laughs]
FERGUSON: When I'm interviewed by someone who is overcome with joy, how can I not have the most joyous conversation?
VILLENEUVE: I totally agree with you. It's something that every journalist should know.
FERGUSON: If I get a pissy journalist who can't muster up the energy to be a little bit enthusiastic, I will mirror their attitude. No problem.
VILLENEUVE: [Laughs] I was surprised that Venice was your first film festival. Was it everything that you had imagined? It's a beautiful film festival. 
FERGUSON: I don't feel like I really experienced a film festival. Because of quarantining, we couldn't see other films, so I didn't feel really connected in that sense. Seeing our film was incredible, but I felt really lonely, because of the space between people for COVID safety. Zendaya was two seats away, Timmy was on the other side of the theater, and I couldn't feel people's energy. When I saw it in London with a full audience, I was like, "Woah!"
VILLENEUVE: Yeah, that was awesome. Showing the movie in Venice felt like a small victory over the pandemic. I'm deeply moved that there will be a Dune part two, because I deeply loved working with you. 
FERGUSON: That was a joy for me as well. 
VILLENEUVE: I have a last question for you but it's more of a gift. I'm writing Dune part two right now, so if there's anything you wish to do in the film, now is the time to ask. 
FERGUSON: I have a checklist! It's here on my phone. First, I would like you to wear the chain dress throughout the entire shoot.
VILLENEUVE: I will see, it would be—
FERGUSON: —An honor? I agree.
VILLENEUVE: Maybe it will arouse me in some ways, and I will enjoy it. I don't know how it will be received by the crew, though.
FERGUSON: You know you've created a success when you become a Halloween costume. The amount of Lady Jessicas out there on Halloween, that's a big fucking deal, man.
VILLENEUVE: The Lady Jessica character was a big success.
FERGUSON: She would not be anything without you. 
VILLENEUVE: Oh, please. It was a pleasure to talk to you, my friend. I'm looking forward to seeing you in front of my camera again soon.
FERGUSON: I already have our first shoot date in my calendar.
———
Hair Stylist: Alain Pichon
Makeup Artist: Emma Lovell at The Wall Group