Daniel Kaluuya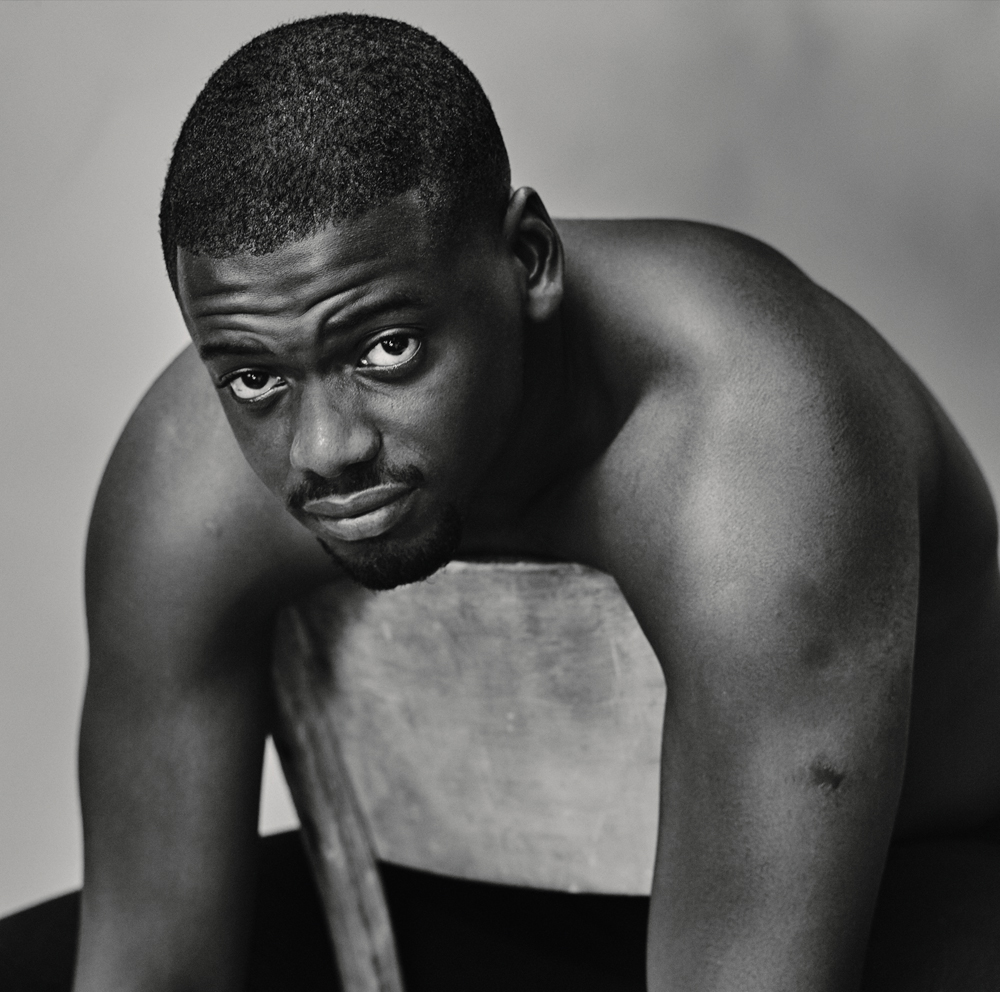 DANIEL KALUUYA IN NEW YORK, APRIL 2015. PANTS: DKNY. STYLING: KARL TEMPLER. COSMETICS: DIOR, INCLUDING DIORSKIN NUDE AIR HEALTHY GLOW ULTRA-FLUID SERUM FOUNDATION. HAIR: JAMES PECIS/D+V MANAGEMENT. MAKEUP: PETER PHILIPS FOR CHRISTIAN DIOR. MANICURE: MEGUMI YAMAMOTO FOR DIOR VERNIS/SUSAN PRICE NYC. SET DESIGN: STEFAN BECKMAN/EXPOSURE NY. PRODUCER: SARA ZION FOR PRODN/ ART+COMMERCE. PRODUCTION MANAGER: ASHLEY SCOTT FOR PRODN/ ART+COMMERCE. RETOUCHING: GLOSS STUDIO. DIGITAL TECHNICIAN: NICHOLAS ONG. PHOTO ASSISTANTS: SIMON ROBERTS, HUAN NGUYEN, MARU TEPPEI, AND DEAN PODMORE. STYLING ASSISTANTS: MELISSA LEVY AND ALEKSANDRA KOJ. HAIR ASSISTANT: ADLENA DIGNAM. MAKEUP ASSISTANTS: EMIKO AYABE AND TALY WAISBERG. SET DESIGN ASSISTANTS: MAX ZINSER AND YONATAN ZONSZEIN. PRODUCTION ASSISTANTS: KAIA BALCOS AND JOHN DANIEL POWERS. SPECIAL THANKS: SOHO LOFTS.
While working on Denis Villeneuve's border-set crime drama Sicario—which stars Hollywood vets like Emily Blunt, Josh Brolin, and Benicio Del Toro—London native Daniel Kaluuya took time to explore Albuquerque as well as geek out on one of his favorite TV shows. "I went on a Breaking Bad tour," he laughs. "I went to the crystal meth store; I brought meth candies back to my friends." Kaluuya spent two-and-a-half months on set as an FBI agent and partner to Blunt, who is recruited by the CIA to bust a major player in a Mexican cartel. "There's some really cool stuff we improvised to find the characters," he says. "It's really a brother-and-sister relationship. He's got her back." Sicario, which premiered at Cannes in May, is one of the 26-year-old's first roles outside the U.K. Kaluuya grew up in the Camden area of London, and first gained notice for a role in the cult British teen drama Skins (on which he also served as a writer). He won raves for his performance as a young boxer in the Royal Court Theatre's 2010 production of Sucker Punch and for an appearance on an episode of the dystopian series Black Mirror. At the moment, he's writing a script for a movie inspired by class and racial conflict in the British capital and looking for meaningful projects that he "believes in." "I just can't do anything willy-nilly. I think you should be stubborn," he says. "The experience is what I do it for—I think that's the pinnacle."
For more from our New Wave portfolio, click here.