The Dance of Charlotte Gainsbourg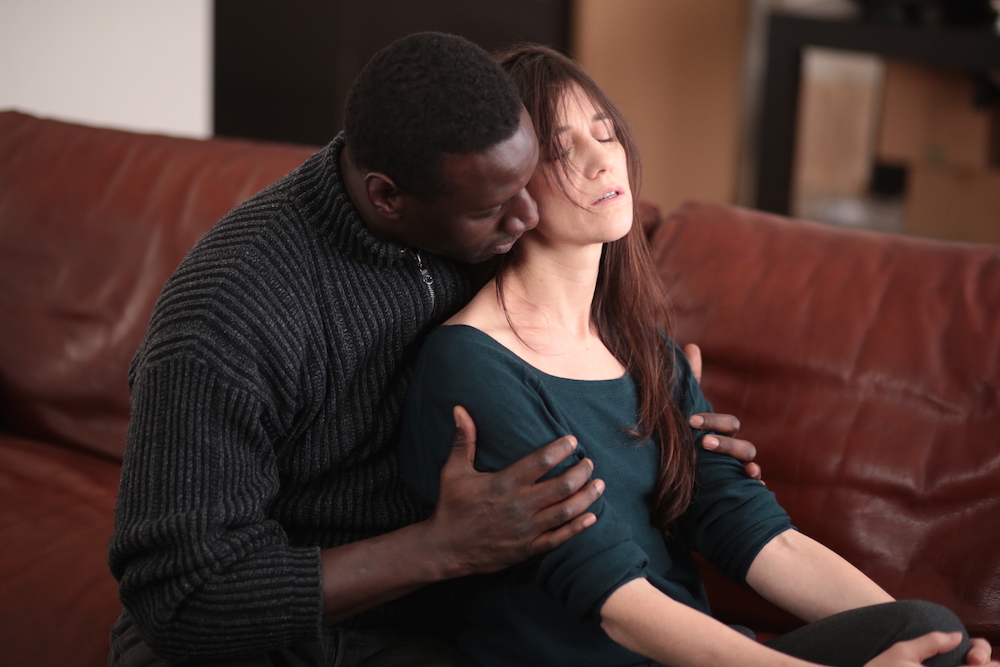 OMAR SY AND CHARLOTTE GAINSBOURG IN SAMBA. PHOTO COURTESY OF BROAD GREEN PICTURES.
Charlotte Gainsbourg, much like her parents Jane Birkin and Serge Gainsbourg, is a special breed of the multi-talented performer. She's been making critically-lauded music since she was a teenager (her debut was on her father's controversial "Lemon Incest" track), but her work as an actress, sharing screen time with the likes of Catherine Deneuve and Charlotte Rampling, and working with Todd Haynes, Michel Gondry, and her frequent collaborator, Danish provocateur Lars von Trier, emerges as a disciplined, rigorous study in the dark underbelly of human emotion. Her latest film, Samba, directed by The Intouchables' Olivier Nakache and Eric Toledano, tackles immigration in France through the eyes of an undocumented Sengalese kitchen worker, Samba (Omar Sy), but recasts the issue in a form of a romantic dramedy. Gainsbourg, playing Alice, an overworked corporate businesswoman undergoing treatment for depression, takes a hiatus from her job to work as an immigration counselor. The attraction is immediate, and the two forge a friendship and eventual romance—Samba working towards maintaining his residency and realizing his ambitions to become a chef; Alice trying to find some semblance of a balanced life.
Gainsbourg called us last week from Albequerque, New Mexico, where she was on-set filming the upcoming Independence Day 2. We didn't discuss aliens.
COLLEEN KELSEY: What first interested you in this project?
CHARLOTTE GAINSBOURG: I met the directors. They came to see me, asking if I wanted to work with them and talking about the project they were thinking of, the characters, and the fact it was with Omar. I immediately responded. I really wanted to work with them. The subject was great, having those two characters so unalike join, everything was very exciting. Then I was just waiting for them to write it. It was great to be involved in the process.
KELSEY: Have you ever signed on for a project before a character was written?
GAINSBOURG: I've had that with Lars for Melancholia and Nymphomaniac. Even if I wasn't involved in the writing at all, he would ask me to work with him again. It's a great privilege to be involved and to be able to respond and to say what you believe in, what you like, and what you think is missing.
KELSEY: So, in shaping the character of Alice, did she change much from the way she was first written? What was your input?
GAINSBOURG: I did ask them if they could exaggerate her character. I wanted her to be a little disagreeable, because I think that's how I could have fun. Being in a comedy was exciting because of that. To be able to go a bit too far was fun.
KELSEY: Was it easy to get into her mindset?
GAINSBOURG: Yes, because I don't think I'm completely distant from her awkwardness or shyness. I hope I don't have the lack of tact that she has, but you know, there was something about her that I felt very close to. Even the depression, the after-the-clinic situation and all that. I felt quite close to that isolation.
KELSEY: I wasn't quite sure what to make of her at first. In the beginning Alice is really unlikable, but then of course, as the story progresses you see her vulnerability.
GAINSBOURG: I love the fact that those two people have nothing in common. By the end of the film of course they have a lot in common, the isolation, the solitude. They don't come from the same difficulties, but in the end, the despair is human in the same way. I thought that the lack of humanity she has at the beginning, the fact is that she's on her medication and all this stuff is going on in her head. It's not excusable but it's understandable. On her part, there's an attraction [to Samba] that's very obvious from the start. But she doesn't know how to place it, how to live with it. The charm of their relationship is that there is no comfort. Not being in the same world and not having the same difficulties makes them real strangers to one another. I think for me, the attraction is very obvious.
KELSEY: Do you find that that when you're working on a movie, taking on certain characters affects you in your personal life? Or do you keep them separate?
GAINSBOURG: I always have a personal story that links me to a character. Whether it's close to me or close to someone from my family, you often have references.
KELSEY: Do you find it hard to leave a character behind or is it easy to disconnect?
GAINSBOURG: I like leaving characters behind. You have to. It's healthy to leave them behind. I don't even have nostalgia towards characters.
KELSEY: How do you think a serious issue like France's immigration policy works in a romantic comedy?
GAINSBOURG: It is a difficult thing, because the traffic aspect [is] of course the subject. I find the best films [are] where you can have fun about something but then realize that it's something real. It doesn't give any answers. The film doesn't have a mission. It's just life. It talks about real things. If you can just be aware, and open your eyes a little bit more, it's great.
SAMBA OPENS IN LIMITED RELEASE TODAY.