Boy of Age: Aaron Johnson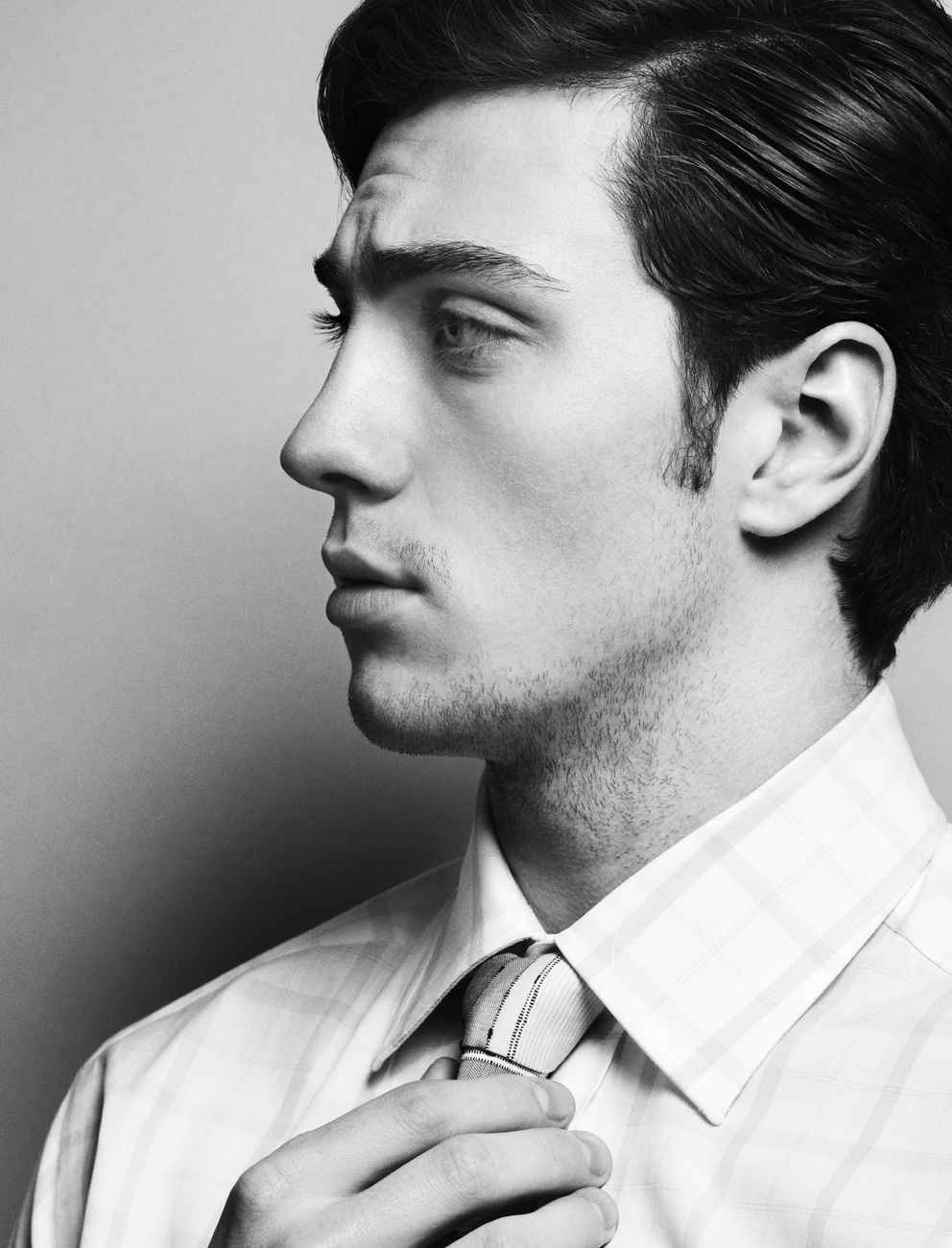 PORTRAIT BY GREGORY HARRIS
For the last 50 years, whether in a Beatles' moptop or in Sgt. Pepper epaulets, John Lennon has been instantly identifiable. This weekend, Nowhere Boy sees its lead, Aaron Johnson, testing the waters of the iconic. Directed by artist Sam Taylor-Wood, the film sees Lennon over the course of his pivotal teenage years, discovers rock 'n roll and putting together his first band, The Quarrymen. Johnson was himself just 19 when he auditioned for the role, and plays Lennon with a volatile, even ferocious teenage frustration. But that's not all. This role comes on the heels of his starring role in Kick-Ass, for which he played a self-made superhero—another kind of icon, entirely. And Johnson's star-making turn is wrapped up in some tabloid fodder: During filming, Johnson struck up a romance with the much older Taylor-Wood; this summer, they celebrated the birth of their daughter. After a tumultuous year Johnson talked to us about learning the guitar and his favorite Lennon song.
MOHNEY: What was your reaction when you first read the script for Nowhere Boy?
JOHNSON: When I read the script, I just thought it was like any other coming of age story. It's about these relationships he had with his Aunt Mimi and with his mother and discovering love and his art form. Only then did I really think of the attachment of John Lennon. Then it became—I felt like I really want to do it. I felt quite emotionally attached to it at that point.

MOHNEY: This story is about Lennon before the Beatles and fame, was the role harder since you had less footage to work with?
JOHNSON: It was interesting in that we really had to discover who that Lennon was and dig deep in the soul and find out where he was most insecure and his vulnerabilities. We took about two or three months of digging in deep and trying to discover that person. On the surface we only see this cocky guy, but he clearly had his defense mechanism up. He was pretty bitter inside when his mother died; he said the Beatles were a front.
MOHNEY: Did it help to learn the music and instruments he learned at that age?
JOHNSON: The fact was that I had to learn how to play guitar at the same time he was learning how to play guitar so I had to watch his inspirations. I had to watch how Elvis held a guitar or how Buddy Holly sang or what he wore. His inspirations became my inspirations so then I saw I was going through the motions that he was going through. So it helped big time to embody that.
MOHNEY: What was it like singing in front of the crowd in the concert scene?
JOHNSON: Nerve-wracking because I'm not a singer or musician but it made the atmosphere feel real. You got buzzed out of it. I can understand why rock stars are rock stars [and] why they play in front of people because the buzz that you get is insane. It's probably the same as when you do something on stage and you work off the audience. The buzz you get when you're playing a song and everyone is screaming and dancing and what have you and singing along is incredible.
MOHNEY: Can you talk about working with Kristin Scott Thomas (who plays Lennon's Aunt Mimi) and Anne Marie Duff (who plays Lennon's Mother)?
JOHNSON: Kristin is a fantastic actress and she embodied Mimi to perfection…It was brilliant-it really makes you feel like you can stay in that character and feel comfortable-I pick up so much. She's a very strong woman who knows what she wants but we all worked as a team. I think the same with Anne Marie [Duff] she had the hardest job of us all because she was playing someone [who] died early on, so there weren't many stories. The only thing about her is that she is told through memories. So there [her daughter] Julia Barid's story but she was younger then 10-all she's got is memories.
MOHNEY: After Nowhere Boy and Kick-Ass where you had an American accent, are you ever going to do anything in your own accent?
JOHNSON: I hope never.
MOHNEY: Is it easier to act with a fake accent?
JOHNSON: Yeah, of course. I don't like to be me. I'm not so comfortable being me on screen because then I'd be a presenter. I'm not Jimmy Fallon.
MOHNEY: You've had such a big year with Kick-Ass and Nowhere Boy and you became a father-what do you want to do next?
JOHNSON: They've raised the bar so high-I guess I don't really know. I guess I'm trying to find that and figure out what that could be. You tell me what should I do next?
MOHNEY: I have no idea. But after working on this movie did your view of certain Beatles songs change?
JOHNSON: Yeah big time. I think with anything where you delve into the back story of an artist it kind of explains their work more intimately. I felt like I got that.
MOHNEY: Have your views on Lennon or his songs changed?
JOHNSON: Yeah, hugely—that's why we end with "Mother"… every time I hear it I get fucking hairs standing up on the back of my neck. I feel it in my gut-this pain. It's intense.