Designer
Ambush Mastermind Yoon Ahn Gets the Bella Poarch Treatment
Take one look at Yoon Ahn, and you get the impression that she is one of those rare individuals that can't help but stunt. She has what is known, in the business, as too much sauce: effortless style in abundance—innate, instinctual stuff. Born in Seattle and now based in Tokyo, Ahn's label, Ambush, was founded in the mid-2010s as a jewelry brand that turned everyday items—Band-Aids, paper clips, USB keys—into glammy, Duchampian objects of adoration by rendering them from precious metals. Ambush has since grown into a full-fledged ready-to-wear line—one that is functionally unisex, taking its cue from Yoon's own personal style. Her Spring 2022 collection is her most fully realized to date, finding productive tension in pairing hard and soft—say, a flowing duster over a crocheted bra—and adding a capsule of activewear, the first time she's really explored the category outside her ongoing collaboration with Nike. Here, Yoon and TikTok supernova Bella Poarch, who models the new collection, talk Tokyo food delivery, the relaxing properties of a blood-curdling scream, crypto regrets, and more. —ADAM WRAY
———
BELLA POARCH: Define "fashion."
YOON AHN: A form of self-expression through clothing, footwear, lifestyle, accessories, makeup, hairstyle, body postures, etc. In the words of Queen Vivienne Westwood, fashion is essential, and it is life-enhancing, and, like everything that gives pleasure, it is worth doing well. You will have a much better life if you wear impressive clothes.
POARCH: What's the best way to spend 24 hours in Tokyo?
AHN: My favorite way would be to roam around throughout the day between different districts, grab a fantastic meal, bar-hop, sing karaoke, go dance a bit, bar-hop again, eat breakfast when the sun is about to come out, and crash. The city is so big that every district is uniquely different, so that you won't get bored just roaming and going with the flow. I still discover new spots to this day that I never noticed in years of being there. It's seriously crazy how big and dense this place is.
POARCH: What's your favorite anime?
AHN: There are a few, but I love Astro Boy a lot. The storyline of Astro Boy is quite gloomy despite that cute face. It's a story about a boy who dies and is replaced by a robot, only to be sold by his father. It may seem like a strange choice, but it is done with solid sensitivity and is counterbalanced with all the selfless acts of saving the world that cement Astro Boy as the hero in the story. With his cute, doe-eyed appearance and intensely human behavior, it's easy to forget that Astro Boy is a robot. The story makes you wonder if one day, technological advancement could make us better humans after all. Or, will the A.I. be better than us? The anime was made back in the late '60s, way ahead of its time. By the way, the movie A.I. Artificial Intelligence by Steven Spielberg was based on this anime.
POARCH: If you could live inside of a video game, which one would it be?
AHN: Animal Crossing. Everything is so peaceful, happy, and smiley there. The last thing I want is to worry about living in fear and getting eaten by zombies or shot.
POARCH: What is your go-to food spot in Japan?
AHN: Uber Eats. Even Michelin-starred restaurants are available now, so I can access what I want to eat anytime with the comfort of my iPhone.
POARCH: You're having me over for dinner tonight. What are we eating?
AHN: I'll make a home-cooked Korean feast. We have to do our mukbang.
POARCH: What's on your TikTok For You page?
AHN: I don't have anything on my TikTok page. I just made it to enjoy other people. For some reason, video editing is quite stressful to me, so instead, I enjoy seeing other people having fun and vicariously living out my TikTok life through peeping.
POARCH: What do you have on your lockscreen?
AHN: A quote: "Don't downgrade your dream just to fit your reality. Upgrade your conviction to match your destiny." I'm triple Sagittarius, and I like to think big and see the big picture and be reminded of this all the time.
POARCH: What app do you use the most in your daily routine?
AHN: Probably Google.
POARCH: What kind of music do you listen to when you're working?
AHN: It depends on what my mood is and when the deadline is. Techno and acid house are good for those days when I have to pump out so much in a short time. It gets me in a fast BPM [beats per minute] rhythm with that concentration. For more research-y days, I go with the flow. For really stressful days, I put on a horror movie, on max volume on speakers. It's good to hear screams. It's kind of stress releasing.
POARCH: What's one random secret the world doesn't know about you?
AHN: You said it. It's a secret so it will remain a secret. If I tell, it's not a secret anymore.
POARCH: If you could have any superpower, what would it be?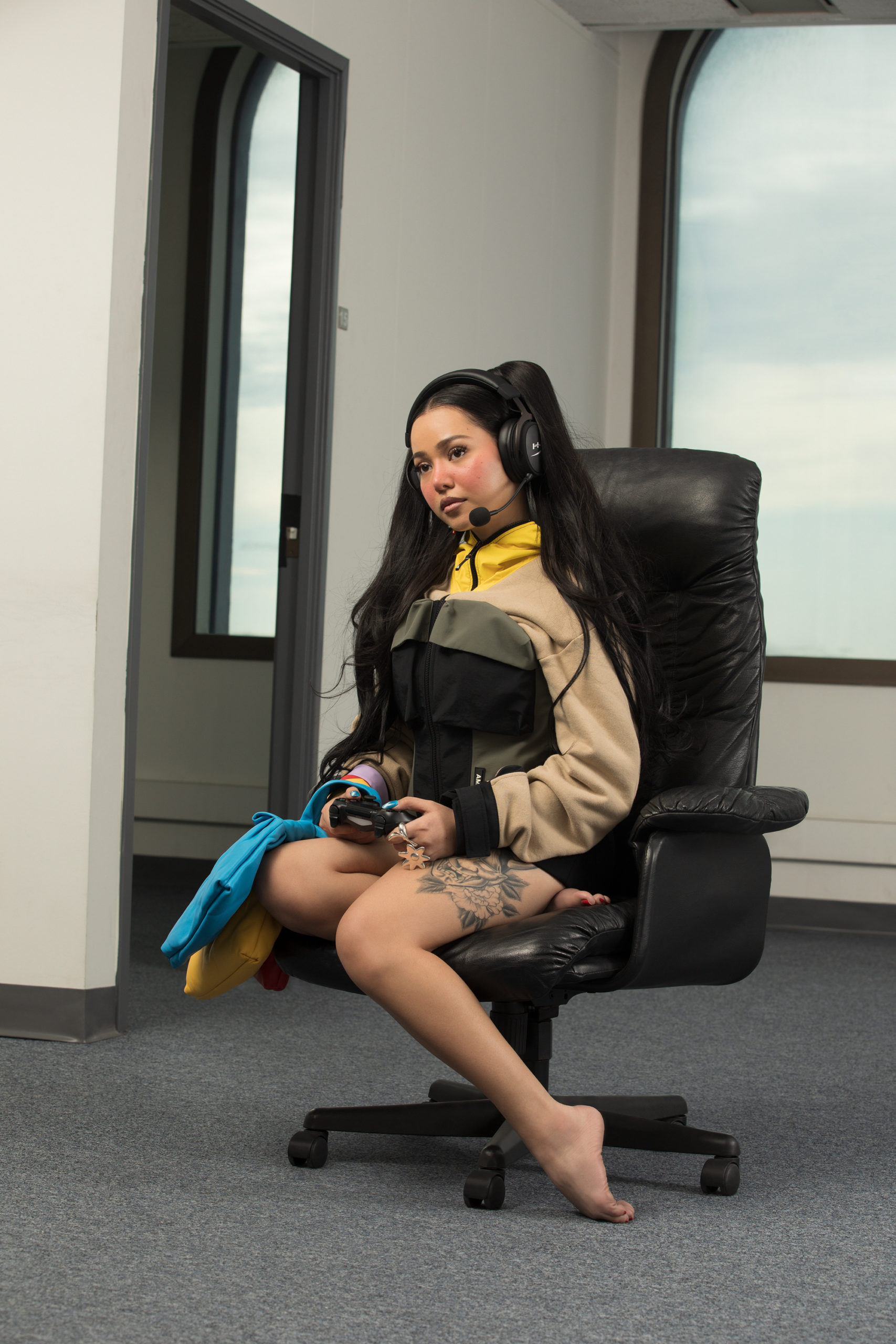 AHN: To be invisible. It would be so fun to be invisible and go around the world. Either that or to fly. But I feel like I'd be a clumsy flyer. I'd probably bump into something.
POARCH: How do you deal with stress and maintain your mental health?
AHN: The mind is like a monkey. My thoughts are not me, and I remind myself that negative thoughts about myself are not facts, they are just my opinion of myself that is based on other people's views. There is always a lot going on at once, so I do get anxious quite often. When things seem like too much, I usually stop, walk away, and either go to sleep, or go have a fun, crazy night out. I also love those "Raise Your Frequency – 963 Hz, 528 Hz, 432 Hz – Binaural Beats" videos for meditation on YouTube.
POARCH: What is one thing you struggle with?
AHN: I get bored easily.
POARCH: How would you describe your personal style?
AHN: Sexy tomboy. I wear lots of men's clothes, but I like to add a bit of sexiness here and there—with lipstick, always.
POARCH: What fashion trend are you most looking forward to having a comeback in the future?
AHN: Anything spiky and spiked.
POARCH: What is your first fashion memory? When you were a kid, did you ever envision that you would be doing what you do today?
AHN: Discovering Vogue at a local public library when my family moved to the U.S. That's where I encountered all the fashion magazines (whatever they had there) and found out how big the world was. From that point, I knew I wanted to move to New York to work as a graphic designer, but never thought I would be in the fashion industry. It seemed so far away from the suburb I grew up in, where I was the only Asian. It's funny how life turns out.
POARCH: If you could give advice to your younger self, what would you tell Yoon?
AHN: I should have invested in Bitcoin earlier.
–––
Hair: Fitch Lunar using Number 4 Hair Care at Opus Beauty
Makeup: Natasha Severino at Foreward Artists
Production: Perris Cavalier at The Morrison Group
Photography Assistant: Kobe Wagstaff
Fashion Assistant: Clemmie Dugdale