Thierry Mugler Bares All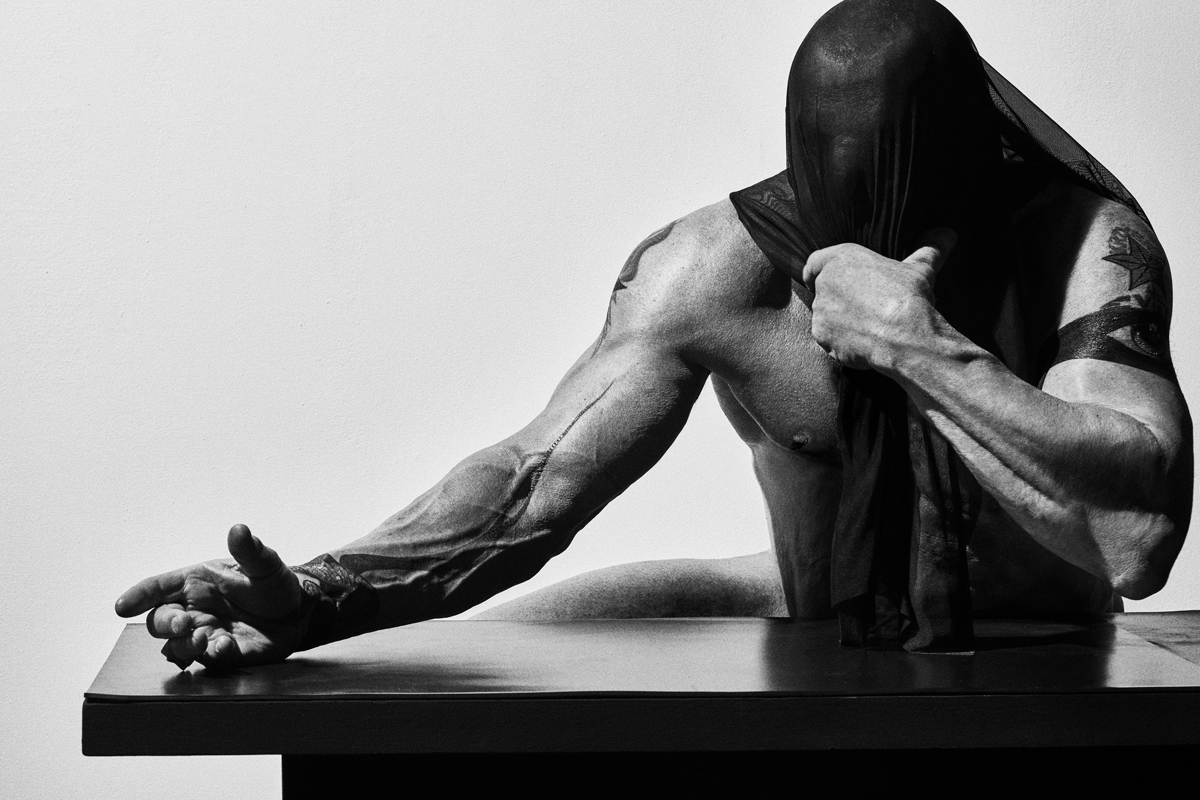 Thierry Mugler has never really thought of himself as a fashion designer. From his early days as a dancer with the Ballet du Rhin, he has viewed the human body as an instrument for artistic excellence—just one piece of the immersive, operatic puzzle he has now been constructing for more than four decades. Mugler's bold and futuristic creations in the 1980s were marked by cut-outs and sharp shoulders, creating silhouettes that were sometimes erotic, sometimes grotesque, often both. But his most sublime spectacle came in 1995, at the Cirque d'Hiver in Paris for the 20th anniversary of his namesake line. The couture show featured a parade of pan-generational supermodels—Jerry Hall, Veruschka, Naomi Campbell, and Kate Moss among them—along with go-go dancers, a striptease by Patty Hearst, a performance by James Brown, and an appearance by Tippi Hedren, who walked the runway in an avian black satin dress inspired by her leading role in Alfred Hitchcock's The Birds.
Earlier this year, a look from that show, a gown inspired by Botticelli's The Birth of Venus, was brought back into the cultural conversation when Cardi B wore it at the Grammys. In the intervening time, Mugler has closed his couture house and undergone a personal transformation as radical as his designs. After several accidents that left him in need of facial reconstructive surgery,  the 70-year-old designer decided to take these potential tragic circumstances and "make this fun." With the help of body-building, a strict nutritional regimen, and a scalpel, his 240-pound frame reflects how he feels inside. From his home in Berlin, Mugler called his longtime muse, the 89-year-old Hedren, who took a break from looking after the lions at her big cat sanctuary in Acton, California, to chat.
———
B. HARLAN BOLL [Tippi Hedren's publicist]: Thierry wanted you to see something. This is a recent photo that they're publishing of him in the magazine. [Shows Hedren the photo.]
TIPPI HEDREN:  Oh my god. [Thierry Mugler joins the conference call.]
THIERRY MUGLER: Hello?
HEDREN: Hello! How are you?
MUGLER: Beautiful. And how are you doing?
HEDREN: Very well. I'm living out here with the lions and tigers, which I have done for the past—I don't know—40 years.
MUGLER: Shangri-La! Is that albino python still alive?
HEDREN: We don't have any reptiles at the moment. There's a lack of interest in adopting them.
MUGLER: I remember a big albino python that was so beautiful.
HEDREN: Speaking of beautiful, I'm looking at your photographs here. You have an incredible body. And it's very interesting that you put the fabric over your face like that. You shouldn't do that. You're too attractive.
MUGLER: It's not easy to be naked in front of the world.
HEDREN: I can imagine.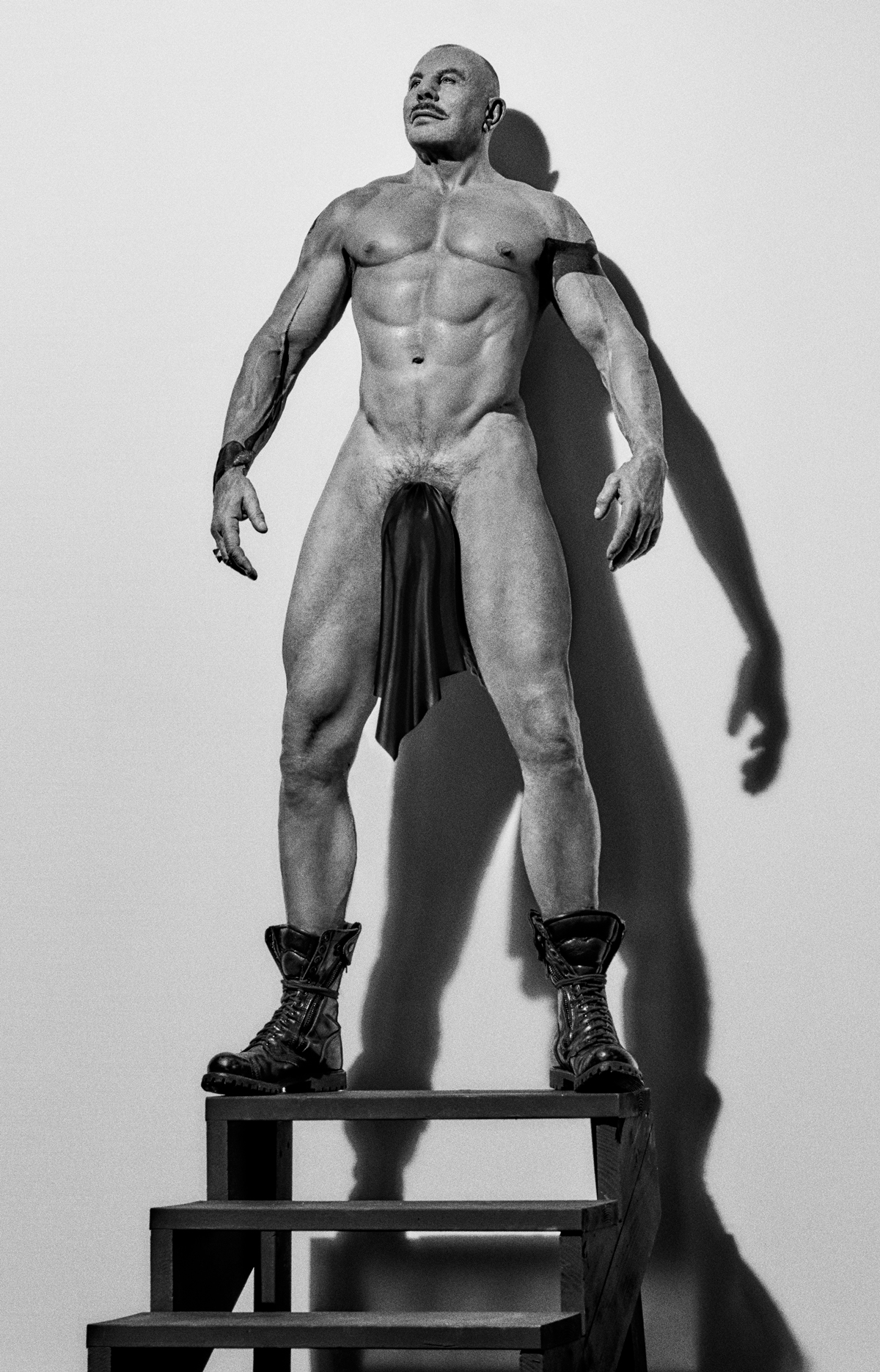 MUGLER: You know what, Tippi? I thought about you the other day. We have a lot of these blackbirds, and they were fighting on top of my studio and making so much violent noise. And I thought about you, the beautiful blonde running from these beasts.
HEDREN: That movie [The Birds] really changed my life.
MUGLER: I remember your eyes, that stare—like diamonds. You were ready for war.
HEDREN: Thank you. You've worked with so many impressive women. This year, Cardi B wore a look to the Grammys that was adapted from a dress you designed back in 1995. How would you describe the new generation of stars we now have? How do they compare to what we had back then?
MUGLER:There's an immediate connection, immediate communication, and it makes a big difference. It's much more real. You're able to see the person right away, especially with Cardi, who is incredibly natural. She's completely authentic, and I love her for that. Her art is to be herself.
HEDREN: Your show from 1995 was the pinnacle of the idea that a fashion show could be an immersive, opera-like experience.
MUGLER: For me, it was obvious. Why would anyone only want fashion? There are the costumes, but there's also the environment, the lights, the moment. Now I'm a photographer, too, and I love music. Fashion was very easy for me, so I said, "I have the power to make big shows." The music, the sets, the light, the attitudes—it all helped to tell my story. Something I say to young people is, "Be clear what you want to say. Make sure that people get it."
HEDREN: Tell me about how you embarked on this journey to transform your body?
MUGLER: For me, it's all about exploring. It's been a very natural process. I think it's important for people to be a complete realization of themselves. I have always been fascinated by the human body, and I wanted to pay homage to what it can do. As a kid, I was really doing what I do now—I was making theater, dancing, and doing acrobatics—and I became a professional dancer. That helped me to put all this desire I had into a technique. It's the same for an actor or a bodybuilder. I was a classical dancer and acrobat, and I learned for four years in charter school, and then I went to India to learn Kathakali, which is miming, dancing, and singing together. I have also been doing yoga for many years. Right now, as we are speaking, I am standing up and stretching my hip.
HEDREN: When I was a fashion model, I was constantly concerned with my posture and the way I walked. It eventually became a part of me, which I'm grateful for, because I still have that posture and that walk. I don't weigh more than I did back then. I just sort of made a pact with myself that I would try to keep the same body I had all those years ago, and it's worked. I'm comfortable.
MUGLER: You know, that's why I was so pleased to pay homage to you with that show, because that's such an inspiration for young people. It's important to realize who you are and be happy. You have to give love to be in love, otherwise it's comedy.
HEDREN: Absolutely. Did dancing have an impact on your curiosity about your body?
MUGLER:It showed me that there are no limits. When you do intense stretching the way I do, it's sort of a meditation. And as time progresses, you realize it's infinite. You die before you reach the end of your perfect technique, and then we become something else, so it is truly infinite.
HEDREN: Well, look what you've done with yourself! You've reinvented yourself to look almost like a classical nude statue.
MUGLER: You know, your body has a memory and it's connected to your spirit. If you want to use it, you have to get rid of the past.It's just like emptying your drawers to put new stuff in them.
HEDREN: How did you go about transforming your facial features?
MUGLER: It was all about fun and pleasing myself. And opportunities. I had several accidents. One was crashing in a jeep, during which my nose was completely destroyed. Another motorcycle accident involved steel cables, after which I had to remove a piece of metal from my leg. There was all this anesthesia and stuff, and I could never motivate myself to go back to the hospital becauseI'm so busy, and the surgeon was screaming at me, because they had to take this piece of metal out of my leg. So I said, "Let's find a way to make this fun!" I asked another surgeon if he could do some things to my chin, and then I was happy to get the bloody anesthesia. He actually took a piece of bone from my hip and put it on my chin, so I don't have any plastic or silicone. It's all bones. I wanted my face to represent progress, because after years of being a thin, charming dancer, I wanted to be a warrior. I've done so much in my life. I've fought so much. I'm a superhero, so it's normal to have the face of one.
HEDREN: Do you feel like we are limited by what is considered normal or natural when it comes to the body?
MUGLER: I don't know what normal even means. I think nature is endless and beautiful, so I try to occupy nature and never contradict it. Silicone, these cheap things, are ugly.
HEDREN: As a designer, so many of your more famous silhouettes explore exaggerated shapes that reach beyond the limits of a natural form. Is your relationship with your body an extension of this project?
MUGLER: I never say I'm a fashion designer. I've always felt like a director, and the clothes I did were a direction of the every day. There are women with small waists and big shoulders, so it's not much of an exaggeration to me. The shoulders were always important. In dance, I learned about the position of the neck, and the way you should stand.
HEDREN:Is there a collection in particular that you look back on as a turning point of this exploration of the human form?
MUGLER: There were many. I also played with a lot of animal inspiration—reptiles, all kinds of birds, insects, big cats, and all of that. This beauty is the most inspiring to me. The big 20th anniversary show at Cirque d'Hiver was like the essence of Mugler. It was a mix of completely futuristic fabric like PVC, vinyl, and rubber mixed with traditional couture. The future is based on the past, so why not reuse things from the past to make a better future?
HEDREN: It feels like the robots and prosthetics that you were alluding to in the 1990s are now much more possible. Do you feel that way?
MUGLER: Yes. We had to invent my tools, because the fabric I wanted to use didn't exist. But before anything, I wanted to pay homage to the life of the woman or man who was wearing it. It's like when Picasso sculpts a goat with pieces of a bicycle—the energy and light of a living thing coming from pieces of metal gives you goosebumps.
HEDREN:What do you think the future is going to bring in terms of our bodies?
MUGLER: To be honest, I'm unsure. Every month, science develops better techniques and materials to help us stay active and young longer. But at some point, it could be the opposite. All these new communication technologies, which are such fantastic tools, are also dangerous. We have problems with our necks and hands because of sitting at a desk or typing on a phone. These tools are very addictive, and they have immediate effects on your body. In the future, I believe strongly that most of our physical problems will come from our minds.
HEDREN: I think about that a lot.
MUGLER:  Our emotions influence our bodies. I had a very difficult emotional relationship with my mother, and in the first accident I had, I broke my left leg. Why? Because the emotional side of your brain is on the left.
HEDREN: So you believe if you had broken your right leg, it would have been different?
MUGLER: I believe that my left side was weaker because of emotional problems.
HEDREN: What kinds of plans and projects do you have planned for the future?
MUGLER: I'm working with the ultimate ballerina, the most beautiful of all time, Svetlana Zakharova from the Bolshoi Ballet. Her beauty is beyond what we've ever seen before, and there really will never be another one like her. You can be the most incredible dancer, a technical and inspired dancer, but if you don't have the right foot, the right ankle, the right knee, the right proportion, the right neck—she has everything.
HEDREN: Oh, isn't that fabulous?
MUGLER: I'm going to be directing a ballet with one of the most brilliant contemporary dance choreographers, Wayne McGregor. It'll be me, Wayne, and Svetlana. Tippi, come to the December premiere in London. I would love if you could come.
HEDREN: You know something? I will try to do that. And I'll bring you out here one of these days to meet the lions and tigers.
MUGLER: And at sunset I will listen to that sound I love.
HEDREN: What sound?
MUGLER: The sound of their roar.
———
Hair: Lucas Wilson at Home Agency.
Makeup: Fulvia Farolfi at Bryan Bantry.
Set Design/Prop Stylist: Andrea Stanley at Streeters.
Digital Technician: Dominique Powers.
Photography Assistant: Mark Luckasavage.
Fashion Assistant: Karissa Mitchell.
Personal Stylist/Tailor: Laurent Mercier.
Makeup Assistants: Robert Reyes, Kellie Silsby.
Set/Prop Assistants: Nick Thalhuber, Devin Rutz, André Rodriguez, Brian Steinhoff.
Production Assistant: Livia Lange.
Lighting Assistants: Timothy Shin, Will Takahashi.
Special Thanks: Highline Stages