Peter Copping and Bon Marché Tend Nina Ricci's Garden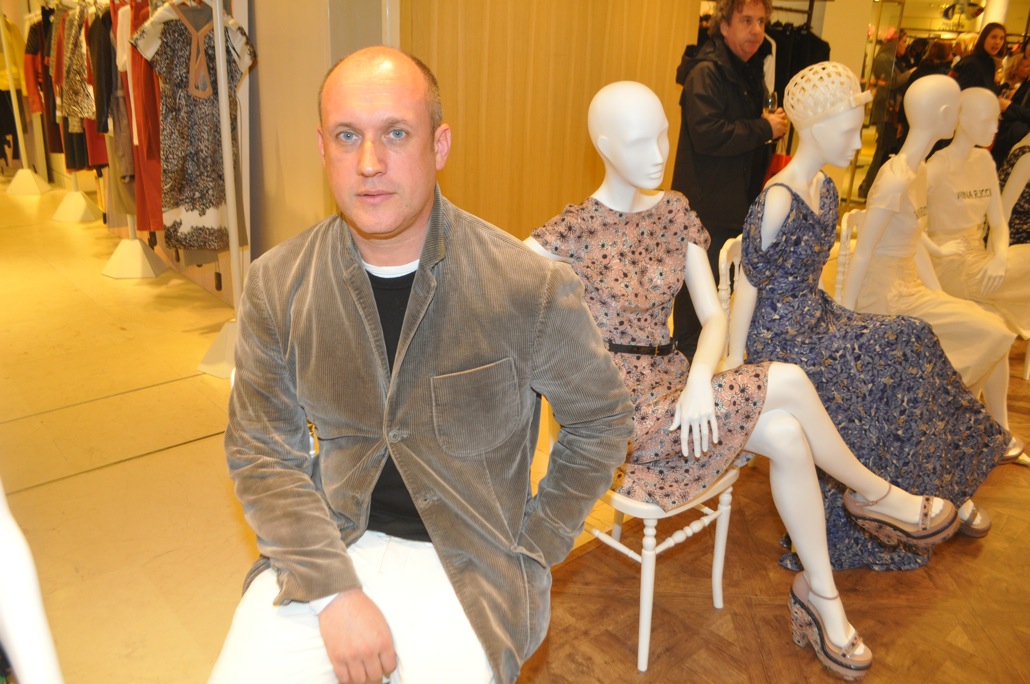 On the first day of the Paris collections, the must-haves are prints. A flirty print dress, preferably one lushly covered like a garden in full bloom, is the best way to say hello to 2012 and this is something English designer in Paris Peter Copping really gets. Copping's floral explosion has made Nina Ricci avenue Montaigne's hottest house. So it's no wonder that Paris's Bon Marché is celebrating this seductive moment in a series of exhibitions throughout the store, through March 24.

Now in his third year as creative director, the British-born Copping studied at the Royal College of Art and Central Saint Martins in London before a stint in Italy, time in Paris with Christian Lacroix and Sonia Rykiel and over a decade at Louis Vuitton, where he rose to Women's Studio Director under Marc Jacobs. His flirty garden-party clothes capture the couture revival in a naughty but nice way.
Interview sat down with Copping at Le Bon Marché to discuss Nina Ricci now, fashion's floriculture, and the oeuvre of Zina de Plagny, the Russian artist who collaborated with Madame Ricci during the 1930s and '40s.
REBECCA VOIGHT: How did you discover the work of Zina de Plagny?
PETER COPPING: I just happened on the archive completely by chance, because I was looking at an article in World of Interiors on Zina which mentioned she had collaborated with Nina Ricci in the 1930s and '40s as a print designer. It was one of those things that you make a note to yourself to look into, but never actually do. Then Marie-Therese, Zina's daughter, invited us to look at the archives, so it was complete serendipity. The prints in the de Plagny archive aren't necessarily the ones Nina Ricci used, but this was the studio of one of the house's major collaborators. I like to refer to the past, but not in a literal way. For me, it doesn't mean going into an archive, selecting things and duplicating them. I like to find a different take on it. I was really happy just to go and look through all of Zina's prints. I wanted to do prints for spring, and I felt it was much nicer if they had a history attached to them.

VOIGHT: How did you change the prints you found?
COPPING: Very little, in fact. Sometimes the color needed intensifying, or there was a slight change in scale. Some of the prints were originally on a black [back]ground, which I found too hard for spring, so I switched to a dark navy blue. Minor changes can make quite a big difference.

VOIGHT: What about the fabrics?
COPPING: I think the most important thing is the fabrics. It goes from quite traditional things like silk crepe, which is very similar to what would have been used in the 1930s and '40s, but we also have lightweight, technical jerseys which I was able to cut into slinky, close-fitting T-shirts with a fit which they would never have been able to achieve in the 1940s. Then we took silk devoré for texture and basic cotton poplin. And we used a print technique to allow the ink to come through on the reverse side which means we could use both sides of the fabric for lighter and darker versions of the same print in one garment.
PHOTO BY JAN MELKA

VOIGHT: Have you always been attracted to prints?
COPPING: Always. Obviously, I wanted them to be like an overdose for spring, but even in the fall/winter collection, there's still prints. This is not something where I think: "Well, we've done that last season, and now we're on to something else."
VOIGHT: What was your vision for Nina Ricci when you began, and where are you headed?
COPPING I've pretty much stayed on the same track. I mean it was quite clear from the onset what I wanted for the house. When I began, fashion was minimalism and a quite severe, pared-down look—completely the opposite of what the Nina Ricci woman is now.
VOIGHT: How much of Nina Ricci is you?
COPPING: I think it's very close to my personal taste and that gives the collection its authenticity. Nina Ricci has a very particular look and it's not for everyone. This kind of femininity, sophistication, and ladylikeness is attractive for a lot of women.

VOIGHT: How does it feel to be designing on your own after so many years working alongside Marc Jacobs at Louis Vuitton?
COPPING: It's been a natural progression. I'm 46. It was a great experience working at Vuitton with Marc and after 12 years, he had real confidence in the team and he was happy to delegate a lot of responsibility. He'd already handed over the cruise and the pre-fall collections to me. And he even allowed me to communicate with the press which is so rare today. My favorite part of the job is working in the studio with the team, selecting the fabrics, getting all that together.