How Anna Nicole Smith Ended Up Marrying an 89-year-old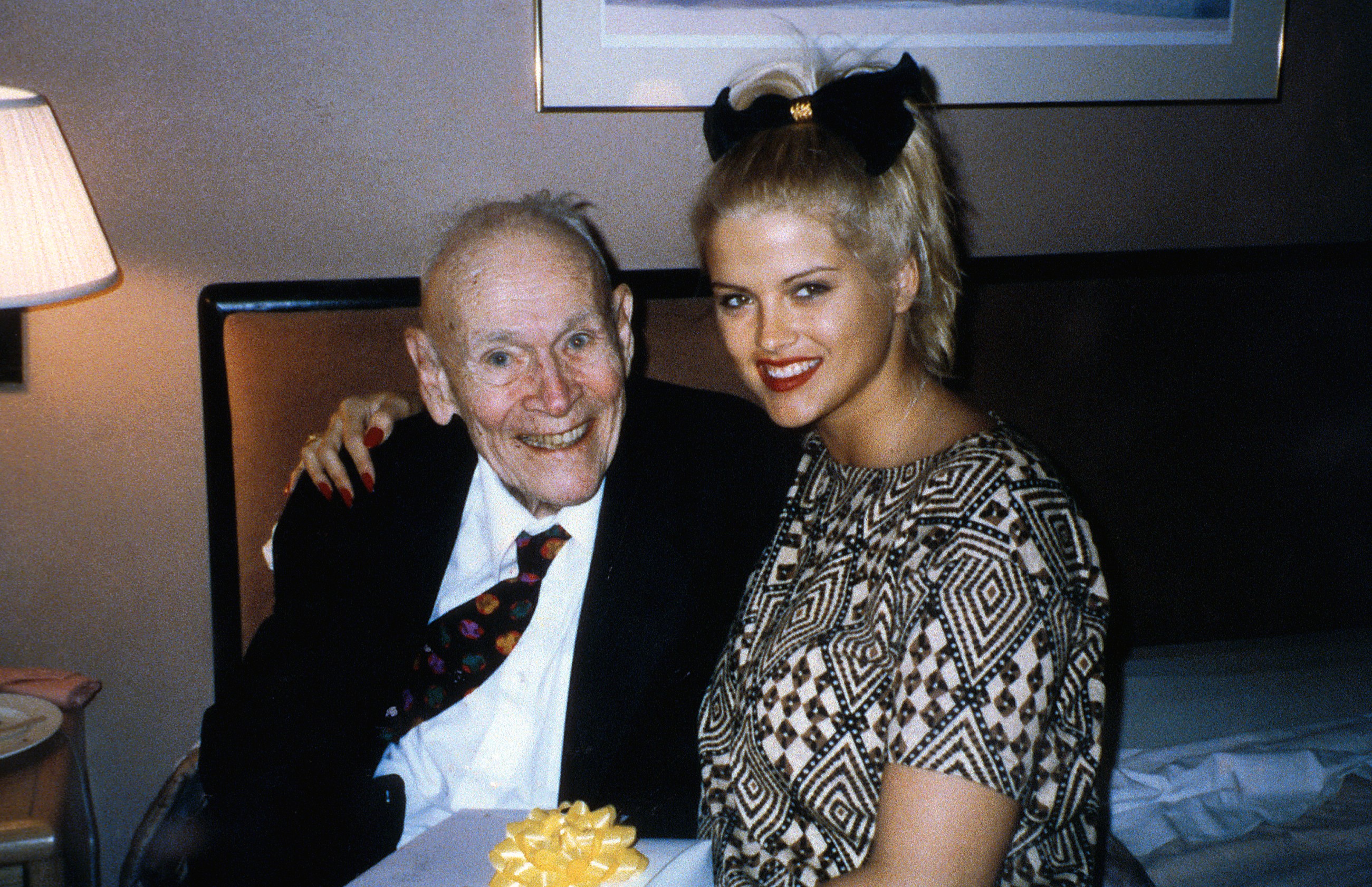 In collaboration with @velvetcoke, Obvious History is a weekly series which unearths forgotten moments in pop culture's past, where the famous and the fascinating collided.
"The bride wore cleavage," begins an August 1994 article in People magazine about Anna Nicole Smith's wedding to wheelchair bound oil tycoon J. Howard Marshall II, 89 at the time of their marriage. It was a long-awaited comeuppance for a woman who used to be ashamed of her double A bra before trading up for a 36DD rack of silicone. She was marrying into a billion-dollar fortune that, sadly, would never be hers.
Smith and Marshall met at Gigi's—the strip club Smith landed at after failing to cut it at Houston's more posh venues with tighter restrictions for their dancers, like Baby O's or Rick's. "We considered disciplining her for her plumpness," Robert Waters, the owner of Rick's, told Texas Monthly in 1994.
On an October afternoon in 1991, Marshall's driver wheeled him into Gigi's, where he sat agog at the busty dancer slowly revealing more and more to the schmaltzy twinkle of Chris de Burgh's "The Lady in Red." It was Anna Nicole Smith on the day shift. After her performance, the then 26-year-old gave him a lap dance. He was enamored, if physically unmoved. She was charmed, and after talking for a while he invited her to lunch the following day.
At lunch, hotel room service, Smith complained that she had to return to work for her usual shift. Marshall handed her an envelope with ten Benjamin Franklins, saying, "Don't go to work, my Lady Love. You don't have to ever go back to work."
Over the ensuing days, months, and years, the old man would keep her sweet with million-dollar purchases, including jewelry and a Rolls Royce. They kept it down to earth too, returning to her humble beginnings: he loved eating at Red Lobster. It was his "favorite restaurant," according to NY Mag. She used to work there, serving Cheddar Bay Biscuits to middle class seafood patrons for minimum wage.
Some years later, and after several attempts, Smith agreed to marry Marshall. They wed on June 27, 1994, both in white, in Houston's White Dove Wedding Chapel. After they sealed it with a kiss, Smith told her new husband she had to jet out of town for a photo shoot. According to NY Mag, Marshall "sat crying in his wheelchair." He wouldn't be crying for long. The marriage lasted 14 months before Marshall passed away. Though she battled Marshall's son all the way to Supreme Court for control of his estate, she wasn't included in the will and never gained control of his massive fortune.
Over 20 years later, both are gone and Gigi's—that glorious stucco compound where an age-defying love was fated—was demolished in 2012.