xoxo
Gossip Girl's Emily Alyn Lind Is Not Who You Think She Is
Have you heard? Of course you've heard. This summer, HBO Max's continuation of Gossip Girl (back with new episodes in November) is the only thing anyone can talk about— the show to watch, meme, and wax poetic over. Like its predecessor before it, the series has spawned a new legion of spicy, clever, and daring Upper East Side archetypes. Enter Emily Alyn Lind, the actor who plays Audrey Hope, a seemingly sheepish character with deceptively sharp edges and an even more deceptive character arc. In the series' first season, Lind presents an effortless Upper East Side princess for a Gen Z audience—one who navigates family turmoil, a love triangle with Evan Mock and Thomas Doherty, and the return of Gossip Girl with trademark poise.
At just 19, Lind is nevertheless an industry veteran, with notable roles under her belt in productions like All My Children, ABC's hit show Revenge, and Gaspar Noe's Enter the Void. After all, it runs in her blood— Lind's mom is the actor Barbara Alyn Woods. Now that the world is paying attention, she's ready for her next move. Below, Lind talks to the Gossip Girl casting director Cassandra Kulukundis about screenwriting, mother-daughter relationships, and trying not to fill Blair Waldorf's shoes.
———
​​CASSANDRA KULUKUNDIS: Emily, you didn't watch the original Gossip Girl or read the books right?
EMILY ALYN LIND: I watched some of it a while ago and I still haven't read the books, which I probably should do. There's this huge emphasis on the fact that this is not a reboot but a continuation. Ten years have passed, so many things have obviously changed. I don't want to fill any shoes and I don't think I could, because, you know, the original show's iconic. We're creating a new show. 
KULUKUNDIS: I agree. Unlike Blair [Waldorf], whose character grew the most during the show, Audrey starts off knowing exactly who she is: grounded, not uptight, and the most sexual of the bunch. You and I had conversations about comfort levels, and wanting to make it real, not just titillating.
LIND: Exactly. I remember when we met for the first time before the screen test. You're someone I look up to, so I trusted that you wouldn't put your name on anything that you didn't believe in. 
KULUKUNDIS: When you went on tape, I felt like I completely scored.  Josh Safran wanted to make each episode like an independent film, and I truly think that's what we're striving for, as far as acting levels, as far as looks, and locations. I always tell people you're like a 45-year-old trapped in a 19-year-old's body. And that's who Audrey is. What were some of your most memorable scenes?
LIND: My scenes of Laura Benanti, who plays my mother. I am a very extroverted introvert, I learned to be like that growing up in the industry. There's always a guard up when I meet people, but when I met Laura, I felt this immediate bond. There's one scene where we have a huge fight. I think that a lot of people appreciated that moment, because it really feels like a fight that a mother and daughter would have. Mothers and daughters are ruthless to each other.
KULUKUNDIS: It is brutal between you two. It's funny because you're both such lovely human beings.
LIND: There's a dynamic between mothers and daughters that I find it really interesting. The dynamic of two powerful women in a household. To get really angry at someone, to feel the need to say, "I hate you," all of this comes from a desire for them to be better.
KULUKUNDIS: Speaking of mothers, your mother is a well-known actor who was a series regular on a huge show while you were growing up. You lost your mom a lot of the time to that TV show, which must have been an interesting dynamic in your home. Is this career something you always wanted to do, or did it you follow in your mother's footsteps a little bit?
LIND: My mom was starring in a show called One Tree Hill when I was little, and we always hated it when she would go to work. One time my sister got a guest part on the show, and I was so jealous. So I think it really did stem from wanting to do what my older sister did. I was so competitive, I'm a Taurus, so I did a State Fair commercial and she did a Subway commercial, and eventually I did this movie when I was around five, and that was my transition. That was my "Holy shit I fucking love this" moment.
KULUKUNDIS: You're lucky because you're still so young, so we will get to see you for many years to come. What do you think the differences are between you and Audrey?
LIND: Audrey has a Scorpio mentality, which basically means  "I will kill anyone who tries to get in my way."  She's the type of person who likes stability. She's in her junior year at Constance, her boyfriend may be gay, and she's trying to keep everything together and help everyone else, but there's only so much you can give without getting anything back. So, it's an interesting role. If there were a second season, it would be interesting to see how she deals with the discomfort of uncertainty.
KULUKUNDIS: Audrey isn't involved in social media, And you also don't do a lot of social media yourself.
LIND: I was born a millennial or whatever, I was given a phone way too early, but I do have a weird relationship with social media, as anyone in their right mind probably would. 
KULUKUNDIS: Have you noticed things changing for you? More followers, more people coming up to you on the street? What's been the change in Emily's world?
LIND: The few times I have been out with Jordan [Alexander] or Savannah [Lee Smith] walking down the street, people have come up to us. New York's a cool place for that, because a lot of the times people come up to you in a friendly way. The other day, this cool art kid that came up to Jordan and I, impeccable style, just this dope dude that would totally be on Gossip Girl. It was such an artist to artist "great job" thing, you know? It felt great. 
KULUKUNDIS: What's it like working with the greatest costume department in the world?
LIND: Honestly, because I've been surrounded by a lot of stylists and red carpets growing up, so I wasn't introduced to it in the right way. Now, after working with Eric, I have a new appreciation for the art of fashion, the history of it. I appreciate him so much for showing me that, because when you're getting into a character, obviously, clothes are a part of the makeup. So that has been a learning experience for me— I'm always growing. 
KULUKUNDIS: Now that Audrey's under your belt and we're nearing the end of the season, what roles would you want to tackle? What else would you like to do, what's next for Emily?
LIND: I am working on music right now, which I'm really happy about. It's something I don't put a lot of pressure on. I kind of do it when I feel it and I'm really happy with that. It keeps me stabilized, and honestly I find it really important to always do stuff that differentiates you. When I feel passionate about something I don't really care what it is. Right now, I'm actually adapting a book called Chocolate for Breakfast. So what I do during the hiatus time? Get into that pitching mode and start writing, start getting into my own little adventure.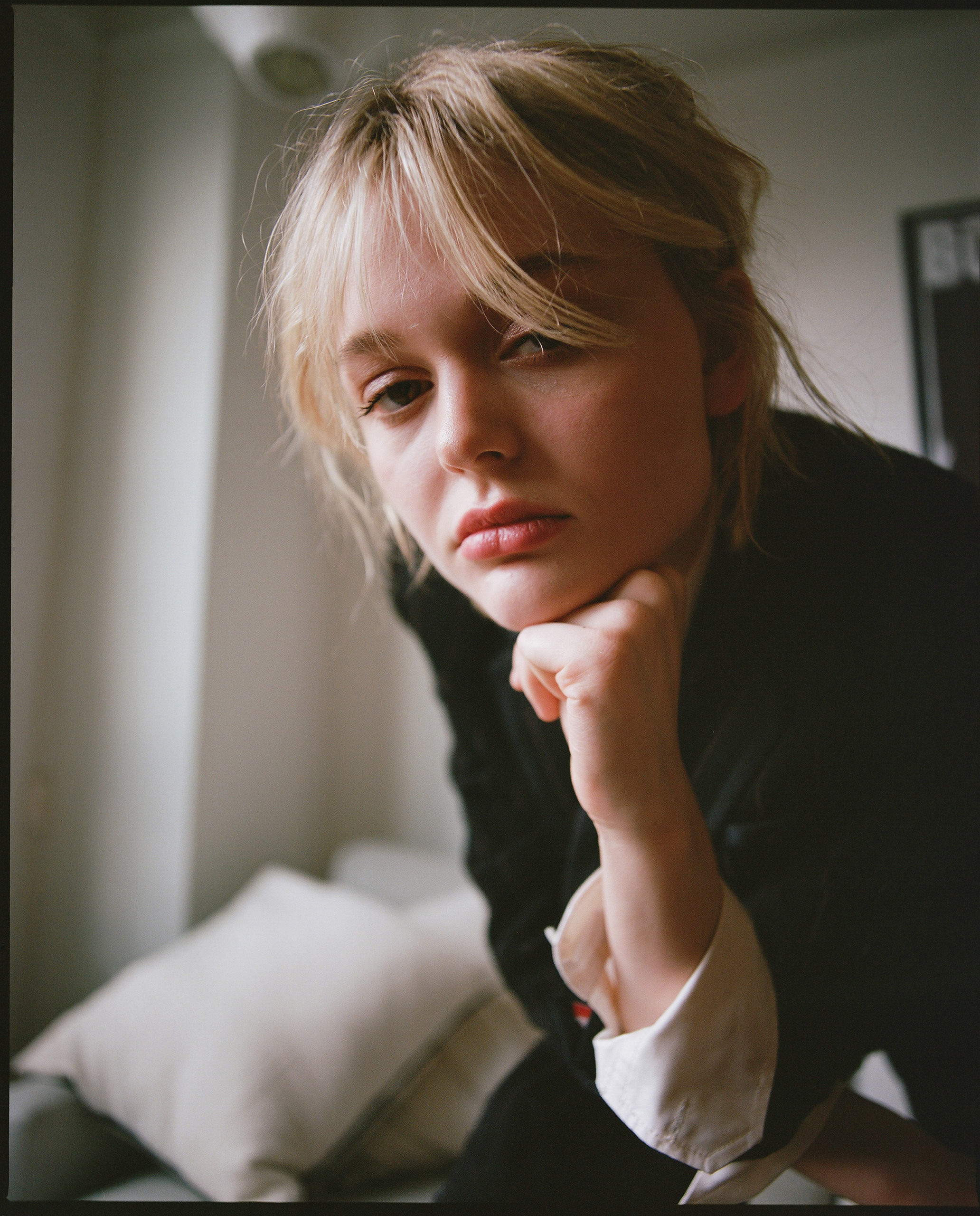 ———
Hair: DJ Quintero
Makeup: Kale Teter