South to North: BG Magazine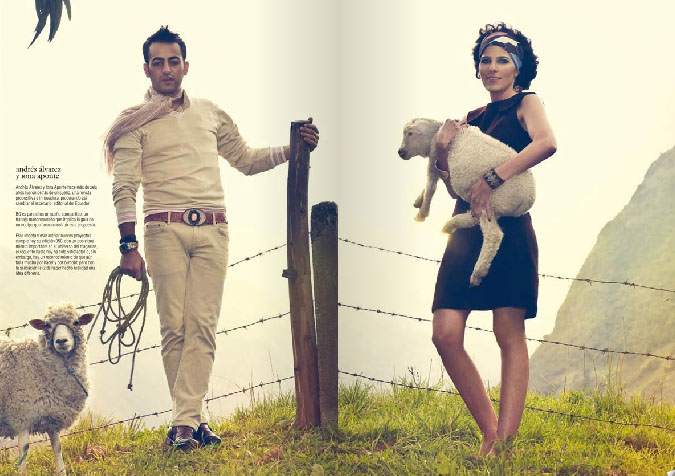 PHOTO COURTESY OF BG
BG Magazine wants to get North and South America talking. The publication introduces Latin Americans to Western culture, while trying to add a bit of spice to the latter. Started eight years ago in Ecuador, the monthly publication, which is sold all over the region, is a leader in its genre, despite its humble circulation of 10000 copies. The name, BG, an acronym for "Beauty and Glamour," is a tongue-in-cheek reference to TV novellas and their obsession with glitz, which stands in contrast to the magazine's boho editorial style.
"Here, BG is a very new kind of proposal. We are still babies in fashion and design," explained founder and editor-in-chief Andrés Alvarez (pictured above left). "But we didn't want to just imitate European magazines, but rather offer a content that is relevant to local and international readership." For example, its latest issue, "XY," is an exploration of masculinity that includes articles about Charles Bukowski, to Johnny Depp, an Ronnie Nader, an Ecuadorian astronaut. "I wanted to contrast images of masculinity found in fashion with alpha-male types glorified here, because the two have a lot to say to each other. "
One of Alvarez's main obstacles has been navigating the gap between South and North American beauty standards. For example, finding models that fit international high-fashion look was a challenge: "I kept getting offered typical catalogue-style models with huge boobs." So, he took matters into his own hands, and started traveling around Ecuador, organizing his own informal castings. "I found girls in tiny village, considered terribly ugly to locals," the editor recalls. "The first time I brought the models in the office, some of the staff was horrified." Today, Andrés has even launched his own modelling agency, BG models, to counter the lack of "alternative"-looking faces in the area.
"I also wanted people to look at our culture in a different way," said Alvarez. For the spring 2010 issue, "Back to the Roots," he conducted a photo shoot was conducted in the Ecuadorian jungle, with "a typical Inca model." The spread was intended to reflect South American tradition through body paint and artisanal culture, "rather than a modern, Westernized understanding of it," Andrés explained. But there is still work to be done, he added: "I get letters from all over the world on a daily basis, but no more than one a week comes from Ecuador."