SEARCH HISTORY
Aliyah Bah Tells Us the Official Definition of "Aliyahcore"
"Camp or cunt?" is the million-dollar question for Aliyah Bah of @aliyahsinterlude. After going viral for pairing a bikini with Moon Boots on the beach, the 20-year-old TikTok star's namesake aesthetic, Aliyahcore, has taken over the internet. Piling on the fishnets, furry accessories, and blinged belts, the Atlanta native is the torchbearer for Gen-Z's alternative Y2K revival. This weekend, she's entering her pop princess era with her debut single, "It Girl," so we slid into her DMs while she was in London gearing up for the release to pick her brain about boot shopping, morning routines, and the pillars of Aliyahcore. 
———
SHAAR: A/S/L? 
BAH: 20, female, and I live in NYC 💋 
SHAAR: First thing you do when you wake up?
BAH: I set like 10 alarms and wake up on the 5th or 6th, brush my teeth, drink kombucha, and style an #aliyahcore outfit for my day out.
SHAAR: What were your last 3 Google searches? 
BAH: Literally just me shopping for boots and looking for my hotel addy.
SHAAR: What social app are you on the most?
BAH: Definitely Instagram and Twitter.
SHAAR: What accessory can you never leave the house without? 
BAH: A garter for sure.
SHAAR: Give up forever: fishnets or leg warmers? 
BAH: Omggg. Honestly leg warmers, no shade.
SHAAR: Fit check? 
BAH: Kinda ateee.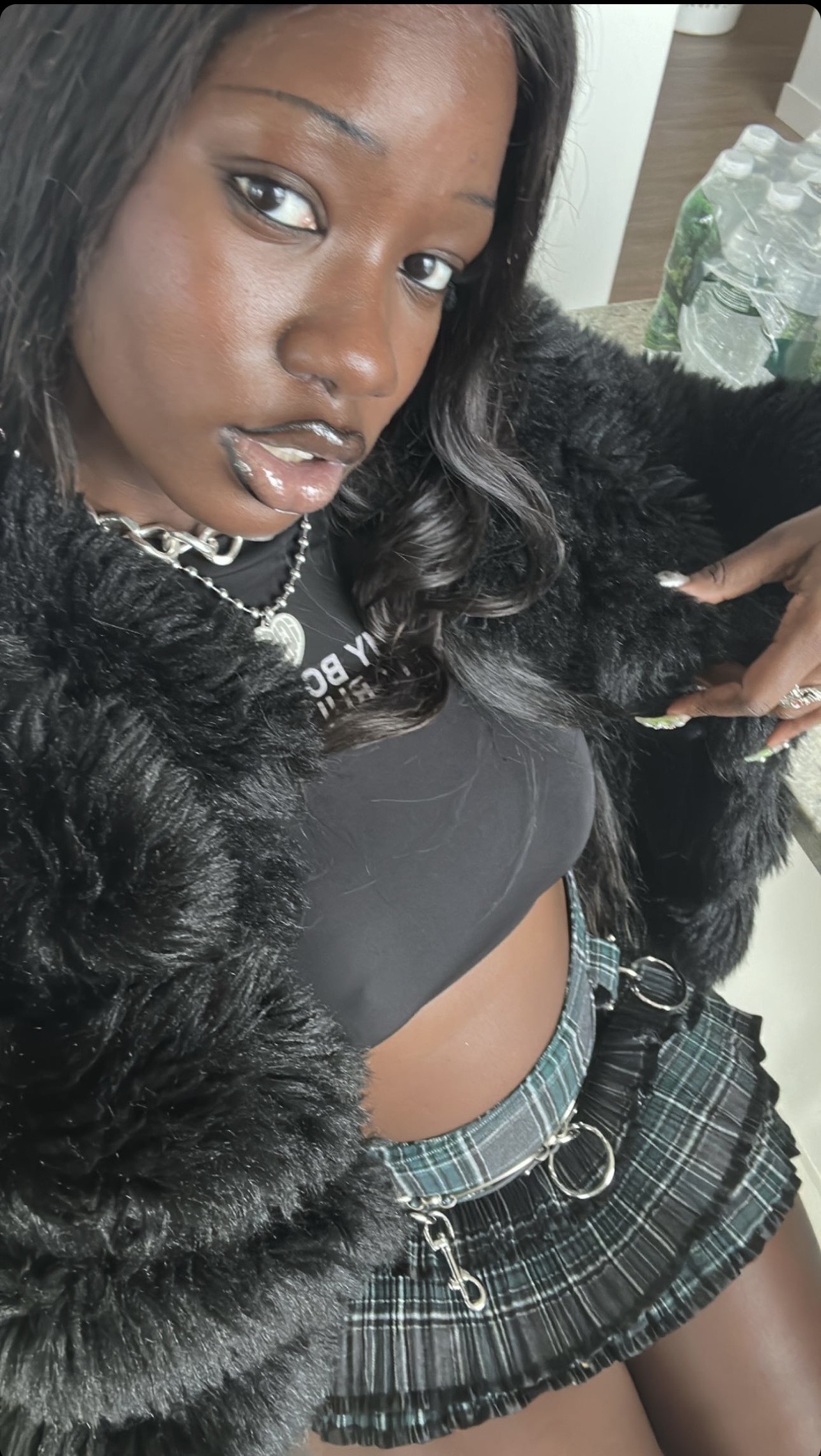 SHAAR: Describe Aliyahcore: 
BAH: Aliyahcore is a lifestyle & fashion trend that allows you to wear whatever you want and not care about being perceived. It's about loving yourself authentically no matter who's watching. The fashion trend consists of wearing a garter, fishnet on one leg/arm, lots of belts, fur and boots!
SHAAR: Who is wearing Aliyahcore? 
BAH: Me everyday of course, and honestly I see a lot of my influence in the music industry and fashion rn.
SHAAR: What's your definition of cunt?
BAH: Being sexy and feminine, and just exuding that energy.
SHAAR: This fashion week have you been serving camp or cunt?
BAH: Definitely camp, I prefer camp always.
SHAAR: Big 3? 
BAH: Taurus ☀️, Leo 🌙, and Aquarius rising 💋🥰 
SHAAR: What's it like being an internet it-girl? 
BAH: It's honestly kinda surreal. I think it's a big responsibility to keep being that girl and inspiring others but also it's super cool having so many people love my style.
SHAAR: How has it been being a Black girl in your industry?
BAH: Being a Black girl in any industry has its struggles, but I will say that being a Black girl, especially a dark skin Black girl within this industry has been a bit difficult, seeing your white or lighter-skinned counterparts get opportunities that you know you deserve and not always getting recognition for starting trends.
SHAAR: Do you have a style icon? 
BAH: Definitely Grace Jones & Vivienne Westwood 💗 Both pioneers who never gave a fuck! I luv both of them dearly.
SHAAR: What song is on repeat?
BAH: "Stability" by Ayra Starr, and "It Girl" by Aliyah's Interlude out Sept 30 🤭
SHAAR: Are we getting more music from you soon? 
BAH: Definitely! I'm planning on dropping an EP by the end of the year. 
SHAAR: Is it giving pop star or rockstar?
BAH: Pop star for "It Girl," but it's giving both for my EP.
SHAAR: Favorite color?
BAH: Pink, of course.
SHAAR: What's your password? 
BAH: 😹 Password?