Exclusive Track Premiere: 'Get Really Freaky,' Holiday Mountain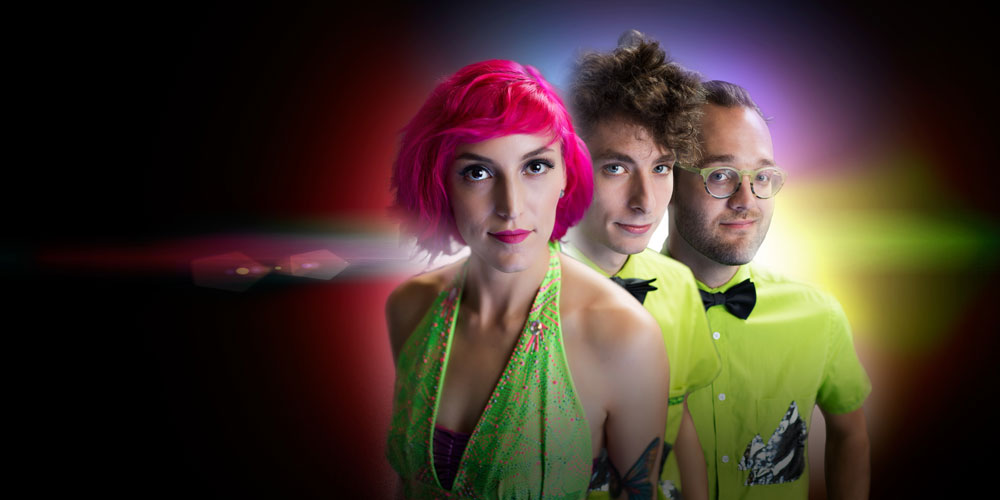 Before hearing their sound, we knew of Austin-based trio Holiday Mountain because they were billed as one of the "Best Dressed Bands" during South by Southwest earlier this year. Frontwoman Laura Patiño makes much of her own clothing, inspired by the neon palette of Lisa Frank circa 1995, so with ensembles impossible to miss, it's only fitting that the band's sound is just as ear catching. Zander Kagle and Bradley Will join Patiño to create songs laden with thumping synths, drums, electronic percussion and bass, and high-pitched ethereal vocals.
Although the band formed in 2011, while Patiño and Will were studying at Berklee College of Music in Boston, Holiday Mountain (taken from Patiño's musical idol Billie Holiday and her hometown's location in the Colorado foothills of the Rocky Mountains), is just now preparing to release its debut EP, You Be You, Pt. I. Here we are pleased to premiere the single "Get Really Freaky," which epitomizes their overall sound, confidently combining the band's range of influences, from reggae and hip-hop to electro dance pop.
Just before the band left for a two-month North American tour, we caught up with Patiño over the phone, while she sat outside her favorite coffee shop in Austin.
WHO: Laura Patiño (vocals, synth), Zander Kagle (drums, electric percussion), Bradley Will (electric synth, electric bass, vocals)
BASED: Austin, Texas
THE MOST IMPORTANT THING IS…strategy and being humble. It's a mix of being humble and taking opportunities, and also being able to plan, be realistic with yourself and say, "This is where I am, this is where I want to be." You need to do a lot of hard, gritty, tough work.
JAMAICAN ROOTS: My mom got me playing piano when I was five and I wasn't that into it, but once I became a teenager, music, especially piano, was a place for me to put all my emotions, or questions, or feeling like an outsider. [The first piece of music I bought] was either No Doubt's Tragic Kingdom, or this Bob Marley CD, his really early stuff, called Selassie Is The Chapel. They are [very different], but they have some common ground; they're both inspired by Jamaican culture. I know that No Doubt has a way different inspiration, as far as Jamaican culture goes, but just that influence of reggae and dub. And, that Bob Marley CD was more religious music than it was reggae. So both of them weren't totally in the reggae pocket, but they were dancing outside of it. That's something we do in Holiday Mountain.
FINDING THE RIGHT FIT: Teamwork is one of the most valuable things I've learned in the past five years. I went to a couple different bands but it's hard to find that right combination of people who are motivated. People say they really want to do something, [but] people are really good at talking and when it's time to walk, they don't show up. It's finding the right musical chemistry. It's almost like how people would look for a partner to spend their life with—you navigate through and find somebody that fits you.
THE PROCESS: It started with me doing the majority of the writing and [Bradley and Zander] would fill out the instrumentation. I definitely wanted to open it up to everybody, feeling like they could equally contribute ideas. Once we started fully collaborating on songs, once it's three peoples' minds combined, it had gone to a place that I had never imagined or heard before. It can be really emotional to get there, because it's ultimately very vulnerable to open yourself in that way. It's a lot like a sexual experience, where you try to go in with the intention that it's intimate, it's vulnerable, and we need to try to not be abrasive during that time.
What's been working the best for us lately is that Zander builds a beat or a track and he can email it to me. I like to sing and play guitar [in] places where I find solitude. Then Brad fills out the rest with the rapping or his synth parts. He's the wild card; you never know what you're going to get out of him.
NOT SOLD IN STORES: I love style and fashion and I'm a pretty novice DIY clothing maker. A lot of times, I'll be like, "Man I wish I could wear this sparkly metallic spandex thing on stage," and if I can't find it on eBay, I just figure out how to make it. That's something that brings me a lot of joy in my off time. I've always loved style and funky fashion, but I've been really enjoying just taking it into my own hands a little more.
STYLE ICONS: Gwen Stefani was always big. I have a sister who is 11 years older than me—when I was a kid, she was in high school and that was the golden age for Gwen Stefani. She would tell me that there were girls at her school who would dye their hair blond and wear the same style, and they were called "Gwenabees." I think, for me, Gwen Stefani reminds me of my sister, so that's probably part of it. The Spice Girls were also big for me growing up. That whole era of '90s, really vibrant colors and faux fur, I just love that. It's all these random '90s pop culture references.
FEMME FATALE (ON TOUR): The thing I personally am most scared of is that I'm going to be surrounded by dudes, nothing but dudes, for weeks and weeks at a time, especially the first part of the tour. I'm excited that the guy from Ishi, who we're doing some of the dates with, is coming with us so we can get to know him, but that's just one more dude in my life. I'm trying to collect my girl-related shows…
YOU BE YOU PT. I IS OUT APRIL 28. FOR MORE ON THE BAND, VISIT ITS WEBSITE.