Discovery: Benoit & Sergio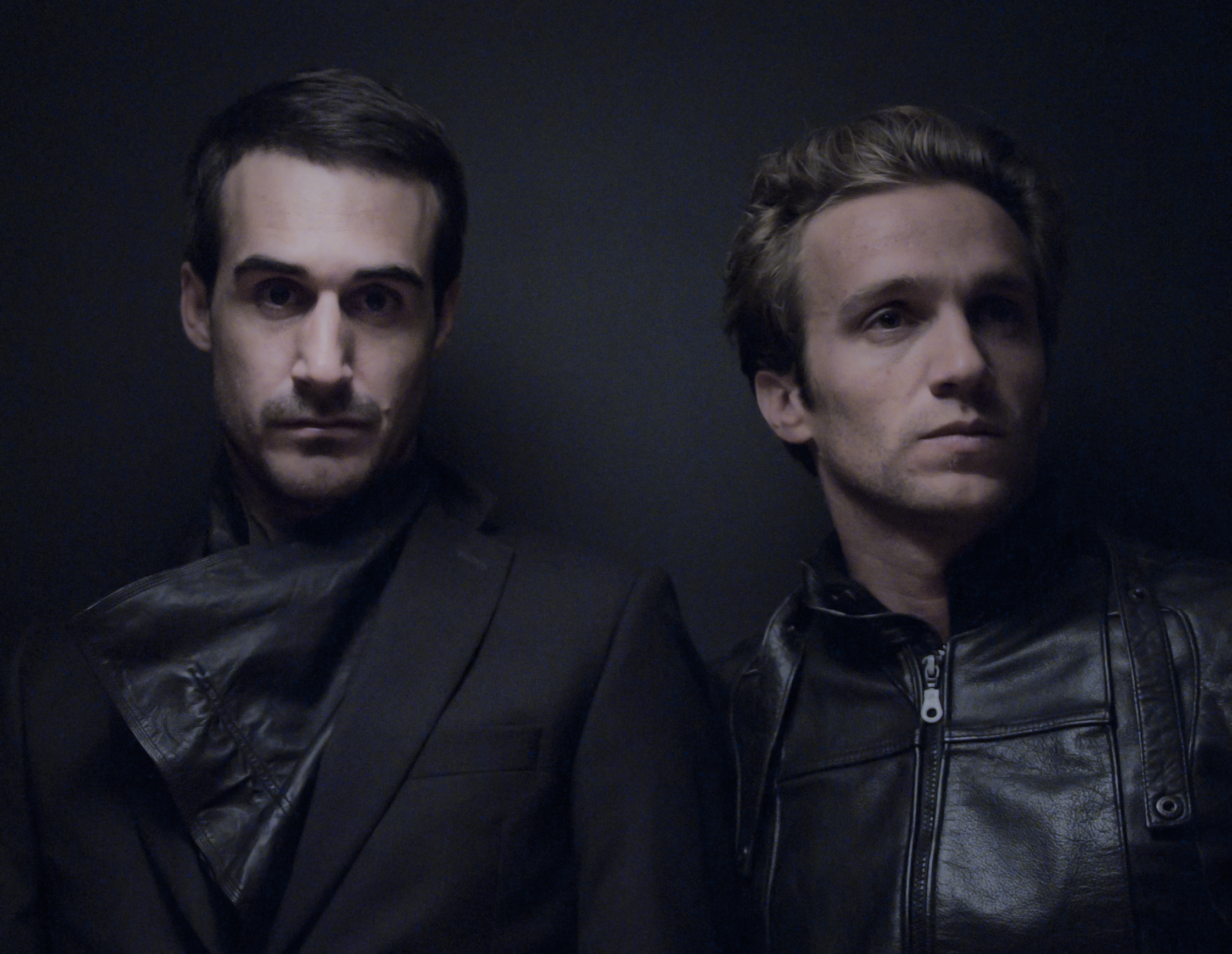 BENOIT & SERGIO. PHOTO COURTESY OF CAMILLE BLAKE
The path from studying Renaissance literature in a graduate program at Johns Hopkins to spinning dance-pop that plays in Berlin clubs may not be the most straightforward, but such was the case for Sergio of electronic duo Benoit & Sergio. The D.C./Berlin-based pair released their first EP, What I've Lost (thesongsays) in 2009, and have been steadily garnering notice with their trippy, pulsing tracks, infused with a depth and (unsurprising) intellectualism that's often conspicuously absent from electronic music. Their two most recent singles, both out on DFA, represent the versatile talents of the two: a cover of Daft Punk's "Around the World" is sexy and slow; "Principles" features narrative vocals layered over an eminently danceable beat. Interview recently caught up with the talented pair over the phone while they were on a break from touring in Europe.
HOMETOWN: Benoit: Paris. Sergio: A small town in Iowa.
CURRENT CITY: Benoit: Washington, D.C. Sergio: Berlin.
EARLY MUSICAL INFLUENCES: Benoit: I started playing music on an Atari computer. My childhood friend and I were making soundtracks using different kinds of software available at that time. I've also learned guitar for a little bit but never really pursued it. My early music influences delve into '80s pop music, soul funk, and '90s house music. I consider Daft Punk as my biggest musical influence. Sergio: In my college years, I listened to Brian Eno and Pavement, that type of classic indie-rock sound. I played rock guitar. But I never did anything with it, aside from practicing in my bedroom. And then when I started working on electronic music, I realized I didn't need a band—and that there was an audience for it.

TRANSITION TO MUSIC: Sergio: I was studying Renaissance literature at Johns Hopkins when my best friend told me that I needed to come to Berlin, because he was a DJ at the time. I was like, "Eh, I don't know, it's not really my scene." He was like, "Trust me, just come out for a summer." He's actually still at Hopkins finishing his Ph.D.; he does Renaissance literature as well. And one of his thesis advisors is part of Matmos, so there's a lineage of electronic music and Renaissance literature at Hopkins. So anyway, I came to Berlin and loved the whole scene. I started working on music and gradually I didn't want to do Renaissance literature anymore, I didn't feel it, I didn't care about it. I only cared about music, so I took the plunge and started doing it full time.
PLAYING TOGETHER: Benoit: I met Sergio at a birthday party. A common friend of ours had the great idea of bringing him to the party. We connected there, but it's only after a slow and natural buildup that we started making music together; we realized we shared the same passion only after some time but our first track ("Full Grown Man") quickly emerged from an early jam session.
DID LISTENING TO NON-DANCE MUSIC INFLUENCE WHAT YOU'RE DOING NOW?: Sergio: I think so. One of the first things Benoit and I ever did was this track called "Full Grown Man." Everyone, when they heard it, was like, "Wow, that sounds like Paul Simon making dance music." That's the highest compliment for me, because I love Paul Simon. I think the sort of more introspective pop music that I listen to influences the lyrics and the vocals, and that's slightly different from what other electronic music is doing.
DESCRIBE YOUR SOUND: Benoit: An alloy of copper and silk. Sergio: Our style is Cadillac Caribbean dance pop under an autumnal sky. [laughs] It's dance pop with a slightly melancholy feel to it.
EXTRACURRICULAR ACTIVITIES: Sergio: It's all music—it's either listening to music or making it or playing it. Otherwise, I go to this English bookstore in Berlin, St. George's, near where I live. I just finished a biography of Anne Sexton, the troubled American poet. I love biographies that get really detailed in people's lives—it's a voyeuristic pleasure. I also just finished Proust's Time Regained. I think I am finally old enough to start to understand him.
IF NOT MUSIC THEN…: Benoit: Ideally, I would be working in neuroscience. I have this passion for brain waves. I wanted to connect them to music devices, kind of like Alvin Lucer's "I Am Sitting in a Room."
ON REPEAT NOW: Sergio: This season it's Sam Prekop. He has my favorite voice in all the indie scene; I love it so much. The Kindness, "Swinging Party." It's a cover of this Replacements song, and it's great. And early REM—"Reckoning."
UP NEXT: Benoit: We are currently working on a set of tracks and are working on bringing more and more sparkles to our live set.
BENOIT & SERGIO'S SINGLE "PRINCIPLES" IS OUT NOW ON DFA. THEY WILL BE PLAYING THROUGHOUT THE US IN NOVEMBER AND DECEMBER.