Discovery: Adrian Marcel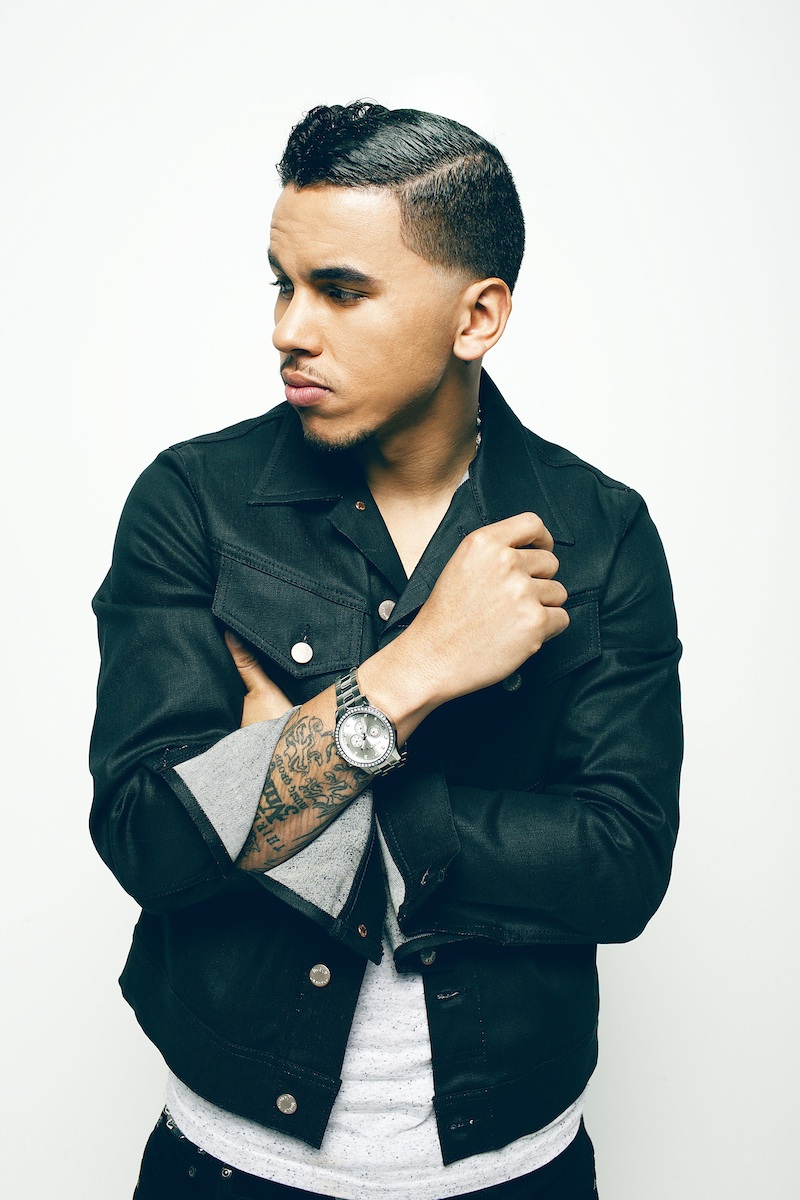 ABOVE: ADRIAN MARCEL
There's no shortage of R&B in the current musical moment. It may sound less radio-ready and more emotive, redefined by Toronto hipsters like PartyNextDoor and The Weeknd (recently crowned with his first Billboard number one) or left-of-center underground acts like Kelela, but its prominence is undeniable. It seems like every day the Internet births a new notable to add to the current R&B roster of progressively dreary, sparse sounds. Does it mean the sheeny, mainstream, pop-R&B sound of yesterdays chart-toppers like Usher, R. Kelly, Chris Brown, and groups like Destiny's Child, TLC, and 112, whose aesthetics defined the last two decades, is said and done? For the time being, yes. It could even be argued that the artist who strays from the current minimalist trend in favor of familiar sounds from decades past ultimately becomes today's most uniquely underground.
Enter Adrian Marcel, Oakland-bred singer-songwriter and protégé to Grammy-winning neo-soul king Raphael Saadiq. Appropriating sounds he grew up on in the '90s and early '00s, Marcel works R&B the way most of us remember. He can slow things down, not with tears, but rather with syrupy, lay-your-girl-down grooves like Tyrese did for MTV Jams. He can speed things up, à la Ginuwine and Aaliyah when they needed a hit for the Dr. Dolittle soundtrack. He's versatile and anything but one-note. His debut mixtape, 7 Days of Weak, balances the organic with manufactured intimacy reminiscent of the last graduating class of R&B shine, from Lloyd to Mario. Of the set's highlights, "Don't Disturb This Groove (Remix)," revamps The System's classic with a symphonically sunny Cali melody. "Killa" flexes his hip-hop sensibility with its Luniz-sampled production and an 8ball feature, while "Wrapped" utilizes an orb-like quiet storm background in tow with J.Holiday's only hits, "Bed" and "Suffocate."
Marcel has what Saadiq calls a "responsibility" to the genre to bring back "the flash." He even personally introduces the mix with a spoken-word rundown of the East Bay's long lineage of artists before him, for which Marcel calls his "blessing." Consider it a primer for what's to come from the young crooner. We speak with the up-and-comer, whose sophomore mixtape drops this month, below.
NAME: Adrian Marcel
AGE: 23
HOMETOWN: Oakland, CA
LIVES NOW: Atlanta, GA
ON INFLUENCES: I grew up on a lot of old school… a lot of Marvin Gaye, a lot of Jackie Wilson, Sam Cooke, Donny Hathaway, Frankie Lymon, but also, the old school of "now"—the '90s R&B music that was current when I was young, like Ginuwine, Tank, and of course, Raphael Saadiq. He is the one who's really mentored me and my sound. I'm really just inspired most by great vocalists. I can pull inspiration from anything. I don't bind myself to any one genre.
ON RAPHAEL SAADIQ: My management played him my music, he liked it, and flew me out to L.A. and we took a day to just vibe out together. For the longest time, it was just conversation and hanging out, then we started getting to know each other and began working on music. It was just history after that. I mean, I grew up on his sound… I listened to everything from Tony Toni Tone to Lucy Pearl, all the way to his solo stuff. He's from my hometown, Oakland—listening to Raphael is like a religion in my town. Once I met "Ray," the inspiration went to a whole other level… at that point, he really became a mentor to me rather than just an influence on my music. Working with him is such a blessing; it's incredible how knowledgeable he really is. And not just in music, but in every aspect. He's such a free spirit and is so positive and humble. With him, nothing is strategized, nothing is forced or overthought, everything just has to flow… he never makes music a job.
ON OAKLAND'S SOUND: I would have to say it's soul. It's a cultural sound—a soul that's rooted in our culture. Oakland artists' sound may be broad, but at the same time it all comes back to the culture. That's really what brings us all together. The sound, no matter what genre it is, is always organic and genuine.
AND HIS OWN SOUND: It's like butter. Regardless of its state, much like my sound, it can be soft or hard. There's a soft side to it when it's hard and a hard side to it when it's soft. It depends on temperature, really… there are songs of mine that are smooth and can melt you and there are those that will put you into a solid state. Butter can encompass anything at any time, and that sums up my sound perfectly.
THE ONE SONG EVERYONE'S GOT TO HEAR: "I'm Still," because it's the realest. It's the most honest song that's out right now of mine. It's straight to the point and it's really the only song that I didn't hold any punches. I learned with that song that being that honest was really the way to go… It's my story in a nutshell.
SPIRIT ANIMAL: I'm most like a lion, because I'm fearless—in my thoughts, my feelings, my wants, my needs, my vocals… really in everything I do. I find a way to do whatever I have to do and I won't back down. I always say, if a lion were in this economy and could only eat grass, he wouldn't, he'd venture out and find a way to hunt. I'm like that in the way that I'd never accept anything less than greatness.
ON TOURING WITH THE-DREAM AND KELLY ROWLAND: It was amazing. Such a great experience. I mean, to have my first tour be with two artists I look up to was beyond incredible. It was a blessing to have the time on the road to talk with each other and hang, they became like mentors to me. It really set the bar for what's to come.
ON THE FUTURE: We're finishing up the new mixtape and working on the first album. I've been in the studio with my producers: J.U.S.T.I.C.E. League, "The 1500s." Right now we're going hard for the top of the year to get it out.
ADRIAN MARCEL'S 7 DAYS OF WEAK MIXTAPE IS OUT NOW. FOR MORE ON THE ARTIST, PLEASE VISIT HIS WEBSITE.