That Time Leonardo DiCaprio Almost Became a Professional Breakdancer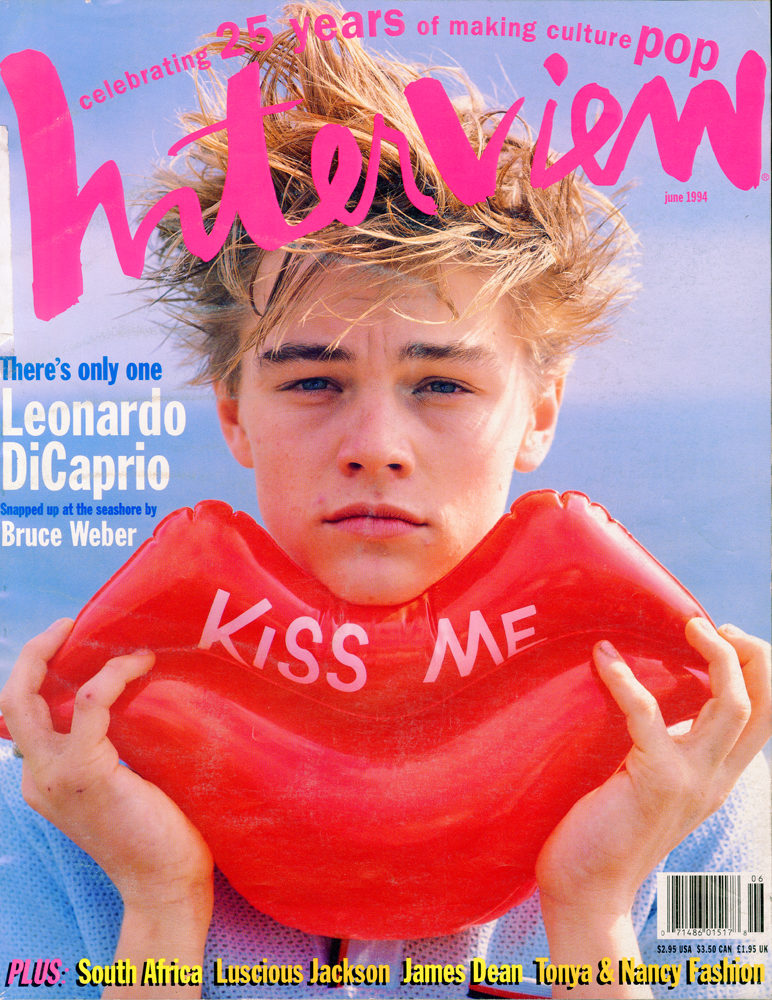 That Time When is Interview's weekly trip through the pop cultural space-time continuum, where we return to some of the most overlooked moments from issues past. In this edition, we open up our June 1994 issue with cover star Leonardo DiCaprio, who dishes with then-Editor-in-Chief Ingrid Sischy about the time he almost became a breakdancer.
At just 19 years old, Leonardo DiCaprio was already coming into his own as a global sex symbol. The OG blonde, blue-eyed heartthrob instantly captured the world's attention after starring in movies like What's Eating Gilbert Grape, Titanic, and Romeo + Juliet. While he was clearly a natural, there was once a time when DiCaprio wanted to entertain the world in other ways. In 1994, he revealed to Interview, and again to Oprah Winfrey a decade later, that he almost quit acting to become a breakdancer at a mere 11 years old, having earned second place in a small competition in Germany and the nickname "Noodle." Growing up, DiCaprio described himself as a child of angst, doing "little flips and routines" at auditions accompanied by a "punk haircut." Following his role in The Foot Shooting Party, DiCaprio and Interview's Ingrid Sischy discuss his beginnings as a child actor and his penchant for breakdancing in our June 1994 issue:
INGRID SISCHY: I've been noticing how many young actors are coming along who grew up in Hollywood but whose parents weren't in the business. That's the case with you, right? So start the story of your road to becoming an actor.
LEONARDO DICAPRIO: I always wanted to become an actor. My parents know I was outgoing as a child, and whenever people came over I'd automatically do impressions of them as soon as they left; it was my mom's favorite thing. Yes, I grew up in Hollywood but not in any rich neighborhood. But my parents, who were split up, were so good at keeping my environment strong and keeping everything around me not focused on the fact that we were poor. They got me culture. They took me to museums. They showed art to me. They read to me …
School, I never truly got the knack of. I could never focus on things I didn't want to learn. Math is just the worst. To this day, I can't concentrate on it. People always say, "You should have tried harder." But actually, I cheated a lot because I could not sit and do homework. Most of the other stuff that I got from school was from hanging out with friends and meeting kids. I used to, like, take half of the school and do breakdancing skits with my friend in front of them at lunchtime. I had this one science class where the teacher would give me ten minutes after the class ended and I would get up and do improv!
My love of performing goes way back. My mom got me on Romper Room when I was five—it was my favorite show. But they couldn't control me. I would run up and smack the camera, and I'd jump around and do my little flips and routines. I wish I could get that tape now. But I have other memories too. There was this one casting call when I was about 10. They brought five kids in just to see their look and if they'd be right for acting. I had this sort of punk haircut because I was into break-dancing at the time. I swear to God, it felt like we were a row of meat. The lady looked at me and at the other kids, saying, "Not him, not him not him. You stay." I was one of the "not hims." On the way home in the car, I cried and I said, "Dad, I really want to become an actor, but if this is what it's about, I don't want to do it." He put his arm around me and said, "Someday, Leonardo, it will happen or you. Remember these words. Just relax." And then I stopped crying and I said, "Okay."
It goes without saying that it ended up happening for DiCaprio. Last week saw the long-awaited release of Quentin Tarantino's Once Upon a Time in Hollywood, in which DiCaprio plays washed-up actor Rick (Fuckin') Dalton. The character spends the film navigating fears of irrelevance and yearning to escape the Spaghetti Western genre in a late 1960s L.A. (not to mention wielding his flamethrower). Whilst Rick Dalton mopes in aviator shades declaring: "It's official, old buddy, I'm a has-been," DiCaprio is signing the contract to his next movie, basking in the light of glowing reviews. Whether we're ruminating about his notorious Pussy Posse days in the '90s, or making digs about his strict 25-year-old age limit (not helped by the fact that his latest girlfriend, Camila Morrone, is 22), he remains a household name. And while no video evidence remains of DiCaprio's breakdancing glory days, one moment, from Coachella 2014, immortalized on YouTube is proof enough that he's still got the moves.