Olivia Cooke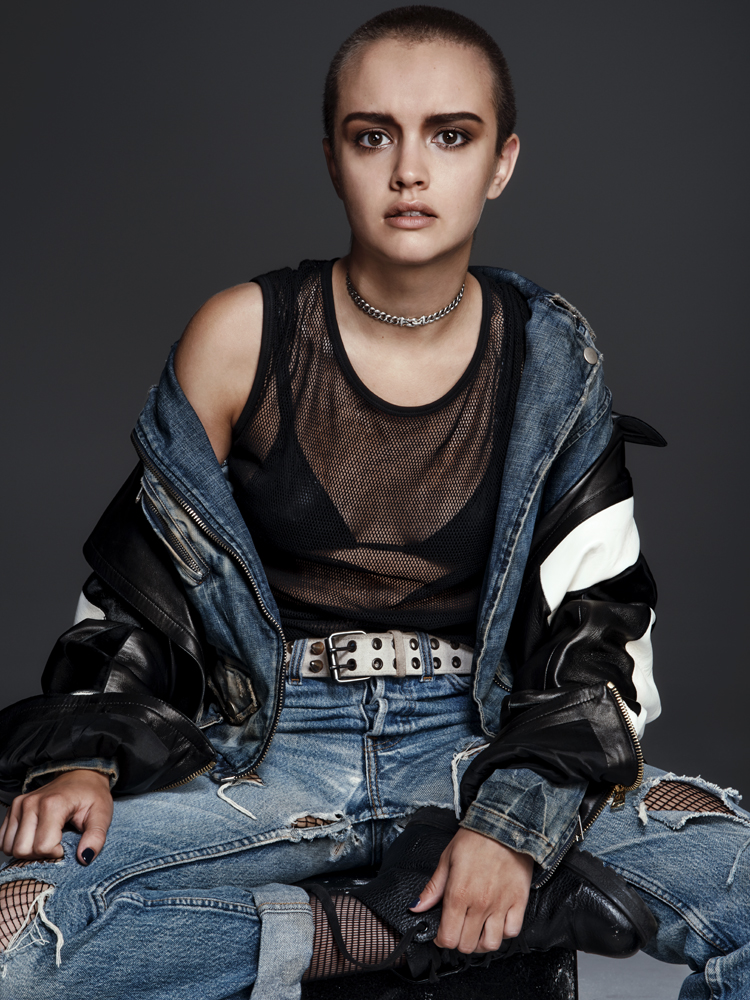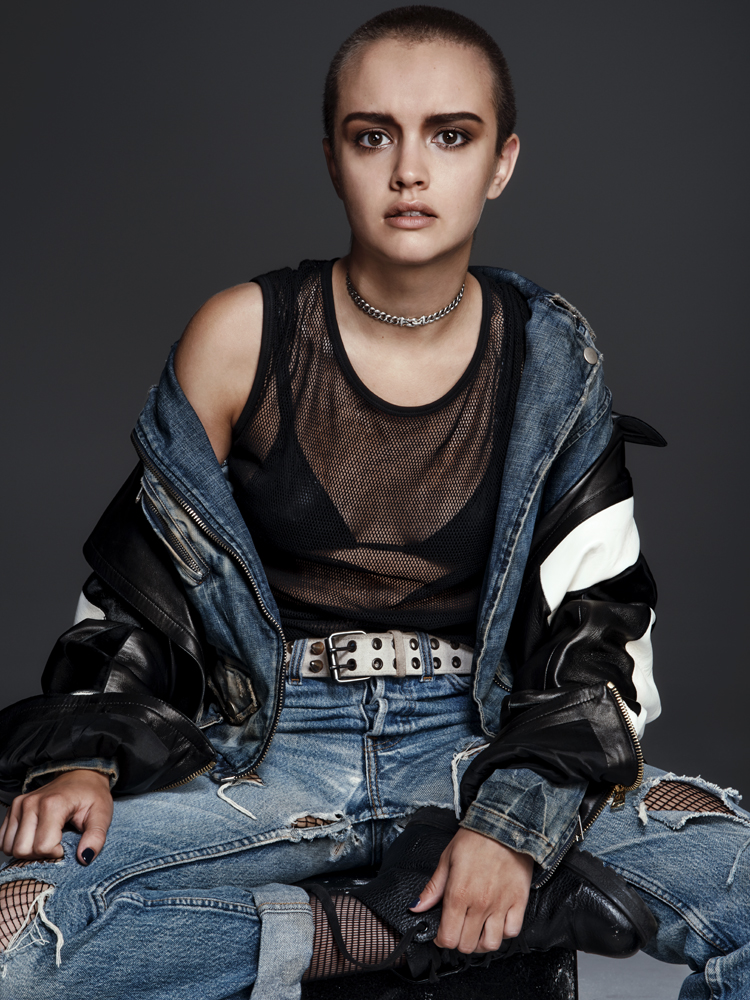 OLIVIA COOKE IN NEW YORK, AUGUST 2014. LEATHER JACKET: FAUSTO PUGLISI. DENIM JACKET, TANK TOP, AND BRA: DIESEL. JEANS: COOKE'S OWN. NECKLACE: DAVID YURMAN. BELT: BESS NYC. STOCKINGS: FOGAL. STYLING: MICHELLE CAMERON. COSMETICS: GIVENCHY, INCLUDING PHOTO PERFECTION FLUID FOUNDATION AND LE PRISME EYESHADOW IN SIENA SILHOUETTE; ZOYA NAIL POLISH, INCLUDING SAILOR. MAKEUP: FARA HOMIDI/FRANK REPS. MANICURE: KELLY B FOR ZOYA/DEFACTO INC. SPECIAL THANKS: MILK STUDIOS.
"Sat at the back … with a shaved head. Hard to miss," actress Olivia Cooke texts right before we meet at a coffee bar in Venice, California. Indeed, the long brown hair familiar to fans of the A&E series Bates Motel—in which Cooke co-stars as Emma, a quirky teenager with cystic fibrosis and a crush on a young Norman Bates—has vanished. It was shorn for Cooke's starring role in the upcoming young-adult mortality drama Me & Earl & the Dying Girl, where she plays Rachel, a wise-beyond-her-years high school student with leukemia. Cooke is growing out her buzz cut—while wearing an interim wig to shoot the third season of Bates Motel—but she inhabits its tough, punk style so beautifully that it's hard to believe she was actually cast in Me & Earl because of her ability to evoke fragility and helplessness. "I wanted to look as vulnerable as possible," Cooke says of her audition for the film, which is a less precious, more comedic The Fault in Our Stars. "I had eczema all over my face—I get it in moments of stress—and I was like, 'Great! I'll use it!' So I didn't wash my hair for three days and went into the audition with no makeup whatsoever. I looked haggard, just unwell. A lot of the girls that were auditioning were really made up. I was like, 'Why are you doing that? You're supposed to be playing a girl who has cancer!' " It certainly takes a versatile actor to put a bout of eczema to good use. "I've got nothing else to do other than give myself to a character," the 20-year-old Manchester native says. 
Cooke is relatively new to the big screen, her first film role being a lead in the recent supernatural horror film The Quiet Ones. "I only had two jobs before that, BBC dramas," says Cooke. "In one, I played a teacher in the 1940s with a withered arm due to polio. But in The Quiet Ones, I played an absolute psychotic. I was a little rottweiler. I just loved it." This Halloween she is more heroine than ghoul when she returns to horror to star in Ouija, a screamer based on the slumber-party board game. It's not that Cooke actively seeks out morbid material; it just seems that there's a fearlessness in her acting that lends itself to darker subjects. "I never really had a plan B," she admits. "And suddenly it started to happen."

For more on Olivia Cooke, click here.