Joe Cole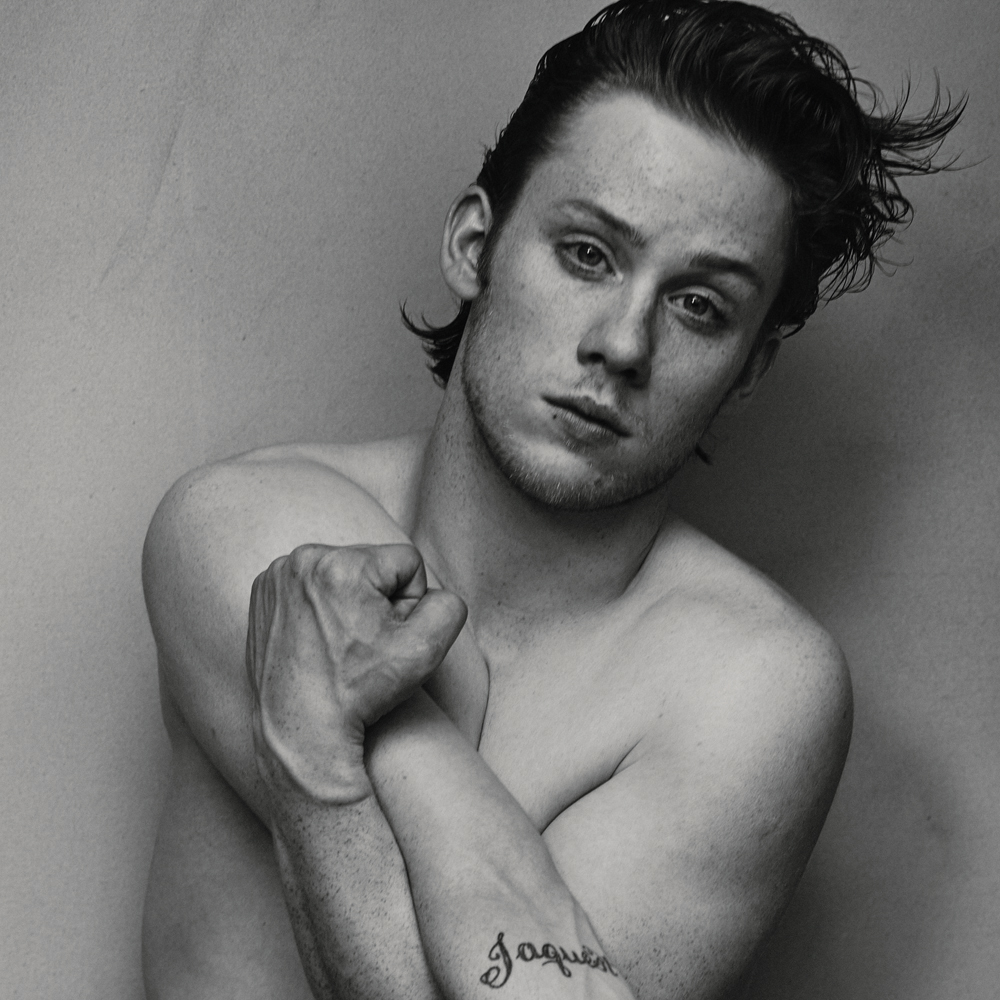 JOE COLE IN NEW YORK, APRIL 2015. STYLING: KARL TEMPLER. COSMETICS: DIOR, INCLUDING DIORSKIN NUDE AIR HEALTHY GLOW ULTRA-FLUID SERUM FOUNDATION. HAIR: JAMES PECIS/D+V MANAGEMENT. MAKEUP: PETER PHILIPS FOR CHRISTIAN DIOR. MANICURE: MEGUMI YAMAMOTO FOR DIOR VERNIS/SUSAN PRICE NYC. SET DESIGN: STEFAN BECKMAN/EXPOSURE NY. PRODUCER: SARA ZION FOR PRODN/ ART+COMMERCE. PRODUCTION MANAGER: ASHLEY SCOTT FOR PRODN/ ART+COMMERCE. RETOUCHING: GLOSS STUDIO. DIGITAL TECHNICIAN: NICHOLAS ONG. PHOTO ASSISTANTS: SIMON ROBERTS, HUAN NGUYEN, MARU TEPPEI, AND DEAN PODMORE. STYLING ASSISTANTS: MELISSA LEVY AND ALEKSANDRA KOJ. HAIR ASSISTANT: ADLENA DIGNAM. MAKEUP ASSISTANTS: EMIKO AYABE AND TALY WAISBERG. SET DESIGN ASSISTANTS: MAX ZINSER AND YONATAN ZONSZEIN. PRODUCTION ASSISTANTS: KAIA BALCOS AND JOHN DANIEL POWERS. SPECIAL THANKS: SOHO LOFTS.
Growing up in Kingston, South London, Joe Cole didn't know any actors. "Most of my friends are plumbers," says Cole, now 26. At the age of 19, Cole took a National Youth Theatre course and met the writer and director Rikki Beadle-Blair. "Rikki said, 'You've got to use the people you know in the industry,' " he recalls. "I only knew him, so I used to e-mail him every week telling him how good I was and trying to persuade him to give me a part." Eventually, Beadle-Blair relented and cast Cole in a one-night show off the West End. Cole invited as many agents as he could. "I sold this play like the fucking next Hamlet with Benedict Cumberbatch," he says. Guest spots on British procedural soaps like The Bill and Holby City followed, ultimately leading to meatier fare, like the role of John Shelby, Cillian Murphy's younger brother on Steven Knight's period gangster drama Peaky Blinders. Up next, Cole will appear in Pressure with Matthew Goode and Danny Huston, for which he spent "four weeks in a diving bell in Pinewood Studios with four blokes," and in Jeremy Saulnier's film Green Room, playing the drummer in a punk band alongside Anton Yelchin and Alia Shawkat. In March, Cole wrapped Secret in Their Eyes with Nicole Kidman, Julia Roberts, and Chiwetel Ejiofor. "I'm another bad boy in that one," he says. "I was in a lift with Chiwetel and Nicole, and then Julia gets in. I had to take a moment to be like, 'What am I doing here?' "
EMMA BROWN: How did you get involved in Peaky Blinders?
JOE COLE: The normal way. Shaheen Baig was casting, and I went in and read in a slightly dodgy Brummie accent. Then they asked me to do Cillian's part, and I was trying to blag that as best as possible. I didn't hear anything for ages and then they rang me up for the part. Initially my part was two characters, which is hard to believe. There were five brothers originally, which was probably closer to the real family—there was just shitloads running about. But they just made it one character, and then they brought in the cousin, Finn, in the second series, who's actually played by my brother in real life.
BROWN: Did you suggest him?
COLE: I was reading some sort pre-first draft scripts of the second season around Christmas time, and I was back at my family home. There was this part: 18 year-old, young, Shelby good looks. I mentioned it to my brother and he was nagging me to try to get him an audition. He had never acted before; he had only done school plays and things like that. So I told him where to go. He kept nagging me and eventually I ended up filming him doing it. I said, "If you learn the lines, learn the scenes, learn the accent, do the prep, I'll film you doing it. If it's any good I'll pass it on." And, to his credit, he did all that; he worked very hard. They saw, like, 2,000 kids in Birmingham for that part and Isaiah, which is Finn's best mate.
BROWN: When did you decide acting was something you wanted to pursue?
COLE: I always loved drama at school. We had a great drama teacher at my secondary school, and she made drama feel cool. She inspired me and then I did the National Youth Theatre in London. Halfway through that course I got my A-level results—it was the second time I had done my A-levels—and I was in my [other] brother's year, actually. I didn't get the grades I needed to go to university, so it gave me the impetus to just throw everything at acting. It was a shit time in my personal life and I thought, "Okay, if I'm going to do this I've got to do everything. I have got to do more than everyone around me."
BROWN: How many brothers do you have?
COLE: Four younger brothers. We're like the real-life Shelby family.
BROWN: Was your family encouraging? "Become an actor!"
COLE: [laughs] No, quite the opposite, but I had been unhappy for a little bit. I was always told you had to go to university—if you didn't go to university you've failed at life. I think that is instilled in a lot of kids, that it's the norm to go to university, and I went against the grain. The good thing was I moved out of home and away from my parents so they didn't have to see the everyday struggles, they just see me getting parts.
BROWN: You were on The Bill for two episodes.
COLE: Yeah, I did a tiny little bit. It was basically a glorified extra—I think I just said, "What?" and that was an ad-lib. [laughs] It was when The Bill had been moved to a later slot so it was a bit more edgy. It was about a group of guys who had sexually assaulted this girl, and they gave me a part in this group—sort of a background member.
BROWN: Did you have a name?
COLE: Yeah, I had a name. I may have given myself a name. I remember thinking, "I should be the leader of this gang." But I'd done nothing. I used that to leverage a part in Holby City, where I did more.
BROWN: Did you know anything about Steven Knight or who was going to be involved in Peaky Blinders when you auditioned?
COLE: I didn't know anything. I read the script, and I thought it was great, although my part was small. But the world was really exciting. Then I completely forgot about it and I was auditioning for something else. I got a phone call and my agent was like "You got the role!" I thought it was this other thing, but it was Peaky Blinders. He said that Cillian is in the lead—and I thought it was a different Cillian, for whatever reason, I forgot who Cillian Murphy was. And then I googled him, and I was like "Oh, shit, fuck, the Scarecrow!" I'm a huge fan—he's brilliant. I was also a fan of Paul Anderson, who plays the older brother [Arthur Shelby]. He had done a couple of really cool indie British films. When I found out he got the part, I was like, "This is going to be great: two actors I admire, and I'm playing their little brother."
BROWN: Cillian Murphy used to kind of terrify me.
COLE: And now you fancy him. I do a bit too. [laughs]
BROWN: Tom Hardy seems like he's having the best time.
COLE: I think he is. What's inspiring about him is he works hard, man. He just comes with a lot of ideas—Paul Anderson used to call him "The Ideas Man" because of the number of ideas he brings when he comes to the rehearsal room and when he comes to set.
BROWN: Do you stay in the accent while your on set?
COLE: We always do the accent—when we're back in the trailers or getting lunch. We always shout in the accent to each other because the accent is so musical and so fun to do. Accents influence a performance. If you look at Stanislavski, he says work from the in to the out, and I probably overall work the other way. I find an accent and a mood, and that influences the character massively. With my character or Arthur, the accent has a big impact on how the character is played; if you're doing your own accent you might not go as big with the performance.
BROWN: You're also in Jeremy Saulnier's new film.
COLE: Yes, it was my first role in the States. I got flown out to Oregon.
BROWN: Had you been to the U.S. before?
COLE: I had been to New York once when I was 19 for a week for a school. This was my first real foray into the American world. I got an email from Jeremy, it was about a week before I was due to fly out to Oregon, and he sent us five punk songs—really fast, intense punk songs. I'm playing drums in this band, and he basically said, "Make sure you know these songs like the back of your hand; make sure you know these songs in your sleep." He sent it to me, Anton Yelchin, Alia Shawkat, and Callum Turner, and I shat myself, man. I was played drums a little bit when I was a kid but nothing to this level. I spent every day in the studio. I went and found a teacher locally in South London and I'd just go from the teacher to the studio every day. Luckily, it came quite naturally. Then I flew out and got together with Anton and Alia, who are the other musicians, and we worked every day trying to perfect these songs. It was a really fun experience. By the end of it we played a massive gig in Oregon in front of 200-odd people. We got really close on that job—the film was fucking intense. It's next level. I think it's going to be exciting. Jeremy's interesting.

For more from our New Wave portfolio, click here.