Four Hollywood legends talk to Al Pacino about his retrospective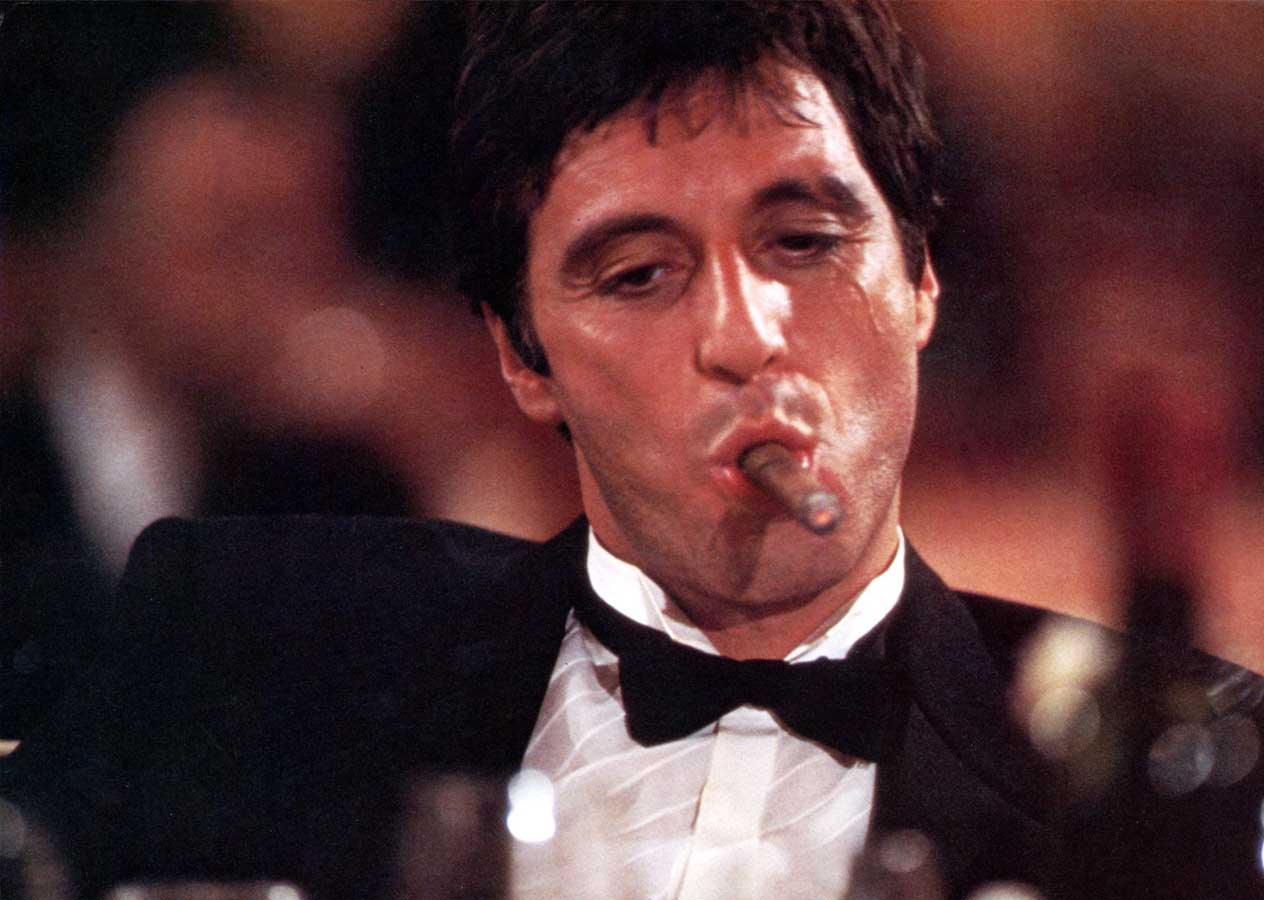 "The best thing I heard about that once is, 'I don't want you to miss me. I want you to remember me,'" Al Pacino said when asked how he'd like to be remembered. At 77 years old, the actor—a living legend to film industry players and enthusiasts alike—is being honored through a retrospective at the Quad Cinema in New York City, where he was born and raised.
Running through the 30th, "Pacino's Way," as it's titled, encompasses a range of Pacino's work. There are, of course, the highly acclaimed classics The Godfather [1972], Dog Day Afternoon [1975], but also, so much more, including two films directed by Pacino, Salomé, based on Oscar Wilde's 1891 tragedy. The second, Wilde Salomé, is a documentary-drama and exploration of the play. Both will be re-released on the big screen tomorrow (they originally premiered in 2011 at the 68th Venice International Film Festival), and both star Pacino opposite a young, unknown Jessica Chastain.
The actor wanted the audience to think of two things after seeing the films: to find interest in Oscar Wilde, for those less familiar with the poet and playwright, and to come away with Chastain's performance. "Sometimes, certain actors just go there," he said of the actress. "It's not like I was seeing something that didn't exist or which I had special vision for. It was right there. I even turned to the producer at one point and said, 'Am I dreaming?'"
So, in all, how does Pacino feel about receiving the retrospective and chance to look back at his extensive, remarkable career? "I feel very good about it," he said. "As a matter of fact, I felt the best I think I've ever felt about anything that was being done for me. Because when I saw what they did," he continued, "I saw myself."
Here, Chastain herself, as well as directors who have worked with Pacino in the past, Christopher Nolan (Insomnia, 2002), Mike Newell (Donnie Brasco, 1997), and Michael Radford (The Merchant of Venice, 2004) put questions to Pacino.
JESSICA CHASTAIN: What is your idea of happiness?
Al PACINO: Engagement, focus, involvement. My idea of happiness is when you don't know you're happy or not happy. You're not thinking about it. Shakespeare wrote in Hamlet, "Happy, in that we are not over-happy; On fortune's cap we are not the very button." I love that.
CHASTAIN: What faults do you tolerate the most?
PACINO: I've found as time went on, I tolerate most faults, because if someone else's got it, I've probably got it too. You know? What are you going to do? As much as you can, and it's not an easy thing, [don't] take people's inventory, if you can help it.
CHASTAIN: Which character that you've played has taught you the most about yourself?
PACINO: That's a very difficult one for me to answer, because there's so many that I've played. Things change you, especially movies, because they're like a microcosm, mini wars you go to. Your directors are your generals. I've seen it with actors who have been around and done it. They're warriors. They've been through it, both men and women.
If you can, if you're able to, try to see if you can challenge yourself and take chances. You can get out of balance and go off the track if you're thinking too much about a career. Careers are the sum of things. When I was a young actor in my twenties, someone talked about a career, and I didn't know what they meant by that. I didn't know what a career was. In the Village, in the café theaters there, we were doing plays of 16 performances a week. We would pass the basket. That's how we lived. That's how we'd eat … maybe I was doing crazy stuff, but I wasn't thinking about a risk or anything else. I was just doing it.
CHASTAIN: If you weren't an actor, what profession would you have attempted?
PACINO: Basket weaving. [laughs] A friend of mine used to say: "Basket weaving, I'm taking up basket weaving so that when they've caught me away, I'll be ahead of the game." I don't know. I think a job  involving other people like a short order cook or something like that. I did it when I was doing a movie called Frankie and Johnny [1991] and started working as [a cook] for a while. I hung out in the place, and I enjoyed it. There's a certain camaraderie at the restaurant that I enjoyed. You're dealing with stuff back and forth, with your fellow workers. That stayed in my mind.
CHRISTOPHER NOLAN: How do you achieve a balance between script-based discipline and emotional spontaneity?
PACINO: It depends on the script, but you need to rehearse. As a matter of fact, the strangest thing, the more you rehearse, the more spontaneous you become. It's the opposite of what people think. Actors who aren't used to rehearsal will say, "I want to be spontaneous when it comes." And that's the way they make most movies now. There's no rehearsal time. In rehearsal, you can do different things. To give you an example, when [Sidney] Lumet worked on a movie with you, you'd have three weeks to rehearse on that script. Someone once said, "Repetition keeps me green." There's a difference between the text when you're in a room reading it and when you're out there doing it.
With Sidney, he would say, "Okay, we've got this scene, we haven't quite gotten it. Let's go work on this thing." Right there, right on the set. And he has me and the actor improvise…Mainly we were able to do it, because we had been working on it for weeks, maybe months, so we know the people we're playing a little bit. We did three improvisations that he tapped of the scene. He takes all the data on that, and he translates it and writes one scene from the three improvisations. You know, you don't do that with the whole script, but at that particular moment, it was a 15 minute scene, that's what he did. These are the kinds of things that come up…And sometimes you get gold.
NOLAN: You worked multiple times with Sidney Lumet, Francis Ford Coppola, and Brian De Palma. How do you modulate your performance for filmmakers working in such different tones?
PACINO: When I was younger, it was harder for me to understand it. I would be in controversy, conflict. Everybody is different. When you rehearse with the director it helps because you get to know them that way, and you watch what they do. And sometimes you work with someone, and it doesn't work, but you learn about film. The best way to learn is to do it … Once I started to do my own films, I learned a lot about identifying with the director … It's all empathy. That's what it is.
NOLAN: If you had to choose between stage and screen, which and why?
PACINO: I started in theater, so I'm most comfortable in theater. But I've done so many films, I've gotten comfortable in films. Theater is live. There's audience feedback, and usually, the text is somewhat more playable for an actor. In the case of Shakespeare, of course, it's richer so there's more to do.
NOLAN: Your achievements set a goal for many new actors to aspire to. Was there a level of performance that you were chasing when you became an actor and have you reached it to your own satisfaction?
PACINO: Well, one thing I've always done that's a natural instinct of mine is try not to be hard on myself. I try not to demand stuff of myself. It makes me uncomfortable. One is always looking for the raison d'être, you know? Why am I doing this thing? I'm doing it to engage in something, and every part I play, I'm trying. I'm not neglecting it. And a lot of times, my efforts are not fulfilled, and that has something to do with—it's a mystery to me. It's not really connecting to a role in a way that allows—someone else could do that role and all of the sudden it has a new life. It's all relative.
NOLAN: One of your fellow actors once told me that you would act whatever the circumstances. In the corner of a basement somewhere, you would still be there practicing your art. How would you characterize your need to act?
PACINO: I would say that is exactly what I've done. I did that as a youngster. As a teenager, that's what I did in the streets of New York. I really enjoyed that. I found it fun. Actors don't work much. You've got to be lucky to get in a position to get jobs. So what do actors do if they have an interest in playing roles if they can't get them? It takes a village to get a part. That's why I like certain places you can go as an actor, places you find. If you get in, you have a home base there, a place to go to and try things out. I like experimenting, trying things out. When I reflect, that's what I like to do.
MIKE NEWELL: When you were growing up, who was the boss in your household?
PACINO: I grew up in a family with three women and a grandfather. My mother, her younger sister, and my grandmother. And they ruled. They all did. And it was a very exciting time in the South Bronx, where I came from. We were very poor, but I was very lucky, because when things got hot, I got out of there. I went to the streets and had adventures. It was tough for me growing up, I will say. But pretty much my grandmother, she ruled. And my mother was second. They were relatively young. My mother had me young. I owe a lot to that period in my life. I owe a lot to those women and my grandfather.
NEWELL: Did they encourage your acting?
PACINO: Not really, no. They accepted me as an actor. They always said, "He's an actor." School is what encouraged my acting, teachers I will always remember who spoke to my mother. I'll never know what they said, but they were words of encouragement—but I quit school. I quit high school to go to work. So my education came from the theater. The people who were my mentors like Charlie Laughton, who is my greatest friend and mentor. [There's] Lee Strasberg, of course, Martin Bregman. I can't say anything without mentioning those three people. Martin Bregman was a producer, my manager at first. He saw me as a kid. He said something that nobody says. I was 25 years old, and he came to see me in this play. He said very simply, "I'll sponsor you." I had never heard that.
NEWELL: When you were starting out did you have an idea of the sort of actor you wanted to be? What were the dreams?
PACINO: I just loved what I was learning, the literature, everything I was exposed to downtown, the people I got to know, and the world we lived in. I was a ferocious reader. There was poverty of course, but when you're young like that, you get through poverty, it's no big thing. You just have yourself to deal with. A piece of pizza goes a long way. It was a big treat in those days to get a Tad's steak. You just had to get $1.19 to get it, that's all it took, a $1.19 steak. But you could live on anything at that age. It doesn't matter. You extract every bit of that piece of pizza.
NEWELL: Do you know when you've nailed a scene, "Did I do it yet?"
PACINO: I think there are times when you do feel you're in the zone, as they say. There is never anything that you do that is wrong or right, but there are times when you get in the zone, and you understand that you are flying, especially in theater. And the best thing that I can say about when that happens, and you have to go on the next night, is don't try to repeat it. It won't happen again unless you forget it happened. What was the source? What made you do what you did? And if you don't know that, then forget it. That's what I love about the theater, the challenge of it. There's nothing like it. You go out there, and you're exposed.
MICHAEL RADFORD: You are one of the few actors who has understood profoundly the difference between theater and film and still manages to perform at the highest level in both. I will never forget that, not long after doing The Merchant of Venice [2004] together on film, I saw you in New York playing the role of Shylock in the theatre. It was an entirely different reading of the role. How on earth did you manage that in so short a space of time?
PACINO: First of all, I had an understanding and feeling for the role. I thought Michael Radford did a great job of directing that film. He did a beautiful Shakespearean film. Doing this part in another era in the park production, [Daniel] Sullivan was a tremendous asset also. He really helped me with that role on stage. I really depended on him a lot in going from the movie to the play. There was something else I sought in the role, I must say. I found that also it came about in rehearsals. Rehearsals do change things, especially if you have a sense of the role.
RADFORD: Could you talk about the difference between "presence" on film, and "presence" in the theater?
PACINO: One has to find the same control you have in theater to have in film, and that takes trust. You have to trust your director. Your director becomes very important to you. That's what I think.
I did Richard III in Boston when I was young in my early thirties. I had just become well known; The Godfather [1972] came out. Talk about getting blasted out of a cannon. Life changed in a big way. You know, that happens sometimes, and it did then. So there I was in Boston and went back to the stage, because I felt comfort there. [I had been] living in a life of what happens when you get famous. So, I was playing Richard, and that was the first real professional Richard that I ever did. I had Charlie Laughton who was up there with me, and he was helping me with the words. I had high fever. I was in such a state and somehow was also wildly doing everything, drinking and all. You know, I was just out there.
So, I did the first act and came back out for the second act. I looked out in the audience, and I would say two thirds of them were gone—maybe I'm being conservative, but two thirds were gone. I just said, "What's all those red seats." [laughs] I did that for a couple of weeks and started to get into the role, and it was over, and I had to go, but Charlie said, "Don't leave yet." And David Wheeler, whom I love, who was the director of the theater came to me and said, "I found a church, we'll do it there." I said, "Alright." I came out in the church … and I was there. Somehow, my life, whatever was going on, everything that had happened to me was coming out in this part. Time Magazine came out to see it and gave me a very nice notice—which inspired me to go to Broadway—but at the time, I didn't realize that this was all taking place because of my allowing it to in my life. I was coming to life.
In a way, that was one of the great things that happened to me. I never did it again. I never was able to get to that spot that I was in Boston in that church. I was encouraged to do it in New York, and I realized, you know, it's not a church. It's a Broadway stage. The context it was done in is what made it work … something happened in that church.
THE AL PACINO RETROSPECTIVE, PACINO'S WAY, AT NEW YORK CITY'S QUAD CINEMA RUNS UNTIL MARCH 30, 2018.