The story of the comeback dresses from Romy and Michele's High School Reunion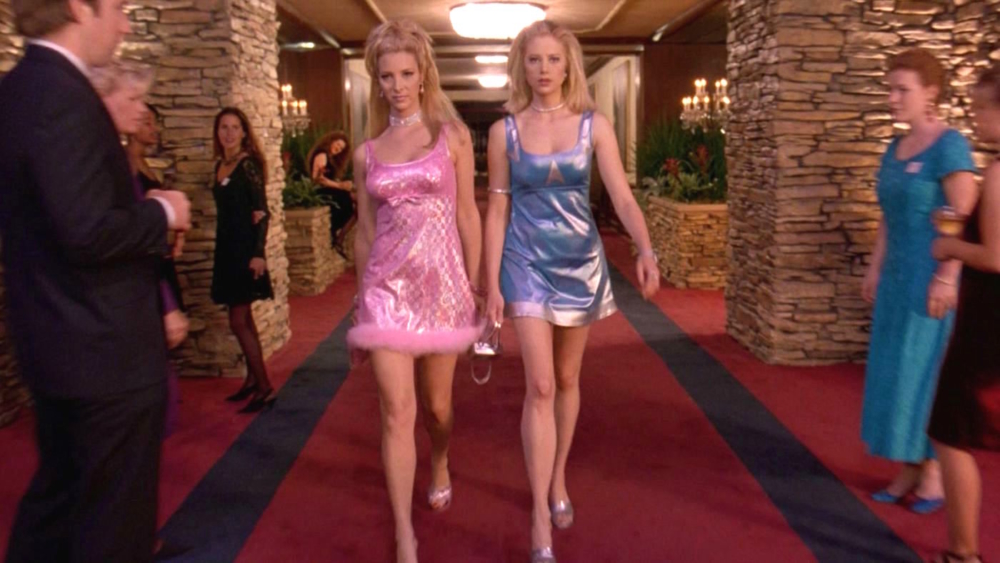 Clothes on Film is a series in which we explore iconic looks from film and television that have stayed in our minds years after they first hit the silver screen.
There are few events more awkward than a high school reunion. The most awkward was consequentially put to celluloid in 1997: David Mirkin's film, Romy and Michele's High School Reunion, centers on two single friends—Romy [Mira Sorvino] and Michele [Lisa Kudrow]—who share a life and apartment together in California.
Both women are relatively unambitious but comically blind to the outside pressures of society. When a former classmate informs them of their upcoming 10-year reunion, the two decide to attend. Together, they attempt to change perceptions of who they were in high school by confronting their bullies and pretending they invented Post-its.
Central to their dazzling comeback were the eccentric costumes that inspired seething jealousy in Romy and Michele's graduating class. Two dresses in particular, from the film's final scenes, won them a compliment from fictional Vogue editor Lisa Luder: "They have nice lines. A fun, frisky use of color. All and all, I'd have to say they're really … not bad!"
Costume designer Mona May was the genius hand behind the two eye-catching dresses, worn for a spectacular climax when the ladies return to the reunion determined to enjoy themselves at all costs.
MONA MAY: Romy and Michele's High School Reunion was like a grown-up version of Clueless [1995]—we could push the envelope with higher heels and shorter skirts. We really wanted something that was, in a sense, iconic and that's where the shiny, low-cut dresses came in. The dresses were simple because I didn't want to over-design them. They're both the same pattern—a shift style with an empire waist, but each character made the dress fit her own personality. Mira [Sorvino] was in silver. She's really no-nonsense and she was wearing a watch. Then you have the Barbie doll Lisa [Kudrow] who's sexy, fun and a little bit ditzy, but smart underneath. I think the dresses reflect the play of the characters really well. It was fun to see how well it worked on set.
Originally, I had an idea for Lisa of a dress in the same shape but made of hand-painted chiffon. When we had a final fitting it just didn't have that iconic strength. I made her dress out of spandex too because both needed to shine on camera and have that oomph, that pump. Costumes really support the story. It's so important because an audience can make up their mind about a character in an instant. This is really the moment when Romy and Michele come out of their shells—they're no longer going to lie even though they know all of this shit went down. I love being able to empower girls through my work.