paris fashion week
"Sluttier, Always": Ethel Cain On Walking Miu Miu SS23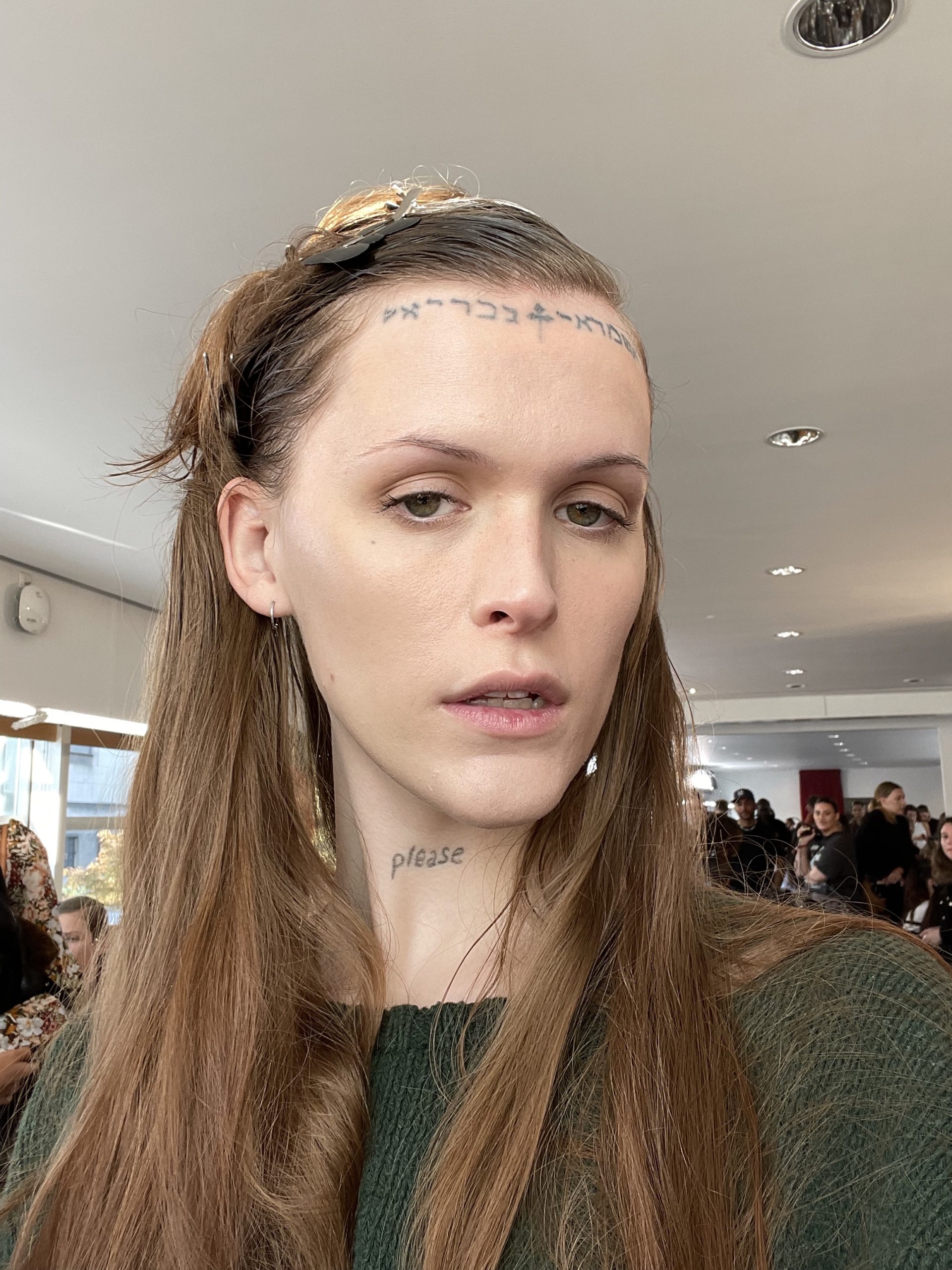 "I have been trying to find ways to talk to you." The booming-yet-warm voice of the artist Shuang Li served as the soundtrack for Miuccia Prada's Miu Miu SS23 "In Translation" runway show inside the Palais d'Iéna in Paris. The clothes that we've come to expect from Mrs. Prada at Miu Miu are, often, a direct reaction to our reality. Well, women's reality. The SS23 collection is par for the course. Layering and pockets are described in the show notes as expressions of "complexity" and "utility." Bejeweled, austere, and sheer silk, cashmere, and nylon tops and skirts were mixed, matched, and layered creating an illusion of armor without forgetting sensuality. Think those mini skirts with giant pockets for the it girl who's always trying and surviving. So very Mrs. Prada to find a way to translate the tension of our terrifying world into fashion beauty. The all gender cast only reaffirms Mrs. Prada's thoughts for this season. FKA Twigs closed the show, while Miranda July, Bella Hadid, Emily Ratajkowski, and Ethel Cain walked the show. All emblems of modern womanhood. After the show, we caught up with Cain about preparing to work the runway, meeting Mrs. Prada, and her favorite fries.
———
ERNESTO MACIAS: Congratulations on walking the show. Where are you right now?
ETHEL CAIN: In my hotel room in Paris. 
MACIAS: Have you been to Paris before, or is it your first time?
CAIN: Yes. I was here back in May when we shot the Givenchy campaign. This is my second time.
MACIAS: That's exciting. Doesn't get any better than doing fashion things in Paris.
CAIN: Exactly.
MACIAS: How many hours of sleep did you get last night?
CAIN: Maybe five or six. I got enough, but I'm definitely very sleepy already again, so I might have to take a nap.
MACIAS: What's in your system?
CAIN: I ate a macaron. I drank some water that had a strawberry in it. I had a bite of a ham sandwich and I ate a couple of chunks of an apple this morning.
MACIAS: How's your fashion week going so far? 
CAIN: It's going great. We just got to Paris two days ago. This is literally the only thing that we've done so far. It's not been too crazy, which has been nice. Definitely not as crazy as New York Fashion week was. At least not for me.
MACIAS: What is your first memory of Miu Miu? 
CAIN: My first memory of Miu Miu, registering it consciously,  is when Sydney Sweeney did this shoot with Moni Haworth. I mean, just recently Miu Miu came back on my radar and I was like, "Oh, this is really good." I like the crop skirts and whatnot.
MACIAS: Yeah, she looks really great in that shoot.
CAIN: So good.
MACIAS: What did you think of the show, as someone who walked it?
CAIN: I thought it was amazing. I had a great time. One of my friends [Alaska] was walking. She's the girl who went ahead of me. So that was fine. We got to chit-chat backstage. I got a beautiful view of Paris while I was getting my hair and makeup done. It was so pretty. It was just a really great day. 
MACIAS: Can you describe the look you were wearing in three words?
CAIN: It was layered, it was casual, and it was sparkly.
MACIAS: What was your favorite look, besides the one you were wearing?
CAIN: Honestly, my favorite look was the one that FKA Twigs wore to close out the show. It was like this black, tight sweater. It was so sexy.
MACIAS: What would you put inside those bags that the mini skirts had? They were huge but tiny at the same time.
CAIN: I would probably put a bunch of shoes. I'd carry around some shoe changes because I love to change my shoes throughout the day.
MACIAS: How many changes of shoes do you do a day?
CAIN: Usually about three. I'll bring a pair of flats. If I want to look nice and casual, bring a pair of platforms or heels. If I want to walk the streets, then I'll bring a pair of my Ugg slides so I can be comfy whenever I'm done for the day.
MACIAS: What were you thinking about during your walk?
CAIN: I was thinking about that video of Charlize Theron where she's like, "When you walk, act like you just murdered someone and you're gonna get away with it."
MACIAS: [Laughs] Is that usually what you think about before the runway, or just for this particular one?
CAIN: Pretty much. It's probably corny to say, but you have to think, "You're a model and you're on a runway wearing expensive clothes. Act like it."
MACIAS: That's a really great mentality to have. Do you have any other pre-runway rituals?
CAIN: Not really. I like to show up and say hi to everybody. Make friends or hang out with my friends if I already have some there. We just talk and hang out before the show. When it's time, it's like, "Okay, go time." You just switch into show mode.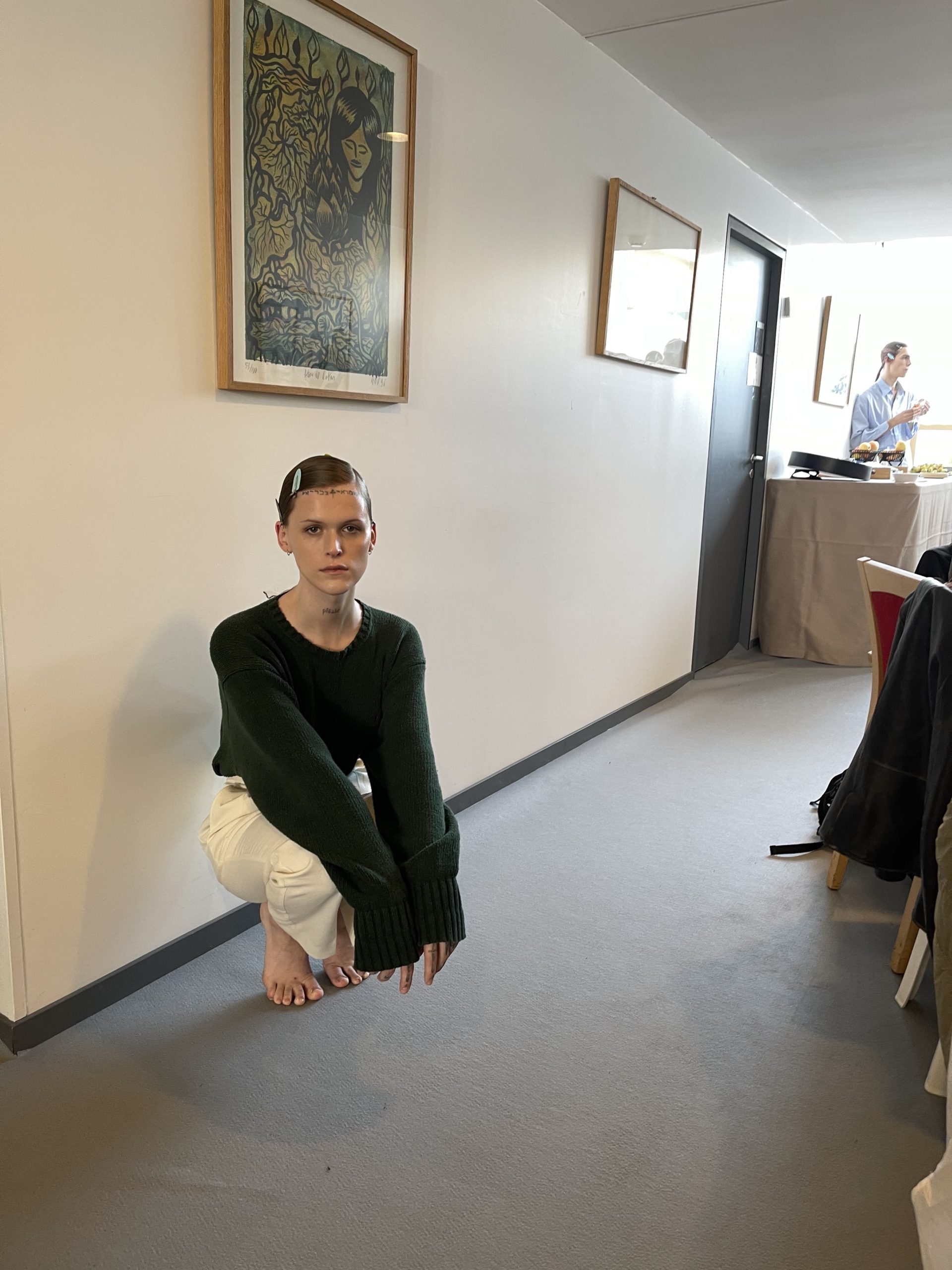 MACIAS: Did you make eye contact with anyone during the show?
CAIN: I did not. I tried to keep my eyes straight ahead and be a good girl. I don't think I knew anyone at the show. I think Petra Collins was there. She texted me, "I saw you."
MACIAS: Did you meet anyone new or interesting backstage?
CAIN: I wouldn't say I met anyone. I was in a little changing room next to Twigs, which was cool. I didn't meet her, but I've never seen her in person or anything, and I was like, "She's pretty."  Oh, I met Lotta Volklova [Miu Miu's stylist]. She's coming to Alabama to shoot me soon with Moni Haworth. 
MACIAS: That's dope. Y'all are going to hang out in Alabama?
CAIN: Yeah, she's gonna come to my house and we're gonna go shoot around Alabama. It's cool knowing her beforehand.
MACIAS: She does a great job with Miu Miu. Did you meet Mrs. Prada?
CAIN: I did. She was at the fitting last night and I was standing in front of her. I had to walk for her and she was telling them to shorten my skirt. I was like, "Exactly. You get it." Sluttier, always.
MACIAS: That's amazing. Now, every time you wear a skirt you have to think about that. Direct orders from Mrs. Prada. As you said Twigs closed the show. Do you have a favorite FKA Twigs song?
CAIN: Oh, my gosh, yes. Either "Hide" or "How's that?"
MACIAS: Fries or no fries?
CAIN: Yes, fries always more fries but specifically I would say, curly fries curly from Arby's. They are the best.
MACIAS: You are so from the south. Curly fries is such a good answer.
CAIN: [Laughs] They are so good.
MACIAS: Twitter or Instagram?
CAIN: Tumblr. Honestly, I keep deleting Twitter because I hate it. And Instagram, I just kind of post updates. Tumblr is my app. I'm on there every day.
MACIAS: What is the best time to arrive at the after party?
CAIN: After everybody else is there. Nobody wants to walk into a dead party.
MACIAS: Are you going to any after parties today, or are you done? 
CAIN: I don't know. I've heard of a couple, so we'll see how I'm feeling after I take a nap.