Intimate images of Joan Didion through the years
Joan Didion is one of the most influential living American writers. And yet, despite her long career as a novelist, screenwriter, and essayist, Didion herself has remained something of a mystery. A few telling clues about the woman behind the cool, well-crafted façade can be found in Griffin Dunne's intimate new documentary about his aunt, The Center Will Not Hold. Through interviews with Didion and those closest to her—family, friends, and editors on both coasts—Dunne tells the story of how the 82-year-old Sacramento native became a cultural icon.
Here, Dunne offers another peak behind the curtain: a selection of never-before-published family photos, of him and Didion, as well as his mother (Ellen Griffin) and father (Dominick Dunne). In one, Didion and her late husband, the writer John Dunne, can be seen boarding a plane to Honolulu, where Didion would go on to write one of her most famous essays, in which she considers divorce. Naturally, John edited it.
GRIFFIN DUNNE: My mother used to give an open house every Christmas Day (above). This is probably from 1970 because the man in sunglasses is Frank Perry, who directed [the film based on Didion's 1970 novel] Play It As It Lays (1972), which would have been in pre-production. Mom's open houses attracted Europeans working in Los Angeles over the holidays like the Italian gentleman, whose name I don't remember, standing next to Frank. One year someone brought François Truffaut who had nowhere to go on Christmas while promoting Day For Night (1973).
DUNNE: This is at one of my "Fake Uncle Earl" McGrath's dinner parties who was one of John and Joan's closest friends. Quintana [Dunne] met him through her parents as did I through mine and every generation of kids who first knew Earl through their parents established their own friendship with him. He and his wife Camilla would invite one and all to their parties where we'd be seated next to anyone from a Rolling Stone to Harrison Ford, Larry Rivers, Terry Southern, or Bob Graham.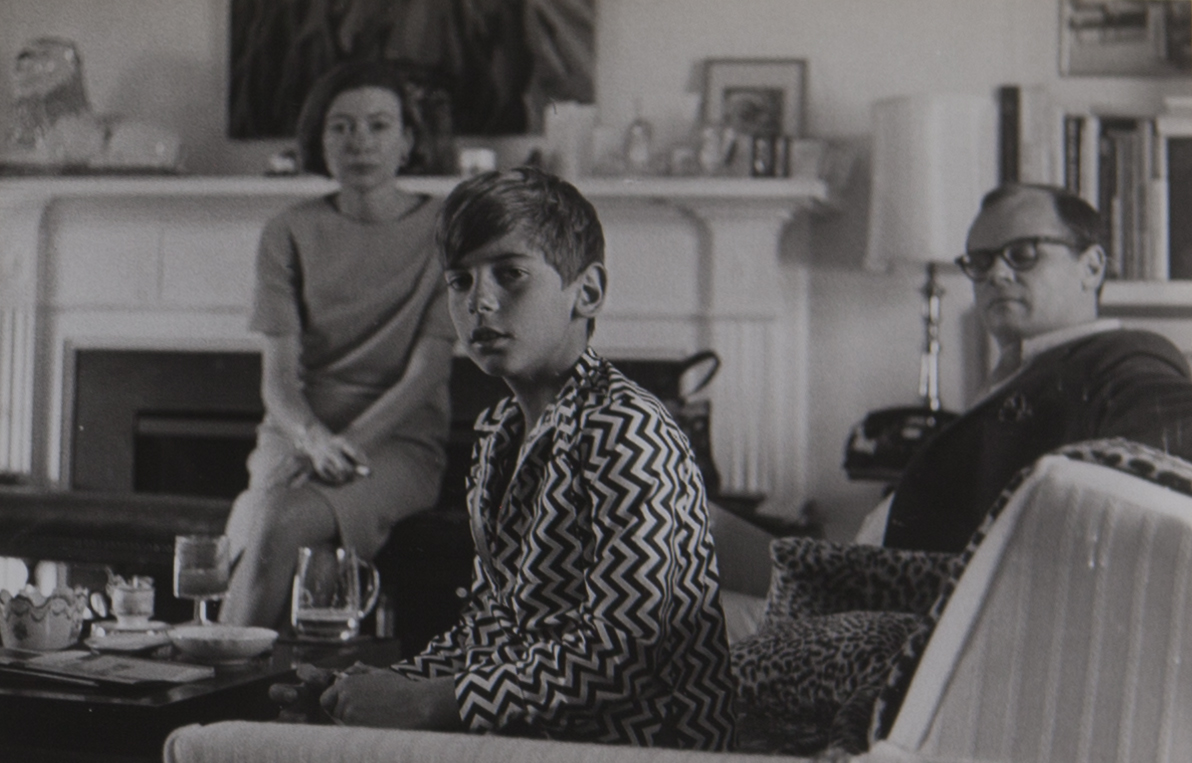 DUNNE: This is taken on Christmas Day at my father's apartment on Spaulding Drive in the first year of his divorce from my mother. It was a sad time so Mom didn't have her open house. Although John and Joan loved my mother, my father loved her even more and never quite got over their split. They came to support dad and watch us open our presents. Carnaby Street was in fashion that year and he got us these ridiculous outfits, which we never wore again.
DUNNE: Joan invited my mother to a party she and John were giving on Franklin Drive for [author] Tom Wolfe to celebrate the release of The Electric Cool-Aid Acid Test (1968). "Bring Griffin", she said. "Tell him Janis Joplin will be there." Somehow she knew I was obsessed with Janis and talked mom into taking me. I was terrified Janis would find out I came with my mother but when I saw how pretty she looked, I planned to say she was my older sister should it come up. The first film I ever made was a short about this dilemma where Tobey Maguire played my alter ego. In the film he only saw Janis though a window and in real life my mom took me home before Janis arrived because it was a school night.
DUNNE: This is at LAX before boarding a flight to Honolulu where John and Joan would stay at the Kahala Hilton a few times a year. On one of these trips Joan considered divorcing John and wrote about it for Life Magazine. John edited the piece. When this picture was taken, the legend goes, John saw James Taylor and Carley Simon being chased by a pack of paparazzi through LAX on the way to their honeymoon. He turned to Joan and said, "The remake of A Star is Born (1976) set in the world of rock and roll." They wrote the script, [Barbra] Streisand and [Kris] Kristofferson starred, and all were paid handsomely.
THE CENTER WILL NOT HOLD IS OUT ON NETFLIX OCTOBER 27, 2017.