The Heart and Soul of Lion Babe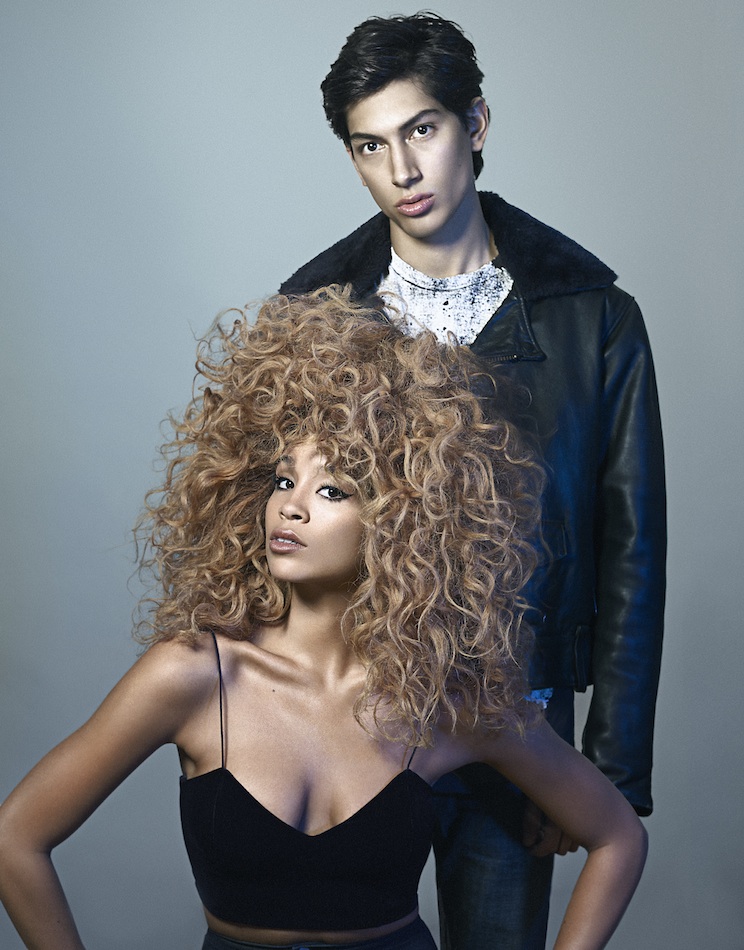 ABOVE: LION BABE IN NEW YORK, DECEMEBR 2014. PHOTOGRAPHY BY WENJUN LIANG. HAIR: CHUCK AMOS FOR ORIBE/JUMP MANAGEMENT. MAKEUP: JUNKO KIOKA FOR CHANEL/JOE MANAGEMENT.
In December 2012, Jillian Hervey, 25, and Lucas Goodman, 26, uploaded an infectious soul song, "Treat Me Like Fire," to YouTube, thus introducing the world to Lion Babe. Shortly thereafter, the duo—Hervey with her sultry vocals and fluid movement, and Goodman with his soul and funk infused beats—signed to Outsider Music in London, and then Interscope Records in the U.S. Since then they've collaborated with people like Childish Gambino on their single "Jump Hi," Pharrell Williams, who produced the following single, and Mark Ronson.
For the past 18 months, Hervey and Goodman have focused on refining their craft, from writing songs and producing records in the studio to performing around the country, including at South by Southwest. Last week, they released their debut self-titled EP, and their debut full-length album will drop next summer.
"Our goal is to just stay in our own lane and grab the people that identify with being in their own lane," Hervey, who also happens to be singer and actress Vanessa Williams's daughter, says of the four-song compilation.
Hervey, who studied dance at the New School, and Goodman, who studied music at Northeastern, met at a college party. Goodman was playing songs he produced in his dorm room and Hervey wandered over, wanting to know more. After the dorm room introduction, they began collaborating—first with Goodman producing music for Hervey's dance performances and now, full fledged songs.
"This next year is going to be super busy, but really exciting to keep sharing new music and visuals, playing shows, traveling, and connecting with people," Hervey continues. "I think it's going to be a lot of new memories and pushing us–that's the best when you get pushed."
Drawing inspiration from a range of musicians including Sly & Family Stone, Lauryn Hill, Jimi Hendrix, The Beatles, and A Tribe Called Quest, Lion Babe's auditory aesthetic rests on a thin line somewhere between pop, soul, and R&B. We caught up with the pair over Thai food in Chelsea.
TAHIRAH HAIRSTON: You started out as friends, was there a point when you had to get used to working with each other?
JILLIAN HERVEY: I don't think there was a specific point. Everything was really organic. Obviously, I feel like Lucas took the lead on it because he knew what he was doing. I had never used Garageband or [any of] that stuff. He set me up on my computer and I was like, "I'm going to go into my room because I don't want you to hear me yet." Once he heard it, it was really easy to get feedback.
LUCAS GOODMAN: I would say that one thing for us that made it so smooth [is that] we were kind of inspiring each other. Even when we first were like, "Today let's try to make a song," I would play some beats for her and Jillian would sing along.
HERVEY: The vocal sample for "Treat Me Like Fire" ended up informing a lot of our sound. At the time I heard the beat it was so cool. I wanted to emulate this woman Eunice Collins, who's on the track, and so that was the vibe it came from. I had never really sung like that before. It birthed right there. [laughs]
HAIRSTON: There was a two-year gap between "Treat Me Like Fire" and releasing new music. Since then, how have you grown?
GOODMAN: When it comes to making music or writing songs, having more of a concept of how you can do it, the structure, and form. And as artists, what are we really trying to do? The whole thing stemmed out of "this is fun, this feels good," and this one little demo that we made. Now we have this platform. I've always wanted to produce and do music, and I know Jillian, as a performer or a singer or a dancer, was always going to be an artist. This is the outlet for us to put our stuff out there.
HERVEY: We started out in our early 20s fresh out of college like, "What are we about to do?" Now we're settled into a rhythm of what we like to do and we're creating everyday. I wasn't singing before. When I first started singing—before "Treat Me Like Fire" when I was working with a vocal coach—I realized that I wasn't even breathing when I was singing. [laughs] With dancing, I think the reason it's worked for me and I love it so much is because I've trained my entire life. Once you train you develop your own aesthetic and your confidence. So, I think as I grow I'm learning how to be a singer. I'm training my voice and being on stage and singing and dancing.
HAIRSTON: What's the writing process for you together?
GOODMAN: In the early stages, and even with some of the last songs, I'm usually just making beats for fun and coming up with new ideas in my free time. Especially now, I'm like, "Here's something that could be a cool set up for Jill," and I make that. We'll sit down and go through the different tracks to see which ones she's feeling and I'm feeling. Then she'll go in and freestyle for a bit, we'll record that, and see what ideas pop off.
HERVEY: He works on beats everyday. [laughs] I don't write everyday. When we started out we were messing around and after a beat I would go in and just sing melodies or whatever came to my head. Now, because of the habit of wanting to separate working and being myself, I like writing in the studio more.
HAIRSTON: When you are making a song, how do you know when to stop tinkering and be done?
GOODMAN: We're not at that point where we can be like, "We finished this song in one week." We need some time to live with it and digest it. It's so much easier a month later to come back and see all the things you need to fix, when your head is clear.
HERVEY: The best thing we've learned is when you are attempting to write a full song, write a full song that day. When we first started we would have great ideas, but there's something about a moment and a vibe that's being created in time that when you return to it, it sometimes works and it sometimes doesn't. To have it as a full piece of work to go back to is much easier. It gets to a point, because we're constantly changing and evolving, that you have to let things go. Of course I'm like, "I could sing that better now," but there's something about the moments and times that are captured that make it special.
HAIRSTON: Jillian, you have a knack for writing sticky, catchy songs, especially with the choruses. It's a pop approach to soul, with pop songs being super catchy and soul hitting more emotion. Do you have a formula?
HERVEY: I'm totally into the emotional aspect of things. I can go there and go a little crazy. A lot of times with these songs, the choruses or the catchy moment might be the first thing I hear, and then I'll build around that. For "Don't Break My Heart," the "baby, baby" was the first thing to come. I heard the drums drop and I was just going off of it. I'm definitely trying to make songs that people can sing along to and remember. If you can recognize a chorus and leave with it in your head, it's usually a good sign. But then with the verses, I can get a little more free form. I don't really like to copy and paste things. I feel like with anything, chapter one is not going to be the same as chapter two. There will be some little nuance difference in it. Each song has it's own life.
HAIRSTON: Lucas, you started producing as Astro Raw before Lion Babe. When did that start?
GOODMAN: I've been playing guitar since I was 11. In high school, we'd go to our friend's crib that had a drum set and amps and just play music. I always wanted to get into beats, but it was intimidating because the technology is a learning curve. Eventually, when I started [college], all of a sudden I was in a dorm room so I wasn't necessarily like, "I can play music with all these other people." Production is a way you can do everything in music within yourself. It's like a creative writing process but at the end there's a finished thing; you can listen back to it. I always liked that. That's when I came up with the idea for Astro Raw. I'm not calling myself Astro Raw; it was more so like, "This is the kind of music I want to make: some space-age raw music that's old school funk and soul."
HAIRSTON: You worked with Pharrell in the studio for your album. Is there anything that you look at or do differently after working with him?
GOODMAN: Oh, totally. It was like the sensei master teaching in Kill Bill, where you have to climb the stairs with the water. The whole week after that I was thinking about what he said. Even just watching him make music and how he went about making beats, it was so fast, so quick. But his main thing was two things: Know what you're good at and also what you're not really good at, and then know what you want to do. If you know those things you can figure out what you need and know what your goal ultimately is. He was also like, "What do you guys want from this? What do you want to do with this opportunity?" I don't think we really thought of that as much up until that point, because it was just so exciting, like, "We just made a song!"
HERVEY: He made us conscious of how to articulate that. We knew what we were doing in a sense that all of the elements are there, but when someone asks you that question, which we hadn't been asked at that point, we were a little dumbfounded, like, "What are we?" All the stuff was there, he just pulled out the way in which we want to shape it.
HAIRSTON: So what do you ultimately want to do with your music?
HERVEY: There is an uplifting theme that comes through our music. There's also funk, soul, and that vibe of really feeling a personality in it. Nowadays there's a lot of music that sounds super processed. You can't tell one singer from the next because of the amount of auto-tune. Our goal is to tell the masses to embrace their uniqueness, because I think that's where life starts to happen.
GOODMAN: We listen to a lot of older music, like Sly, Isaac Hayes, Dionne Warwick, Alton Ellis, all these records that we just put on because they made us feel good. We're like, "It would be cool if more of this stuff was music [today], and since no one else is doing it we'll do it."
HAIRSTON: You are both New Yorkers and are very much a New York band, but you were signed in London first. What was your reaction to that?
GOODMAN: We thought it was going to be a good move for us. When we released "Treat Me Like Fire," we just threw it on the internet and a lot of London music blogs were picking it up first. There's a history of London getting into certain types of New York music before it really pops off in America; they tend to be a little more, especially on radio, leftfield. In London, one thing that's really cool is that the radio out there is way different. They have a lot more liberty to do whatever they want. Here it's a little tighter.
GOODMAN: If you're a DJ at Radio 1, and you're like, "I found this song on SoundCloud today and I think it's really dope. I'm gonna play it," your boss isn't going to be like, "Hey, that's not on the playlist." One thing is that we don't feel like we're necessarily in a box. We're trying to do our own thing, so sometimes it might be harder to deal with because people are like, "I don't know if you're an apple or an orange, so what box do I put you in?" In London, they can open it up a little more.
HERVEY: And it's nice to have some space. I don't want to see these [New Yorkers] every day. [laughs]
HAIRSTON: There is this quote in an essay by Zadie Smith called "Find Your Beach" about New Yorkers where she said, "You don't come to live here unless the delusion of a reality shaped around your own desires isn't a strong aspect of your personality." Do you identify with that statement?
GOODMAN I don't know about that, because I was born here. [laughs] So it wasn't really my choice, but I think that's the case for both of my parents. My dad growing up, he was a big rock-'n'-roll kid in high school. He grew up in Jersey City, so he would come here and go to Fillmore East and go to St. Marks in the East Village and he basically never left. My mom came from Thailand, but then came here for the same thing–Western rock-'n'-roll, The Rolling Stones, The Beatles, The Velvet Underground…
HERVEY: I like that [New York] is always changing. It pulled me in without me even realizing it at the time. It transforms you so much, because the energy here is so specific. Neither of my parents really got to experience living here when they were younger. They were either in L.A. or my dad lived in London for a bit, so I feel like it's my own space. [New York] gives you room to be weird; you can be yourself and you can wear whatever you want. No one is really going to judge you because everyone is doing their own thing.
HAIRSTON: I've read interviews where you mention finding vintage things from clothing to the record by Eunice Collins that was used as a sample for "Treat Me Like Fire." What's the best vintage item you've found?
HERVEY: All of my recent winter jackets. I'll find them and they last me the whole season. I remembering watching Almost Famous and I always wanted a Penny Lane coat, or a Foxy Brown coat. It reminds me of going into my mom's closet and picking and smelling. Everything has such uniqueness.
GOODMAN: Vintage band t-shirts, like old school ones, and leather jackets are definitely something nice to get not brand new. I like to go where I can and buy vinyls. With all that stuff there's already a vibe to it because you know it's been around. There's something about it. When you put it on the record player or you put it on yourself, there's a certain vibe as opposed to something that's just out the box.
FOR MORE INFORMATION ON LION BABE, VISIT THEIR FACEBOOK.