Discovery: ASTR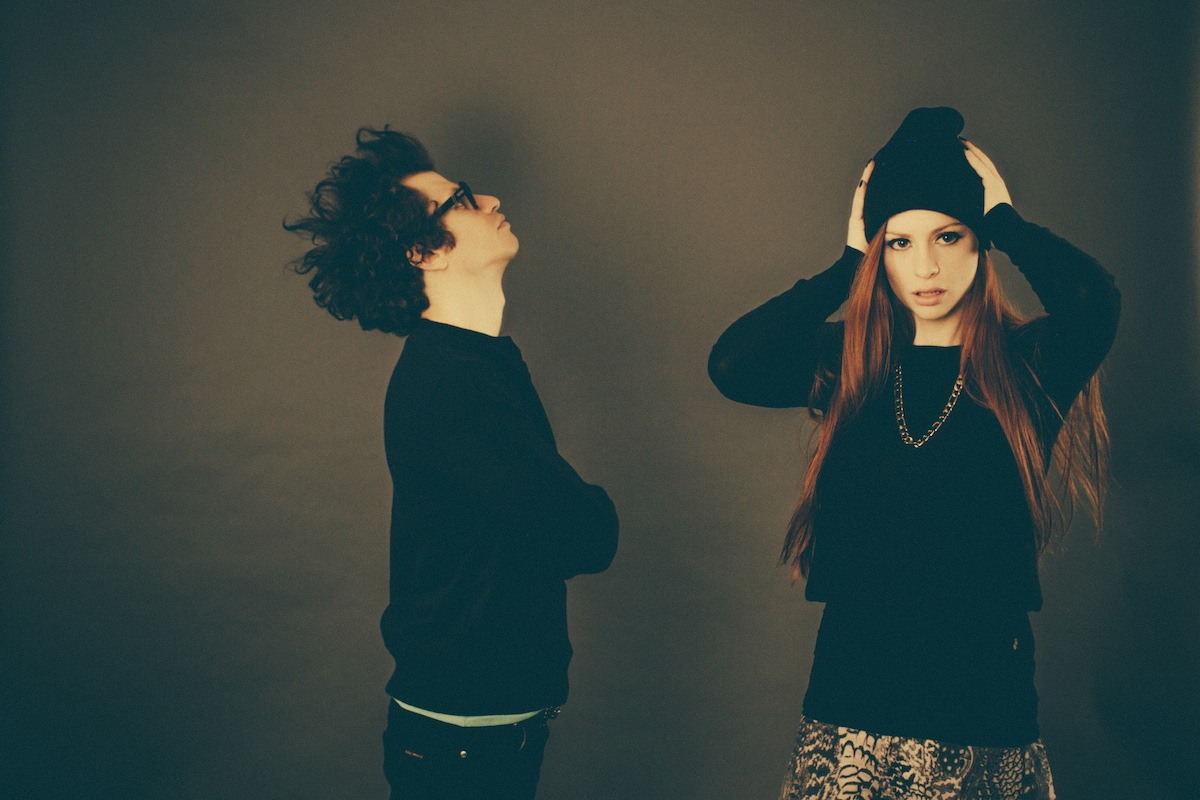 ABOVE: ASTR
Listening to mysterious New York duo ASTR is an experience as spiritual as the project's birthplace: a Manhattan yoga center. While other alt-R&B acts tackle one sound well—usually something somber and submerged—ASTR excels at the highs and the lows, all the while staying rooted in the nostalgic air of the slinky '90s R&B its members grew up on.
ASTR's dark debut single, "Operate," is a standout, mid-tempo dance track for the budding genre. What makes it unlike most is its mainstream appeal. Think of it as a winding Ciara hit penned by The-Dream, with its hip-hop snares and rumbling bass; but also consider it the perfect fit for indies like Purity Ring and Little Dragon with its experimental filtering. Searching for the song on YouTube further cements the track's duality: the official video could easily be confused for an underground psychological thriller's trailer, while the slew of amateur choreography videos capture its crossover pop-and-lock charm.
On their Hype Machine-hit cover of Drake's "Hold On, We're Going Home," vocalist Zoe coos atop whale calls as though she were flying across the Atlantic on a magic carpet, rivaling the original with its Sade-like ambience. ASTR finds brightness— something many members of the new genre seem far too depressed to address—on the synth-laden sunshine that is "R U With Me" [below]. Like an evil cousin to post-funk group Midnight Star, or The System's '80s smash, "Don't Disturb This Groove," it's exactly what the genre's missing.
NAME: ASTR
MEMBERS: Zoe and Adam ASTR
HOMETOWN: New York, NY (Zoe); Boston, MA (Adam)
AGES: 23 (Zoe); 27 (Adam)
ON MEETING: Adam: We met three years ago and started working on music together about two years ago.

Zoe: A good friend of ours is a yoga instructor, and we met at her class at Jivamukti in New York [City]. After that, we just started linking up to write. We didn't start ASTR off the bat. It wasn't like sparks flew and we knew we'd be in this crazy band together, it was more of like a testing field at the time.
ON THE MEANING OF ASTR: Zoe: We're both really into mythology and there's some spiritual context in it, obviously astrology, but also since we're in New York City, it also has to do with Astor Place. Represent!
Adam: You know, the old-school New York family that just ran shit… there's also that parallel.
MUSICAL UPBRINGING: Zoe: I listened to a lot of R&B and pop music growing up.
Adam: I grew up on hip-hop, R&B, and the good club shit from the '90s.
Zoe: All of what we grew up on culminates in our sound.
ASTR'S SOUND ANALOGY: Zoe: We're like a blow-up beach ball or something fun… it's kitschy.
Adam: I can't say our sound's a beach ball because I'm picturing something else… we're much darker than that. We're more of the after-party to some crazy rave near the Black Sea, and we're the closing act. I suppose that would include Zoe's beach ball analogy.
ON ZOE's VOCAL FILTER: Zoe: We use a similar filter on pretty much all of our stuff, and it's really not as much as people say it is when they listen to the final recorded cut. People are always surprised when they hear me sing live, because it's honestly not that different. [laughs] It's really not that drastic. It's like a little bit of reverb and cool echo-y effects. We love it because it keeps our sound an experience and it's not too showy.
Adam: From the production side of it, Zoe has a great quality and texture to her voice, and we messed around for a while, and it's one thing we put on her voice that makes that quality even cooler. It's not as though we're changing her voice or muffling it in any way.
ON THE CREEPY "OPERATE" VIDEO: Adam: We actually made it ourselves. We just found a lot of cool images and visuals online and chopped it in with shots of Zoe. It's sort of supposed to be like a psychological thriller or something.
Zoe: If you listen to the song's lyrics, we wanted to highlight them but not in a super cheesy, super literal way. We wanted to keep it artistic and dark.
Adam: We don't like videos where it's like here's the singer, here's the camera, and they're lip-synching to the music. A lot of the images we used are from public domain sites and stuff from obscure thrillers, B-movies from the '70s.
ON THE CURRENT "ALT-R&B" MOVEMENT: Adam: A lot of what we do I think comes from our subconscious. We never make, like, a concerted effort to follow what's going on… it's really just subconsciously stuff sitting in the back of our heads.
Zoe: I think it has a lot to do with the time period, too… it feels so relevant right now because we listened to people like Aaliyah and Janet Jackson growing up and it impacted us, especially now when we're making our own music. It feels right, right now.
Adam: For the past five or so years, if you're an R&B artist and you're not making EDM or David Guetta stuff, it's like you weren't hearing it, and that's why there's this whole new, darker sounding R&B you hear now, because it's almost like going back to the roots of what we all knew and loved—it's a fresh twist on what we used to call R&B. It feels exciting again.
BUCKET-LIST PRODUCERS: Zoe: Dr. Dre would be amazing to work with. I feel like a lot of our music comes from that place.
Adam: I'd say Teddy Riley. He was one of the prime '90s producers, especially for R&B, and I think he's still working. That'd be a cool collaboration.
ON WHAT'S NEXT: Zoe: We have a lot of shit together, so, we're right now trying to wrap it up in a pretty little package for everyone. We're still just trying to get everything together. You'll hear a bunch of new stuff soon.
FOR MORE ON ASTR, VISIT ITS FACEBOOK PAGE.